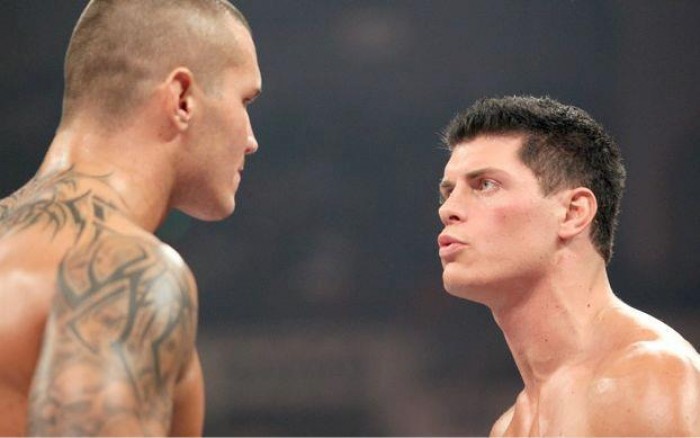 With recent rumors rampant over the future of the mediocre Stardust character this author is going to document the key moments in Cody Rhodes career and try and find out what went wrong and whether there is still a potential world champion in Cody Rhodes.
Beginnings:
Rhodes like many 2nd/3rd generation superstars was introduced to the WWE fans in a segment with his father The American Dream Dusty Rhodes and Randy Orton during his Legend Killer days. This quickly stemmed into Rhodes' first rivalry and it was with a former world champion at the time (already showing that WWE had big plans for Cody). The rivalry was short lived, but presented Rhodes to already be a more than capable competitor, Obviously Rhodes lost his two matches against Orton, but both times he gave a strong showing which allowed WWE to take him in the direction they wanted.
After this he went on to have a less than entertaining feud with Daviari which was also short lived. Rhodes then started a series of matches with Hardcore Holly, which ended in them two becoming a team with the dynamic of teacher/learner after Rhodes lost three times against Holly. After several unsuccessful title shots from Holly and Rhodes they eventually captured the prestigious titles picking up a win against the team of Lance Cade and Trevor Murdoch on the 15th Anniversary of Raw. This meant it took half a year for Cody Rhodes to win his first title in the WWE something that very few Superstars and Divas can say.
The Legacy
After various title defenses against the likes of Santino Marella and Carlito and Cade and Murdoch, the pair moved onto there next rivalry. Ted Dibiase Jr. the son of the Million dollar man himself. In what was one of the most shocking moments of that year, Dibiase teased a tag team partner for himself to take on the pair of Holly and Rhodes but wouldn't reveal him until the matchup at Night of Champions. The reason for the reveal being so close to the match is because Rhodes himself was the mystery partnered and they defeated Holly for the titles in a handicap match. This showed how WWE had huge plans for Rhodes even more so now they've already trusted him to turn heel and pull off what could be argued as a major swerve and a moment that won't be forgotten.
In Legacy, Rhodes flourished showing how his best work in ring and outside is as a heel. He was cocky, slimy and arrogant. He was everything WWE needed as a heel and was without a doubt the standout wrestler in the tag team of Dibiase and Rhodes. Throughout his time in Legacy, Rhodes achieved some amazing feats these include being in the last three in the 2009 Royal Rumble, being in a rivalry with the McMahon family (one of Shane's final rivalries) and feuding with one of the biggest tag teams in the history of the WWE, D-Generation-X.
The rivalry with DX is something that made Rhodes and Dibiase stand out more than ever, with one win against them they became more viable and serious competitors and looked like genuine threats to any wrestler they'd take on. They looked aggressive and were put in a hell in a cell match which only a hand full of competitors have competed in showing once again the potential both these stars, but most notably Rhodes had (still has?). Due to Rhodes' constant interference in Orton's matches and causing him to be disqualified, tension began to become apparent and the stable of The Legacy ended at WrestleMania 26 with a triple threat match between the trio resulting in Orton winning and Rhodes receiving a punt for his trouble.
Dashing Cody Rhodes
After being drafted to SmackDown!, Rhodes started showing a much more narcissistic and egocentric character in which he did arguably his best work. Every week there would be a new tip from the "dashing" one on how to look good and be more like Cody. This, for a long time was one of the most entertaining part of the product and a lot of the time, made Rhodes look like the main star. During this gimmick he didn't get much luck with winning matches or titles, he formed a team with Drew McIntyre which was short lived then eventually entered into a feud with Rey Mysterio which launched his career. During an intercontinental title match with Mysterio, Rhodes suffered a legitimate broken nose after a botched 619 which allowed Rhodes to take his "dashing" gimmick and turn it into something much darker and aggressive.
Undashing Cody Rhodes
After several months out because of injury, Rhodes began to come to the ring with a protective mask on and use it against his opponents in an illegal way. This was one of the most unique gimmicks of all-time and served a huge purpose towards his career. Rhodes began attacking Mysterio which set up a match at WrestleMania 27 which Rhodes won. This win put Rhodes over and announced his name as a major player in the WWE.
After several matches with Mysterio, Rhodes once again teamed up with DiBiase and began forcing fans to put paper bags over their face and would continue to do this to opponents after matches. This was very well received by fans and critics as the heel persona was one of the most entertaining things on WWE television. During this time, Rhodes captured his first singles title against Ezekial Jackson and went on to feud with DiBiase. The feud was short and ended after a match between the two for the title and Rhodes moved on to feuding with Orton.
In the midst of the rivalry, Rhodes brought back the retro title with white leather that we see today and announced that he'd bring prestige back to the title. Orton and Rhodes had several matches after Rhodes cost Orton the World Heavyweight Championship. All of the matches were won by Orton which shows exactly where the WWE started going wrong with Cody Rhodes. Even one win over Orton could've been huge for Rhodes' career as he definitely deserved it for being a constant entertaining part of WWE television. After this rivalry he ditched the mask saying that he has been set free.
Various Feuds
Rhodes began to start fading off into the background after his unsuccessful rivalry with Orton. He began to attack WWE Hall of Famer Booker T which resulted in several matches between the two which Rhodes won and retained his title. The rivalry was good to a certain extent, but could be seen as wasted on Rhodes as a win over a commentator didn't do much for his career. Rhodes then entered a rivalry with Big Show in which he pinned him in the Elimination Chamber and started to mock him every week over it until eventually Big Show defeated Rhodes at WrestleMania 28 which started the downward spiral of Rhodes' career. He then went on to feud with Christian over the United States Title which once again he was unsuccessful.
Team Rhodes Scholars
WWE eventually realized that not utilizing Rhodes would be a silly thing to do and paired him with a the recent arrival of Damien Sandow who, at the time, was a very promising superstar that looked the part and played the part. Rhodes would suffer a concussion during the start of the teams pairing, but returned in December sporting a new look. A moustache. Rhodes changed his gimmick again to suit the gimmick of his tag partner, Sandow. This provided constant entertaining moments both comedic and aggressive. The team dynamic was almost perfect, they had great chemistry and will go down as one of the best tag teams to never hold the tag team titles.
The team eventually broke up after Sandow cost Rhodes the Money in the Bank briefcase which turned Rhodes face for the first time in several years. They had several mediocre matches and the feud eventually died out. Rhodes once again was lost in the shuffle and left fans wondering what could've been if Rhodes was given the chance to be the Money in the Bank winner. One things for sure is that it would've been much more successful than Sandow's run with it.
Rhodes Brothers and becoming Stardust
Cody Rhodes was thrown into a rivalry with The Authority and became one of the first superstars to fall victim to Triple H's abuse of power and was put in a match against Orton in which if Rhodes lost, he would be fired. Obviously Rhodes lost because the chances of Rhodes beating Orton is about as likely as Heath Slater winning the Royal Rumble. This storyline was put in place so Rhodes could have time off for his honeymoon with Eden Stiles. The Authority went on to terrorize the Rhodes family including ordering Big Show to reluctantly knock out The American Dream Dusty Rhodes which enraged both brothers.
The Rhodes Brothers would eventually return in vengeful form by attacking The Shield and giving The Authority no choice other than to give them a match to be able to win back their contracts with the WWE. They eventually won back there contracts and then went on to win the tag titles which brought Rhodes back to where he started. They had several successful title defenses until they lost them to The New Age Outlaws (another terrible decision on the part of WWE).
They then went on a slump in form which lead to the introduction of Stardust. Yes, Stardust. WWE's great plan of saving Rhodes career was him to have almost the exact same gimmick as Goldust, but completely toned down from what made the Goldust gimmick successful. After the pair turned heel and became Gold and Stardust, they ended up splitting up which led to a horrendous match at Fast Lane, ending with a role up win for Goldust. Clearly the WWE didn't care about either superstar at this point and just deemed the rivalry as nothing and it was quickly over. After this, Stardust went into a rivalry with the star of Arrow and Neville which again made Rhodes look very weak. Then several pointless feuds later he announced big news on twitter.
Stardust no more?
Rhodes recently put on twitter "Stardust is coming to an end" which gives fans huge hope that he can finally return back to one of his more successful characters. Stardust never had any potential to be anything other than a comedy act and the quicker it's over, the quicker it will be for us to forget.
What Went Wrong?
WWE Booking. WWE clearly never felt Rhodes was anything more than a mid-carder, they didn't listen to what the fans want and because of this Rhodes was never allowed to reach his potential. However, there is still hope as we can all hope that this tweet is the start of something new and great for Rhodes and the WWE.