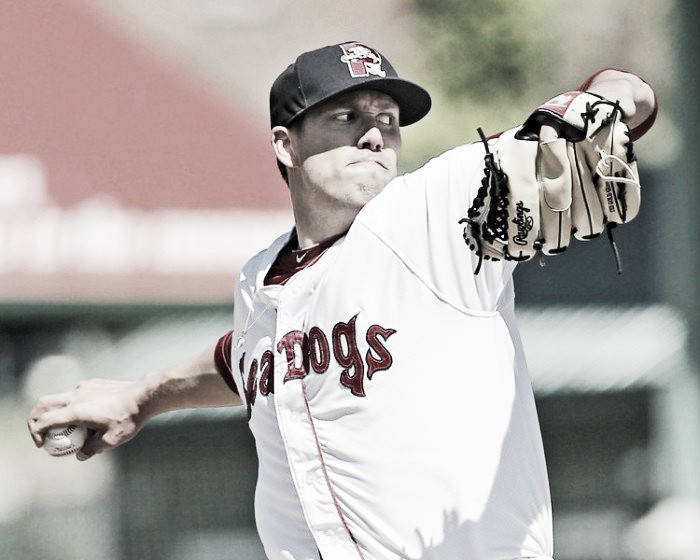 While Mookie Betts is off with the Boston Red Sox, Jordan Betts is working to establish him as another great 'Betts' to walk through the Portland Sea Dogs' Hadlock Field.
On Wednesday, Jordan helped his case by doing Mookie-like things, ripping a walk-off RBI double to right-center field for the 1-0 victory. Designated hitter Jake Romanski came racing around from first base with a celebratory slide into home plate, giving Portland their first series win of the season.
The game was a pitcher's duel as neither team could break through against spectacular pitching on both sides.
Another gem from Teddy Stankiewicz
So far, Double-A newcomer Teddy Stankiewicz has shown no ill-effects from his jump from Class A to AA this season. Stankiewicz was robbed of yet another well-deserved win on the mound, thanks to his teammates' poor offensive showing.
However, Stankiewicz did his part, going six innings for the third time in as many outings. Stankiewicz ran into some minor late jams but ultimately held the Thunder scoreless over six frames. He scattered four hits and struck out six. He once again exemplified his spectacular control, handing out no free passes durinig his outing. He faced mini-jams in his final two innings of work.
A throwing error on Stankiewicz', in the fifth inning, part looked to put runners on second and third. However, Trenton manager Bobby Mitchell tried to send Jose Rosario in to score. Rainel Rosario of Portland cut down Jose Rosario at the plate with ease, ending the inning. In the sixth, Tyler Wade singled and stole second with two outs.
But he recovered to whiff Dustin Fowler and end the frame. Stankiewicz has been spectacular, even if his record (0-0) doesn't show it. He has pitched to the tune of a sparkling 1.00 ERA, surrendering just two runs over 18 innings pitched. However, Stankiewicz has received very little run support this season, thus he hasn't accumulated a victory on the mound yet.
First Double-A appearance is solid for Daniel Camarena
Having dominated at Class A, and pitched a few fill-in innings at Triple-A, Camarena finally made his AA debut on Wednesday.
Recovering from Tommy John surgery, Camarena was on a limited pitch count, only hurling four innings. He kept the Portland bats silent, surrendering just two hits. He also did not walk a batter while striking out three. He ran into only one jam, when a hit batter and two singles loaded the bases with two outs in the third inning. However, he induced a pop out to third base to end the threat.
Bullpens keep game scoreless until the 9th
Both teams received solid bullpen efforts to complement their starters and keep the game scoreless. The Thunder were particularly solid out of the 'pen, giving the short start from Camarena. Matt Wotherspoon was dominant over three no-hit innings. He allowed just two runners - a walk in the fifth inning and an error in the seventh. He struck out just one batter, but the Sea Dogs could not hit the ball well off him, managing just ground outs and soft fly outs to the outfield. Matt Tracy followed Wotherspoon with a scoreless eighth inning, working around a leadoff walk and sacrifice bunt.
Meanwhile, the Sea Dogs had a little less work to do with their bullpen after Stankiewicz's spectacular outing. Williams Jerez received the call out of the bullpen and did his job, holding the Thunder scoreless over two innings. Back-to-back two-out singles in the seventh inning had the Portland crowd of 5,033 holding their breath, but Jerez struck out Cito Culver to end the threat.
Luis Ysla entered in the ninth inning and escaped unscathed by the skin of his teeth. Ysla walked the leadoff man, struck out the next, then walked another. Ysla dueled with Jose Rosario for an 10 pitch at-bat before inducing a double play ground ball to third base.
Two-Out rally gives Portland series victory
It looked like this game was destined for extra innings when Trenton reliever Tracy got the first two outs of the inning. However, Romanksi lined a single into left field with two outs, breathing some life into the fans. Jordan Betts provided some Hadlock fans with some Mookie flashbacks as he sent a long fly ball into the right-center field gap. Romanksi was off on contact and scored easily. He slid with his arms raised, knowing there was no throw coming.
Quick Hits
It was not an offensive day on either side, as Trenton scraped out six hits, while Portland managed just four. No hitter on the Portland side got two hits, though veteran catcher Ali Solis reached base twice via walks. Both Jared Mitchell and Jose Rosario recorded two-hit days for the Thunder, but to no avail. Tracy took his first loss of the season for Trenton, while Ysla picked up his first win. It was also the first win recorded by the Sea Dogs' bullpen on this homestand.
Portland will stay at Hadlock field, but they will play as the visiting team. The Hartford YardGoats are coming back to town as the home team because their new ballpark isn't ready quite yet.