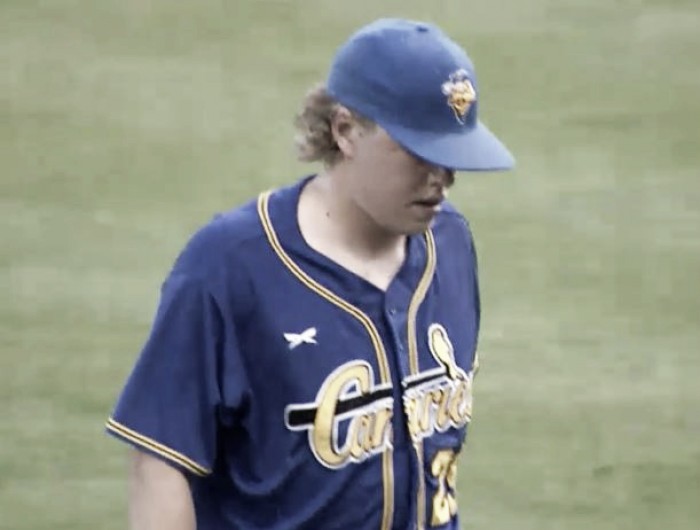 ST. PAUL, Minn. -- The Sioux Falls Canaries defeated the St. Paul Saints 7-3 on Saturday night at CHS Field thanks to seven strong innings from starter Bo Hellquist, who held the Saints to four hits and three runs on the night.
Early on, it was the Saints who came out swinging in the game, as they scored in the bottom of the first inning when Danny Oh drew a leadoff walk, advanced on a single from JJ Gould, moved over to third when Nate Hanson flew out to center field and scored when Anthony Gallas flew out to right field to put the Saints up 1-0.
Danny Oh, 2012 Yankees draft pick playing independent ball with the @StPaulSaints, with a ridiculous slide tonight pic.twitter.com/WigIMeEZVp

— Darren Rovell (@darrenrovell) August 13, 2017
The Canaries scored three of their own in the top of the second inning when Jabari Henry drew a leadoff walk, and the next two batters singled. By the time the Saints were able to get out of the inning, the Canaries had put up three runs on three hits, with one stolen base from Henry.
The Saints got one back in the bottom of the frame when Kes Carter drew another leadoff walk and scored on a single from Tim Colwell. They gave it right back in the top of the third inning but scored another run in the bottom of the third on a one-out home run from Gallas.
That was all the runs that the Saints were able to score, though the Canaries tacked on three more insurance runs, including two home runs, one in the sixth from Patrick Fiala, and in the ninth from Henry.
After Hellquist was removed from the game in the top of the eighth, the Saints were looking to make some noise against the Canaries bullpen, but they were shut down, as James Jones pitched a fairly clean eighth inning, giving up just a single walk, and Jose Ortega pitched a perfect ninth inning to clinch the win for the Canaries.
The Saints will look to split the series on Sunday afternoon when the Canaries will send RHP Grady Wood (6-2, 2.89) to the mound. The Saints have not yet announced who they will throw in the series finale. First pitch is scheduled for 5:05 p.m.
Quick Hits
- The Saints lost ground in the North Division on Saturday, as the Winnipeg Goldeyes defeated the Wichita Wingnuts in a wild game, while the Fargo-Moorhead Redhawks lost to the Gary Southshore Railcats, so at least the Saints stayed even with them. The current division standings entering Sunday are:

Goldeyes - 46-32
Redhawks - 41-35
Saints - 42-36
Canaries - 35-43
Game Summary
SF -- 031 001 011 -- 7
SP -- 111 000 000 -- 3
Win - Bo Hellquist (2-1)
Loss - Jason Hoppe (0-1)
Player of the game - Jabari Henry (2-4, home run, 2 runs scored)