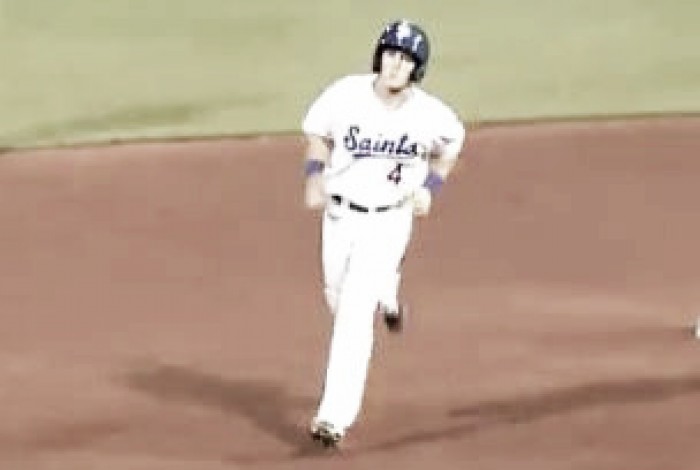 ST. PAUL, Minn. -- The St. Paul Saints had a very good night at CHS Field on Friday, as not only did they beat the Sioux Falls Canaries 10-5 to snap a two-game losing streak, but both the Fargo-Moorhead Redhawks and the Winnipeg Goldeyes lost, moving the Saints that much closer to the top of the division, as they are now just three games back of Winnipeg, and are tied with the Redhawks.
In the top of the first inning, it was the Canaries who got on the board first, as Ty Morrison hit a one-out single, that was followed by a home run off the bat of Burt Reynolds to put Sioux Falls up 2-0. The Saints did almost the exact same thing in the bottom of the inning, as Breland Almadova hit a one-out single, and scored when Nate Hanson homered, this one to left field to tie the game.
The Saints got another run in the second when rookie Tanner Lubach hit his first home run as a Saint. He followed that up in the seventh inning with his second home run of the night and as a Saint, with that one also scoring Tony Thomas.
After the Saints tacked on another run in the fourth, they piled on in the sixth inning, as they scored four runs in an inning that the Canaries would probably like to have back. In the inning, the Saints got four hits and had two batters reach via a walk.
The Canaries sprinkled a few runs in the rest of the game, as they got two in the fifth inning and tacked on one final run in the ninth inning, but their attempted rally did not get off the ground, as a myriad of four Saints pitchers held them off the board, with Chandler Hawkins putting the nail in the coffin in the ninth.
The two teams will play game three of the series on Saturday night when the Saints send RHP Jason Hoppe (0-0, 4.91) to the mound. He will be opposed by LHP Bo Hellquist (1-1, 3.25). First pitch is scheduled for 7:05 p.m.
Quick Hits

- With their win and the losses by the Goldeyes and the Redhawks, the Saints are now tied with Fargo for second place in the North Division and are just three games behind the Goldeyes for the top spot.
- Lubach had what has to be his best game as a Saint, going 2-2 with two home runs, two walks, and three runs scored. He was signed as a free agent on July 30 when the Saints released Jack Goihl.
Game Summary

SF -- 200 020 001 -- 5
SP -- 210 104 20x -- 10
Win - Brandon Peterson (4-2)
Loss - Joe Bircher (4-6)
Player of the game - Tanner Lubach (2-2, 2 home runs, 3 runs scored)