Pulled from the weekend's WWE live events
This past weekend AJ Styles made his way to Twitter to apologize to his fans that came out specifically to see him over any other superstar because he had been pulled from the live events that he had been booked for. He went on to explain why he had been pulled from said live events. He had this to say about his absence "For those of you who were expecting to see AJ Styles this weekend, I apologize. Banged up my ankle pretty good, but I'll be all ready for RAW."
What could this mean long term?
For anyone of the fans that look outside of the WWE for their wrestling over the past ten years plus has probably heard of this crazy high flying wrestler named AJ Styles but if you know him you know for at least the past five years nagging injuries have followed him basically everywhere he went. This could be a problem in the WWE for him, this isn't TNA where the dates you wrestle are limited to one show a week, six live events a month and one pay per view. The WWE have two main TV shows then you possibly could be asked for something on Main Event but off TV they do six live events a week and this month alone we are coming up on the second PPV of the month.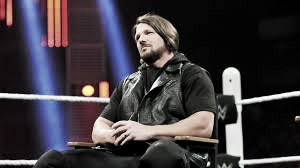 Also with the WWE you could be asked to do some type of WWE Network special or something else, the point is the rest you get for your injuries is limited in the WWE even if AJ Styles isn't wrestling he is still travailing with the company so he still walking around also to mention he has a lot of back trouble in the past which is what is causing him the problems once again.
Problems the WWE might see in AJ Styles?
This next comment isn't to swat Dolph Ziggler in any way but he is someone the WWE handed the whole world to as a top guy but one bad concussion stopped his push. Since then he hasn't been able to break through into the top level again spite what things say Dolph is getting older and the company is moving still.
Here is another good example, Daniel Bryan he was pushed to the moon and back but when he was on top he had to drop the title and he was an "indie" guy too. When he returned he didn't even get a sniff of the main event spot. Could this happen with AJ Styles if they really want to give him the WWE World Heavyweight Championship? Can AJ Styles hold the top spot, travel,and not take any time off from live events if not will the WWE put that kind of trust in this man AJ Styles could carry the company everyone knows that but while he carries the company his ankle has to stay steady because if he drops the ball he won't be trusted with it again.