WWE Hall of Famer Stone Cold Steve Austin had PWTorch editor Wade Keller on the 'Unleashed Version' of his podcast last Thursday. The two touched on the news of the brand split, AJ Styles, Cody Rhodes, and the segment on RAW about a week ago where Charlotte dispatched her father The Nature Boy Ric Flair from the ring.
Criticisms of the Flair segment
Austin did not care for the promo exchange between the Flairs, saying (r/t NoDQ.com), "[Ric Flair] spilled the beans as soon as he went out there. He had only been talking 10 to 15 seconds and I said, 'oh, he's getting fired or she's going to kick him out of the damn ring' and that's exactly what happened. And then, man, that was a pretty rowdy crowd and she got lost. And I love Charlotte. She's a talented female. She's still green, but she [has] got so much potential. And she carries herself [like a star]. When she enters that damn arena, everybody comes to their feet when they hit that music. It's a moment. We'll see what happens with the matches that she's in, but she's a special one too. But that was just a real bad [segment] and that thing, Ric kind of spilled the beans. Whoever wrote that, and you know Ric is one of the best promos in the history of the [professional wrestling] business and you don't write [anything] for Ric Flair. Just let him go out there and do his thing. But, so he's going out there and he's trying to memorize this script that someone wrote him and he spilled the beans, started tripping all over himself, and then, it only got worse from there. And then, Charlotte's trying to recoup and she gets lost a couple of times and goes at the crowd and then kind of misspeaks and then it was extremely awkward and it was hard to watch because I'm such a fan of the Flairs."
Doesn't need daddy anymore?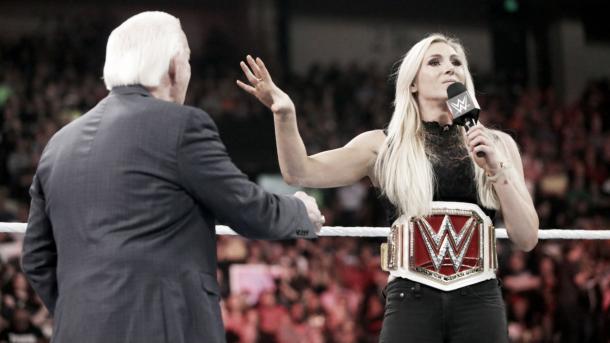 The segment in question took place on the Raw after Extreme Rules. The Flairs and new associate Dana Brooke came out supposedly to gloat after the Women's Champion held on to her gold in groan-inducing fashion. The Champ beat Natalya in a submission match after Brooke came out to Ric Flairs music wearing his signature robe and a blonde wig, a ruse that seemed to only fool the Queen of Harts.
Flair talked about his daughter retaining the title and compared Booke to former Four Horseman running mate Arn Anderson, playing the role of a proud papa in an attempt to garner sympathy from the Baltimore crowd. Charlotte followed up with a scathing promo, chastizing Flair for not being there for her when she was a kid and coming back to steal her spotlight. The Women's Champ told her dad the he was "dead to her" and ordered him to get out of her ring.
Austin's makes good points in his critique. Flair telegraphed the segment to some extent with his early mic work and the Charm City crowd did not seem to be all that interested in what Charlotte had to say (complete with loud "What?" chants). Charlotte is very talented but is still green in many aspects, live mic work being one of them, and moment seemed to overwhelm her (she also continued her trend of emoting through talking really loud).
The dropping of Flair seemed to come out of left field as well. Although Charlotte made some subtle jabs at Flair in the preceding weeks, the leap the Women's champion made to resenting her dad seemed like a last minute thing to get Flair off of TV. It was a good move for the "Genetically Superior" champion to move away from Flair, as he was detracting attention away from the women in the ring. However, the break-up would have been better if there were a more natural progression.