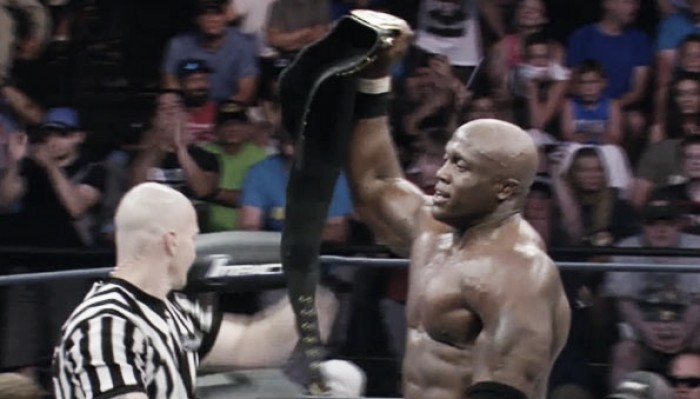 Opening Segment: Bobby Lashley delivers an in-ring promo, celebrating his winning of the TNA World Heavyweight Championship at Slammiversary. He is interrupted by both EC3 and Drew Galloway, with EC3 declaring himself the Number One Contender and Galloway invoking his rematch clause as the show's main event.
Murphy's Musing: Lashley was sporting a slightly new look, with sunglasses and a white suit, playing up his role as an arrogant heel champion. He's gotten progressively better on the mic over the past several months and his interaction with both EC3 and Galloway was stellar. TNA might have been better served to build to the rematch between Galloway and Lashley, but it's clear that they are quickly moving EC3 into the top babyface spot, which is totally fine. In addition, Creative did a nice job playing up Galloway's injuries from the previous night, so even though he'll likely lose the rematch, it shouldn't hurt his equity too much in the long run.
Match #1: Jeff Hardy defeated Eli Drake in a TNA King of the Mountain Championship Match by disqualification, when Matt Hardy interfered at the 7:25 mark
Murphy's Musing: With no buildup, this match still made sense, as Jeff is looking to move on after defeating Matt at Slammiversary and reclaim some gold - a simple, effective story. Despite being a hair slower, due to age and injuries, Jeff is still a top-level performer in the ring, and Drake continues to impress. Matt biting the referee's hand to cause the disqualification was a nice touch, as they're presenting him as completely going off the deep end, as a result of the Slammiversary loss. And it served as the launching pad, for what will presumably be the final chapter to the feud as Jeff and Matt will main event next week's show in Six Sides of Steel.
In-Ring Segment: Jeff Hardy calls out his brother Matt, as he doesn't want to wait until next week's show to finish their issues. Matt Hardy appears at the top of the stairs, in the back of the Impact Zone, where Jeff had leaped onto Matt, putting him through a table, several weeks ago. Matt challenges Jeff to begin their battle at the top of the stairs. Jeff takes the bait and two begin to brawl, with Matt's wife, Reby Sky, spraying Jeff in the eyes with a fire extinguisher. This allows Matt to push Jeff down the stairs to end the segment.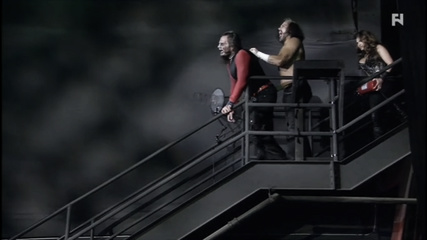 Murphy's Musing: One of the highlights of this feud has been Creative's attention to detail. In this case, it was making the stairs, a key moment in the feud, a focal point in this segment to hype next week's match. To her credit, aside from Maria, Reby could possibly be the best female heel that TNA has seen in quite some time.
Match #2: Eddie Edwards defeated Trevor Lee in 4:00 to retain the X Division Title
Murphy's Musing: The Trevor Lee experiment appears to be over, as Lee's obligatory rematch, after losing Sunday, was presented as a complete blow-off. It will be interesting to see what's next for him, as he has a unique in-ring style. Perhaps some re-packaging and character development will be in order.
In-Ring Segment: Gail Kim is announced as the 2016 inductee into the TNA Wrestling Hall of Fame
Murphy's Musing: Putting aside the fact that it's questionable for a company in existence for a mere 15 years to have a Hall of Fame, this pick made sense and set the stage for what would be a focal point later in the show. As a side note, Al Snow's reactions while Dixie Carter was introducing Kim was stellar, mistakenly believing that she was talking about him.
Backstage Segment: Jeremy Borash interviewed Marti Bell for an explanation as to why she cost Jade the TNA Knockouts Championship at Slammiversary. This ended in a brawl between the two.
Murphy's Musing: While the segment didn't do much to establish who was the face and who was the heel, it was nice to see Creative expanding the division beyond one angle at a time.
Match #3: Decay defeated Grado and Mahabali Shera, The Tribunal, and the BroMans in a four-way to retain the TNA Tag Team Championship
Murphy's Musing: Typically, this would be considered lazy booking, but considering that Creative is transitioning from the pay-per-view, this was fine. It will be interesting to see the next program for Decay, which continues to be a top act for the promotion.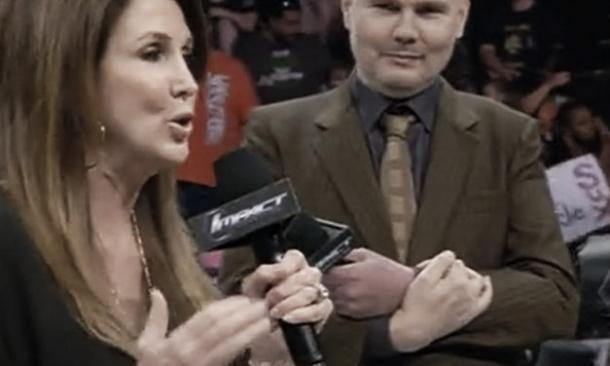 In-Ring Segment: Mike Bennett and Maria call out Dixie Carter, demanding that Bennett's loss to EC3 at Slammiversary be stricken from the record. Billy Corgan comes out and asks Bennett to set up a meeting for another time, which Bennett refuses. Carter finally comes out and gets into a heated exchange with Maria, ending with Carter slapping Maria and exiting.
Murphy's Musing: Aside from the ugly pineapple shirt worn by Bennett, it would appear that this segment will set up a feud where Bennett will face someone of Carter's choosing, with the winner getting control of the company. From his mannerisms, it would appear that Corgan will eventually turn heel and help give control to Maria and Bennett. While the booking should center around the Championship, as opposed to some power struggle and heel authority figures, Maria and Bennett are the right characters to be a part of this angle. Maria's expression after the slap was great and anything that gets Carter off of TV would be welcomed.
Main Event: Bobby Lashley defeated Drew Galloway to retain the TNA Heavyweight Championship after EC3 accidentally struck Galloway with a chair
Murphy's Musing: This was a fine main event. It established EC3 as the Number One Contender, but kept Galloway in the mix, without hurting his character. There will likely be a triple threat match payoff, which isn't ideal, but all three have dine a great job building their characters, so it should be an interesting story to get us to that point.
Overall, a decent episode coming out of Impact and despite the company's financial woes, they continue to produce shows that are much better than what they were a year ago.
Follow Murphy's Musings on Twitter: @don424