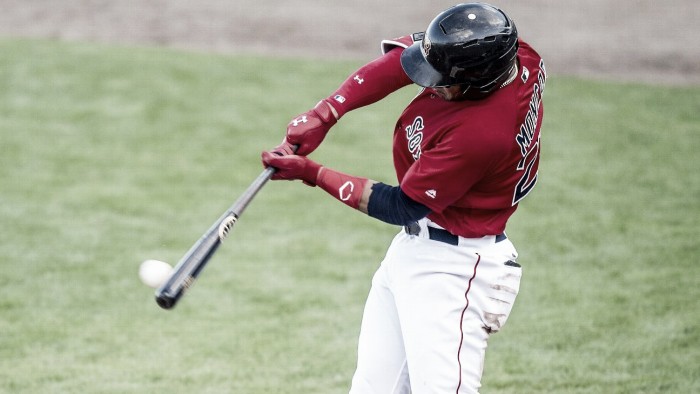 For being a 21-year old in AA ball, Yoan Moncada has a lot of pressure on him.
That's what comes when your club doles out 63 million dollars for your services. The Red Sox signed Moncada, giving him a 31.5 million dollar signing bonus, but having to pay a 31.5 million dollar fine because they exceeded the maximum amount they were allowed on international signings. The Red Sox expect big things from Moncada, who has the pressure of trying to follow up Boston's last flop of a Cuban prospect in Rusney Castillo. Red Sox fans are excited at Moncada's potential, but weary after how Castillo turned out.
There is no question Moncada still needs development in the minor leagues, but his potential is undeniable. Moncada is hitting .305 this season, most of which was spent in Single-A Salem. He also stole 36 bases in 62 games, after swiping 49 bags in 81 games last season. He is the type of player that can electrify a ballpark with his blazing speed. With a 6'2", 220-pound frame, it is likely more power will come from Moncada than what he has featured (four home runs this season). Defensively, Moncada has shown an ability to make sparkling plays, but his .958 fielding percentage is lower than most people probably want to see from their second baseman.
Double-A Debut
There was plenty to take from Moncada's Double-A debut with the Portland Sea Dogs. Moncada was 1-5 in Portland's blowout victory, ripping an RBI single.
Offensively
Those who saw Moncada in his first game at the new level saw both positives and negatives from Moncada's offensive showing. He made solid contact early in the game, eventually driving a hard single to right field to drive in a run. However, in his final two at-bats, Moncada looked uncomfortable, fanning both times on late, ugly-looking swings. The pessimists might say Moncada simply featured an unseasoned approach at the plate, but others might say he is simply adjusting to a new level of baseball. It's tough to tell, especially from one game. Overanalyzing five at-bats and two strikeouts isn't going to tell us anything new and is rather useless until a larger sample size is derived.
Defensively
While Moncada looked mediocre at the plate, he sparkled defensively, which was rather in stark contrast from the skill set he featured in Salem. Moncada made several highlight reel plays. Among them were a diving stop on a ground ball and throwing the runner out at first, a quick step to snag a line drive and double up a runner at first, and a nice stop on a sizzling ground ball followed by a pivot throw to start a double play. Although Moncada looked overmatched at the plate at times, he looked polished in the field. It will be interesting to see whether Moncada continues performing at that level defensively.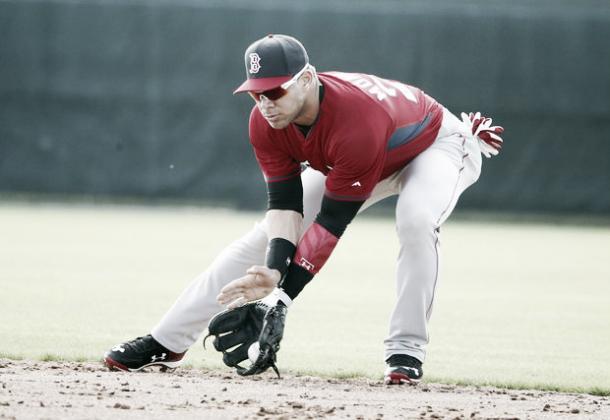 Elite Competition
In just his second game at Double-A, Moncada had to face about as good a Double-A pitcher he is going to see during his time in Portland. Moncada faced off against Lucas Giolito of the Harrisburg Senators, ranked the #5 MLB prospect. Moncada faced just one pitch from Giolito in his first at bat, drilling a line drive that was directly at the second baseman for an out. After that dose of tough luck, Moncada made more hard contact off of Giolito, turning on a pitch and sending it sizzling past the dive of the first baseman for a leadoff double. That sparked a two-run rally for the Sea Dogs in the inning. The ensuing frame, Moncada came up with runners on the corners and nobody out. He wasted little time before sending Giolito's offering back up the middle for an RBI single, his second RBI in as many games. It was a much more encouraging performance at the plate for Moncada, against possibly the best pitcher he will see at this level. Moncada shined against the Harrisburg bullpen as well. He worked a long at-bat against John Simms, ultimately sending a sinking line drive to center field for an RBI single, advancing to second on an error by the center fielder. He later flew out but finished with a 3-5 outing that improved his AA batting average to .400 in two games.
Moncada continued to shine defensively, handling all his chances without an error and flashed much more offensive potential than he had done previously.
Yes, it is a small sample size, but a word of advice to Portland Sea Dogs' fans:
Don't get too attached to watching Moncada live...because he not be here for too long.