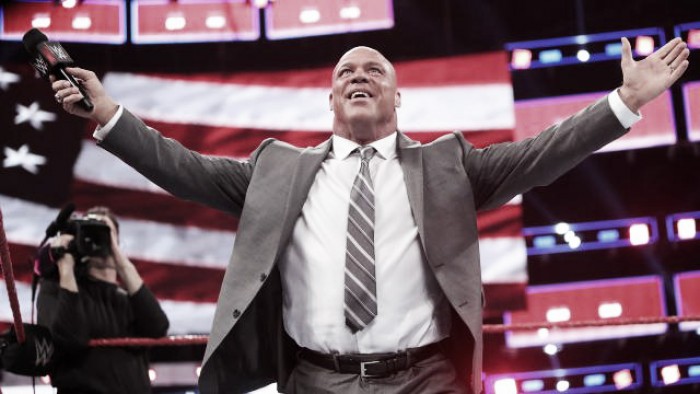 WWE has always been excellent at video packages and detailed documentaries, with their DVD's always being of excellent quality. Which is why when the WWE Network was created, fans became very excited about the potential of the original content the company would be producing and whilst it hasn't all been a smash hit, the WWE 24 series has been nothing short of excellent.
With previous 24's looking at Daniel Bryan's retirement, Finn Balor's return to action and the Monday's Night Raw's after WrestleMania, they are spread out so that when one is released it is treated as a big deal and this week saw the latest instalment drop. Focusing on the return of Kurt Angle to the company, the 24 followed Angle's journey into WrestleMania weekend, whilst reflecting back upon his career and encompassing all the highs and lows that came with it.
Reuniting with the boss
The first major talking point from the documentary was Kurt Angle's first meeting with Vince McMahon, something that drew raw emotion from the Olympic Gold medalist and the WWE Chairman himself. It was clear that Angle was nervous heading into the meeting, something he admitted to on camera, but those nerves were calmed with quick chats from both Triple H and Stephanie McMahon.
WWE's camera crew caught the moment that the two men reunited and embraced in a warm hug that showed the past was exactly that and it was great to see. It gave fans a truly unique look into the behind the scenes aspect of the business and Vince McMahon himself, although he quickly brought his image back when he kicked the camera crew out of the office so they could talk in private.
Angle's emotion continued after the meeting when the cameras caught back up with him as he broke down and cried about the fact he had been welcomed back by someone who was a father figure to him. The relationship between the two men was a key story throughout and it is evident that it means a lot to both of them.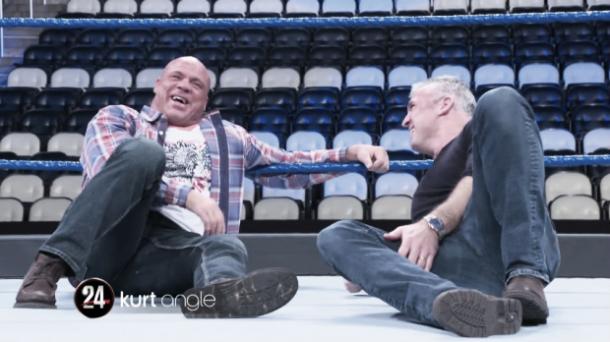 Reflecting on the past
The program did a great job at blending Angle's original WWE run with today's events and whilst it certainly looked at the tremendous success he had in the ring, especially the way he developed so quickly, it largely focused on Angle's demise.
His neck breaks were a key topic and it became very clear just how much they affected his life, in general, both inside and out of the ring, with some incredibly emotional moments as Angle retold his story of depending on painkillers and alcohol; an addiction that led his life down a dark path. The role that Kurt's wife played was also told, as she let him know that although she loved him, she and their kids would have to leave him if he continued; which sparked a change.
Angle then attended rehab to get his life back in order and he has been on a journey to where he is now ever since. Hearing Angle say, "I used to be a role model, now I am just a recovering addict," was an eye-opening moment which provided the audience with a real glimpse into Angle's mindset and how his decisions still haunt him to this day.
Never say never
The famous saying in the world of WWE, 'never say never' was certainly true for the latest WWE 24, as the company not only referenced the fact that Angle went away and wrestled for TNA, they even brought in former TNA President Dixie Carter as an interviewee for the program.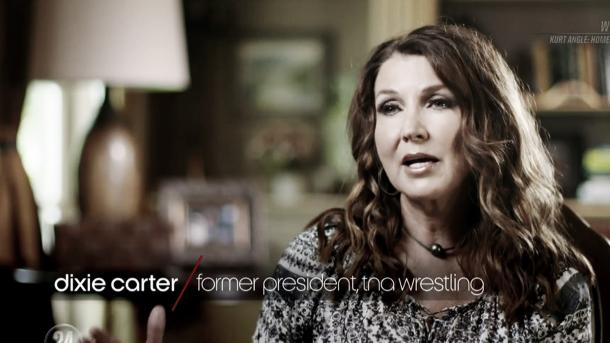 In a moment that most wrestling fans never saw coming, Carter appeared on the WWE Network and it just goes to show how much WWE's mindset has changed, but also how much they respect Angle and wanted to tell his story in the truest form. Carter came across very well on the show, and it was clear she too cared dearly for Angle and wanting him to focus on himself and his family. It also opens the door for a working relationship between Carter and the company so she can be used for future ideas such as this with other former TNA stars such as AJ Styles or Samoa Joe.
Family theme
Another one of the main themes throughout the program was Angle's love for family and how that has driven him to be the man he is today. With five children he has plenty on his hands, but he stated himself he believes he's a good dad and it's clear from the shots we were shown that his children adore him.
This was clear from the start right up until the very end with Angle's Hall of Fame speech where he made special mentions to his wife and children and now he is back with the company, it is clear he knows the future is in his own hands and that's true, it's damn true.
Overall it was a terrific episode of WWE 24 and was in line with the previous instalments. For those who got to watch Angle in his prime, this will be a refreshing trip down memory lane with even more details added in about the secrets fans never got to hear about, whilst for the newer fans, it will show why Angle is a WWE legend.
It was emotional, it was funny, incredibly heart-warming and was yet another example of why all wrestling fans really should have the WWE Network because exclusive content such as this is absolutely must-see, so if you haven't checked it out then do so.
Rating- 8.5/10