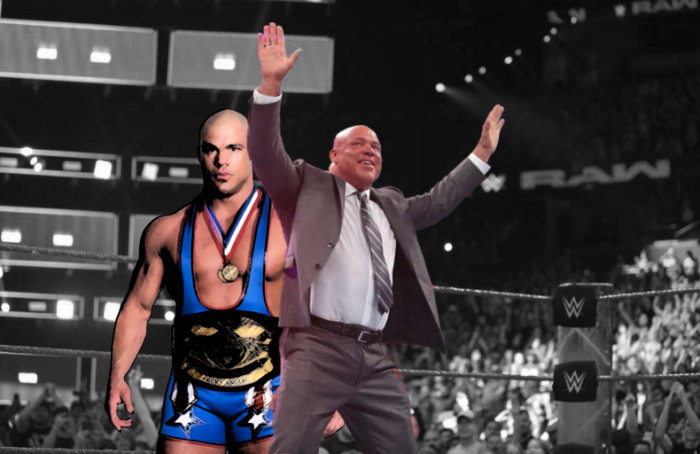 Much has been speculated regarding Kurt Angle's future within WWE, with his general manager role subject to rumour many months before his eventual return on the Raw after WrestleMania in April.
The Olympic Gold Medalist is doing a great job tying down the red brand in Stephanie McMahon's absence but he would much rather be putting on wrestling trunks than a suit.
Angle believes he will wrestle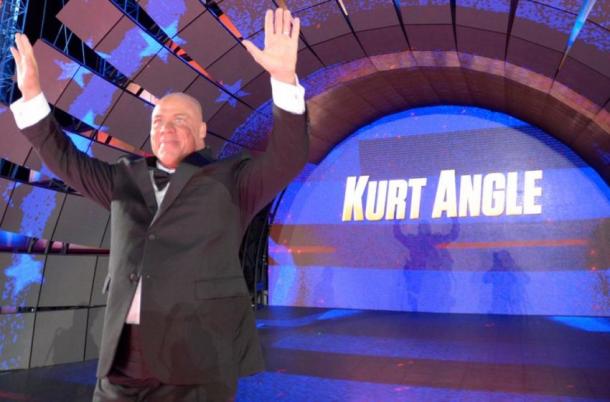 As of yet, Angle is firmly stuck in a strict non-wrestling capacity but the man himself believes he will get back into the ring at some point and coming from his own mouth, it is hard to argue with him.
At the age of 48-years-old, the veteran is way past his prime but he has shown that he can still kick it with the youth of today having stellar bouts with the likes of Cody Rhodes in months gone by.
In an interview with WrestleZone, Angle says "They haven't talked to me about it. I'm sure they won't until the last second [laughs]. That is ok with me. I think what they are doing right now is, this is just my own opinion, they're monitoring to see how I am doing. They want to see, 'Is this kid really in recovery? Does he really have his life together? Is he coming here clean? Is he doing ok? Is his health ok?
"They see me working out at the gym. They see me every RAW doing what I have to do. They're saying, 'Prove to us that you are ok and we can give you what you want.' I'm cool with that. I understand that."
Angle's past substance abuse has been well documented with he himself coming out and talking publicly about his issues, feeling that WWE want to make sure he has a lid on his past demons.
"I understand they are going to drug test me continuously. It's no more than anybody else but else but they are going to. It's one of those things where they are going to monitor me and see how I do.
But despite WWE's restriction, the father of five believes that he will step foot into the ring down the road but when that is, is something he does not know.
"I don't think it's an issue of 'if' they are going to I think it's 'when.' That's my opinion but I will be wrestling down the road at some point. It might not be this year, it might be next year, I don't know. They haven't said a word but my guess is I will wrestle again in WWE. I just don't know when."
Broken return
On the subject of returns, Matt Hardy believes his BROKEN persona will return in WWE after the current Raw tag-team champion replied to a fan's comment on a Facebook video post.
He said: "The #7Deities have told me that my #BROKEN CONDISHTION will return fully as soon as the OBSOLETE Owl is fully DELETED."
The cryptic comment was a reference to Impact Wrestling's claims regarding the ownership over the Broken character with WWE hoping to come up with a deal over use.