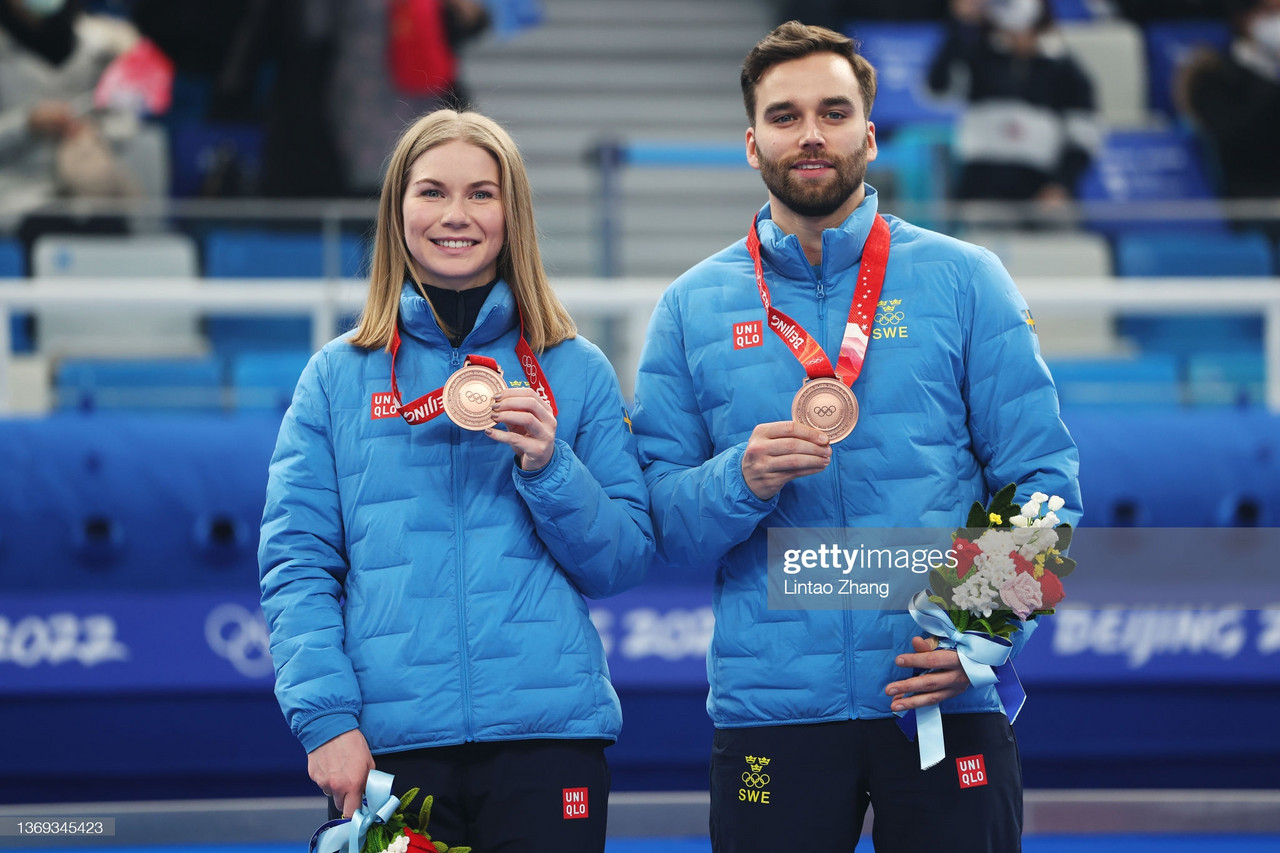 Sweden has picked up their ninth Olympic curling medal as the team of Almida de Val and Oskar Eriksson claimed the bronze with a comfortable 9-3 victory over Great Britain at the 2022 Winter Olympics.
Jennifer Dodds and Bruce Mouat are the reigning world champions, but leave the mixed doubles curling competition without a medal after consecutive defeats in the medal round, never having been in the game from the start.
Despite having the hammer, Great Britain were forced to settle for one in the opening end when Dodds got her angles wrong as she attempted a shot for two.
Eriksson managed to open up a tight house with his last stone. Dodds then cleared out most of them but left Sweden still lying shot when de Val came to play the last stone of the end.
She completed a double take-out, removing the second British stone off the wing, to score four points and take an early 4-1 lead.
In the third end, Dodds was facing two Swedish counters when she came to play her last, but again her angles were wrong, and Eriksson and De Val gave up a steal of three.
Problems grew for Britain in the fourth end when Dodds' final stone of the end caught a front guard to give Sweden another steal, for one point this time to take a commanding 8-1 lead at the halfway point.
In the fifth end, Dodds played a double take-out on Swedish stones. However, her second target stone jammed on the way out, yielding yet another single-point steal for Sweden, who led 9-1.
The Brits finally got back onto the scoreboard in the sixth end when Dodds drew her stone into position to score two points, and reduce Sweden's lead to 9-3.
At this point, Dodds and Mouat saw the writing on the wall and conceded, giving Sweden a richly deserved bronze medal.
Following the victory, both members of the victorious Swedish team spoke about their performance.
"That was amazing!" Eriksson said. "Our goal coming here to the Olympics was to win a medal. It was an incredible game by us and Almida was shooting 100%. I'm really proud of her and our game today."
"This was our last game, our last chance, so we had nothing to lose", De Val said. "We both know it's a lot more fun going home with a medal than without so that really motivated us to really fight for this game."