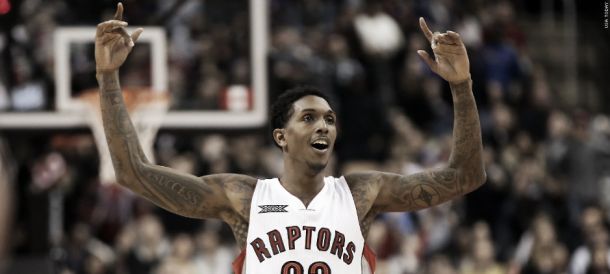 Toronto Raptors guard Lou Williams has won the NBA's Sixth Man of the Year award as the leagues best reserve player.
Williams came off the bench for all of his 80 appearances during the regular season, averaging a career best 15.5 points per game. The 28-year-old also averaged 2.1 assists, and 1.9 rebounds in 25.2 minutes per game, on route to helping Toronto clinch the number four seed in the Eastern Conference.
The Memphis, Tennessee native led his team in free throw percentage (86.1) and made a career-high 152 three pointers.
Williams' teammate and Raptors shooting guard DeMar DeRozan was asked at Raptors practice if he had heard about the news, in reply, DeRozan stated: "I knew two months ago."
Williams is the first Raptor to win a non-rookie-of-the-year award and the first to win any NBA award since 1999.
In his 10th NBA season and his first in Toronto, he finished with 78 first-place votes for the award and 502 total points. Boston Celtics' Isaiah Thomas and Los Angeles Clippers' Jamal Crawford finished second and third respectively in the final voting.