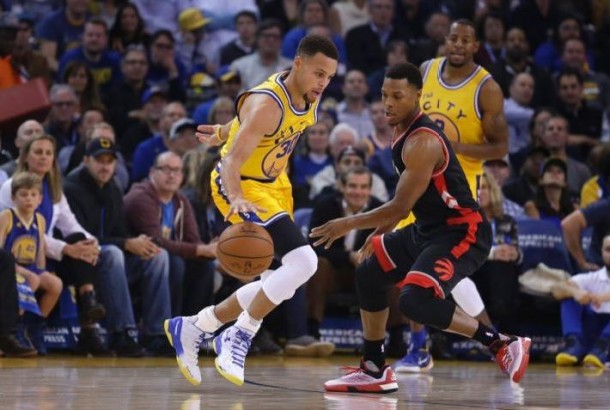 Oakland, CA -- The Golden State Warriors held on in their closest game of the year, as Steph Curry helped lead the Dubs to a 115-110 win in Oracle.
Resilience would be the word used for this game. The Warriors led by as much as 18 points, and while the Raptors would bring the game to a tie at 96, the resilience of the Warriors kept them in the game and kept the lead.
Two huge plays highlighted the end of this game. After free throws, Curry had put the Warriors up 109-108 with 24.6 seconds left to play. This gave the Raptors a chance for the win with just a two-pointer. On a pick-and-roll attempt by DeRozan and Lowry, Lowry got called for an offensive foul when his arm got hooked with Iguodala. The clock ran down to about 12 by that point and Curry sunk two free throws to make it a 3-point game. The Raptors ended up having no time outs at the end and Lowry tried to get a quick layup but Draymond Green defended it very well and the Warriors would recover the ball.
"Our guys have a special gift to make plays. It's not just one or two of them it's our whole lineup out there at the end of the game," said interim head coach Luke Walton. "We were thrilled at how we stepped up to finish it and get a win."
Steph Curry totaled 37 points, 9 assists, on 13-23 shooting, 5-10 from behind the arc. Klay contributed 19 points, and Bogut added 13. The Warriors had trouble against the awesome duo of Lowry/DeRozan, but did as best they could. Both had 28 points but Lowry shot 7-15, 2-7 behind the arc, and DeRozan shot 9-22. DeMarre Carroll added 17 points.
One big thing that killed the Warriors were free throws. They allowed the Raptors to shoot 39 free throws, which not only contributed to 30 points, but also slowed the game down dramatically and put a damper on the rhythm of the Dubs.
The benefit for the Warriors of Bogut being out for a week or two was they saw a bright spot in Festus Ezeli. Now, we knew Ezeli was a great contributor off the bench. He can defend, rebound, and help against larger guys. What we didn't know is his offensive game has elevated a bit. His movement around the rim, and ability to finish has been great. Tonight he had 8 points, 6 rebounds, and 4 blocks. He is giving the Warriors an ability to not have to solely rely on Bogut for minutes and for defensive assignments. Tonight, Bogut got into a bit of foul trouble, so Ezeli came in, played 22 minutes, and was a +12 on the court tonight. Bogut was actually a -8 while on the floor.
The Warriors take on the Clippers this Thursday night in Los Angeles.