The Oklahoma City Thunder stormed past the Los Angeles Lakers 113-96 in a game that saw Russell Westbrook notch a triple double before the fourth quarter even started. Julius Randle and D'Angelo Russell led the Lakers with 20 points each but the Lakers still couldn't get the job done defensively, giving up 62 points in the paint. The Lakers defense has shown to be a continued work in progress as the team has 79 more tries this season to put together a strong defensive effort.
Westbrook is Bestbrook
Superstar point guard Russell Westbrook feasted on easy opportunities against a weak Laker interior and came out with his 39th career triple-double netting 33 points, 16 assists and 12 rebounds in yet another statement game. The point guard sliced and diced the Lakers offense as he got buckets, threw precision passes to teammates (although he should work on the seven turnovers) and helped his team control the boards.
Thunder center Steven Adams seemed to benefit the most from Westbrook's all-around play tonight as he posted 14 points, 12 rebounds on 6-12 shooting. Adams was a presence inside and the chemistry between Westbrook and the New Zealand giant was evident in the number of lobs Westbrook threw to Adams. New addition Victor Oladipo also contributed, dropping 20 points on the night. The Oklahoma City Thunder will look to stay undefeated against the Los Angeles Clippers on Nov. 2 at 10:30 p.m. ET.
Consistency Still a Problem for Lakers
After a crazy offensive shootout against the Houston Rockets to start the season, the Los Angeles Lakers have cooled down and are left trying to answer the questions posed by their woes on the defensive end. The pick-and-roll defense was atrocious tonight and led to countless Westbrook to Adams alley-oops that killed any momentum that the Lakers were attempting to build up. The Lakers must tighten their defensive rotations and focus on denying the inside otherwise more of their games will feature highlight dunks from the opposing team.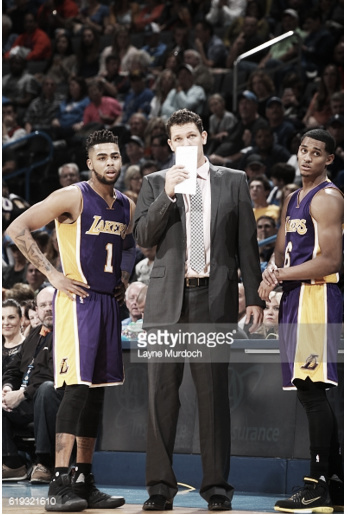 Although the Laker offense is somewhat stable and can produce it can definitely be much more consistent. The young core of Julius Randle, D'Angelo Russell, and Jordan Clarkson has not shown the ability to string together a strong stretch of play, instead showcasing the inconsistency that comes with developing young talent. One bright side to the offense is that the Russell/Randle pick-and-roll combination is yielding results, now they just have to be able to stop it on the other end. The Los Angeles Lakers hope to bounce back against Paul George and the Indiana Pacers next on Nov. 1 at 7:00 p.m. ET.