Indiana Pacers star Paul George showed the young Los Angeles Lakers how to close out a game tonight when he took over after the Lakers took the lead 108 to 107 late in the fourth quarter. PG-13 would go on to score the last 12 points of the game for the Pacers and put the upstart Laker squad to rest, ending the game with 30 points, seven rebounds, and four steals. Los Angeles had a spirited comeback in the latter half of the game after trailing by 16 points but they had no answer for Paul George and missed key baskets late in the waning moments which ultimately sealed the game. The Lakers got most of their scoring from the bench tonight as guards Jordan Clarkson and Louis Williams had 15 and 19 points respectively, giving the Lakers a scoring boost that hasn't been consistently delivered by the starters. Backup forward Larry Nance Jr. was also a huge impact defensively coming away with six steals on the night.
Rated PG13
Just how good is Paul George? Good enough to put the team on his back and score the last 12 points to close out the game. The superstar forward for the Indiana Pacers is averaging 22 points, six rebounds, and four assists to start the season off and doesn't look to be slowing down anytime soon. After having an all-star season coming off of a gruesome knee injury, George has noted that he is eyeing the MVP trophy this season and after such a strong start he is definitely in the running.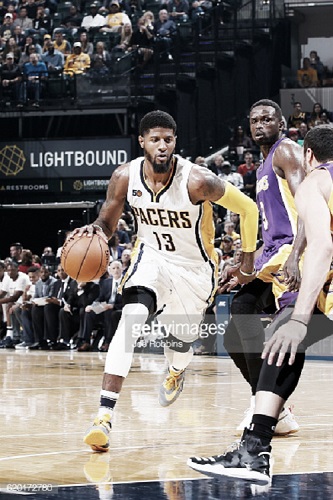 Consistency, consistency, consistency.
The Los Angeles Lakers' starting lineup stalled offensively tonight and head coach Luke Walton had to go to his bench to find the firepower needed to keep up with the Indiana Pacers. Laker point guard D'Angelo Russell played only 18 minutes and had yet another poor shooting night, going 3-10 from the field for 11 points and only had three assists along with two turnovers. D'Angelo Russell is the X-Factor for this team, and in order for them to do well, Russell has to be able to produce on a nightly basis which in turn will open up opportunities for his teammates. Hopefully, he and the Lakers will find their step against the Atlanta Hawks Wednesday night in yet another reunion with beloved former Laker Dwight Howard.