 Welcome to our VAVEL 2016-17 NBA Christmas roundtable discussion. In this roundtable discussion, we will be discussing which players who looks to be the early recipients of the NBA awards at the season's end.
Our VAVEL USA writers Sully Akbari, Youssef Machkhas, Austin McConnell, and Kintaro Skinner will be giving their takes on who looks to be the early Most Valuable Player, Rookie of the Year, Most Improved Player, Sixth Man of the Year, Defensive Player of the Year, and Coach of the Year. Outside of individual awards, we will also discuss which team has surprised us all to start the year from both conferences. There is a lot to discuss so let's get started.
Early MVP Goes to...
Sully: As far as the MVP award goes, it could really be given out today, and only one player is worthy of that. With only 30 games into the NBA season, the early MVP goes to Russell Westbrook of the Oklahoma City Thunder. What Westbrook is doing night in and night out is far from impressive. With 13 triple-doubles on the season, Westbrook is averaging a triple-double with 30.9 points per game, 10.5 rebounds per game, and 10.9 assists per game. Only one player in the history of the NBA was able to average a triple-double and that was Oscar Robertson and Westbrook is on pace to do the same. With the departure of Kevin Durant, OKC is Westbrook's team and it shows. He is carrying the Thunder as they currently sit seventh with a 17-12 record in the tough Western Conference. His play and impact toward the Thunder are what makes him the MVP of the league.
Youssef: Barring any injuries or major setbacks, only two players are in the running to win MVP: James Harden of the Houston Rockets and Russell Westbrook. The former is averaging 27.8 points, 8 rebounds, and 11.7 assists per game while the latter is averaging a triple double at 31.3 points, 10.5 rebounds and 10.8 assists per game. The former teammates are clearly ahead of the rest of the pack not only in terms of their numbers but the impact they have on their teams as well. When you just take averages into account, Westbrook does have a slight advantage. However, an important factor in MVP voting is how the team is performing, and the Houston Rockets are third in the Western Conference and 4.5 games ahead of the seventh-seeded Oklahoma City Thunder. Therefore, if the season ended now, Harden would win the award that he believes he deserved two years ago, as he has led his team to become one of the top teams in the league.
Austin: My preseason pick for MVP remains the same midway through the season, and that is James Harden. He has actually done even more than I expected so far. His transition to the primary ball handler for the Houston Rockets has been seamless, and he has put up monster numbers of 27.8 points, 11.7 assists, and 8.1 rebounds to this point. Furthermore, he embodies the idea of "most valuable player" with the huge dip in the Rockets' net rating when he is on the bench. Russell Westbrook is his biggest contender thus far, but overall Harden has been more valuable to his team.
Kintaro: Although the easy pick would be to go with Russell Westbrook, James Harden is the early MVP. He has led his team to eye-popping assist numbers and top three seed in the West thus far. Head coach Mike D'Antoni has been a perfect fit for Harden's play style as well as he gets plenty of opportunities to make plays on the fly and find some of his favourite shooters all over the court. Something surprising that has made Harden and the Houston Rockets so impressive this season is that his usage percentage has gone up by only one percent yet he is still putting up these impressive numbers. In comparison to Westbrook, who's usage percentage has skyrocketed to 40 percent after being 31 percent the season prior. Harden also leads the league in win shares and offensive win shares as he continues to try to make the Rockets elite. It also wouldn't be the first time a Mike D'Antoni point guard won the MVP as well.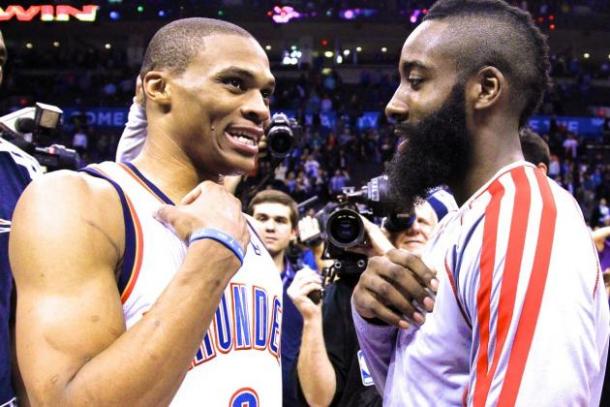 Early Rookie of the Year Goes to...
Sully: This year's rookie class is being dominated by one player and one player only, and that is Joel Embiid of the Philadelphia 76ers. Embiid was sidelined with a right foot injury for the past two seasons, and this counts as his rookie season. He started the season with a 27-minute restriction limit and still is but that isn't stopping him at all. He currently is averaging 17.9 points per game, 7.4 rebounds, and 2.4 blocks per game. What's most impressive is his game against the Brooklyn Nets where he took over. He scored 33 points on 12 of 17 shooting, grabbed 10 rebounds, and blocked three shots. He managed to do all of that in just 27 minutes, which is his minute restriction. He may well be on his way to winning the Rookie of the Year.
Youssef: Honestly, this one isn't even close. Most early season predictions thought Ben Simmons would win, but then he got injured. The favorite now is actually another Philadelphia 76ers player in Joel Embiid. No other rookie is averaging double figures in scoring or at least one block per game. Embiid, on the other hand, is averaging 17.9 points, 7.4 rebounds, and 2.4 blocks per game while shooting an insane 41.8 percent from deep. In his first season, Embiid has proven to not only be a fearful presence inside but a three-point threat too. His versatility has helped the 76ers tremendously. Nobody's complaining about 'the process' now because of the way Embiid's playing. If this is a sign of things to come, Embiid is going to be one of the premier players in the league.
Austin: The entire league waited two years to see if the Sixers' big man in Joel Embiid would live up to the hype, and he has just about done it to this point. While he has been restricted as far as his playing time goes, Embiid has been hyper-efficient when on the floor. He has taken over games with his shooting and defense for the 76ers and has been a sign of hope for a franchise longing for success. Once he gets going at full speed the 22-year-old could develop into a superstar in this league, and he is head and shoulders above the rest of the "rookie of the year" competition.
Kintaro: Was this ever in question thus far? Joel Embiid has been dominant since he has stepped onto an NBA court in his first NBA season and he has shown flashes of his great potential on both ends of the court. Embiid has been producing at an incredibly high level and he is doing it all on a minutes' restriction. Averaging 18 points and 7.4 rebounds per game, Embiid's per 36 minutes' numbers are even more eye-popping. Per 36 minutes, Embiid is averaging 27 points and 11 rebounds a game which is comparable to players of the caliber of a DeMarcus Cousins or Anthony Davis. With Ben Simmons injured, and rookies like Brandon Ingram, Jamal Murray, Buddy Hield, Kris Dunn, and Jaylen Brown not playing at Embiid's level, the Philadelphia 76ers' rookie looks poised to take the award this season.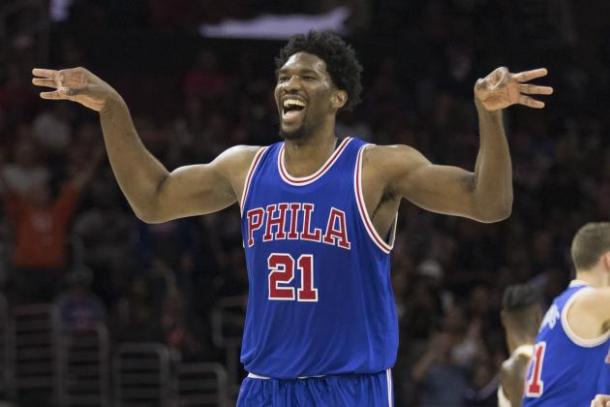 Early Most Improved Player of the Year Goes to...
Sully: The Most Improved Player of the Year looks like it's going to come down to two players in Giannis Antetokounmpo of the Milwaukee Bucks and Harrison Barnes of the Dallas Mavericks. However, with the way it's looking now, it may be that Antetokounmpo will win it. The 'Greek Freak' is doing what no NBA player is doing. He is currently leading his team in points per game, rebounds per game, assists per game, steals per game, and blocks per game. His production from last season was pretty good but this season he took it to another level. He has upped his production from last season and he improved in every single category except his three-point percentage. He is clearly a candidate for the MIP.
Youssef: While many will credit Derrick Rose for the New York Knicks' good season, Kristaps Porzingis' improvement is an even bigger reason. The second-year player has really stepped up to become the second option behind Carmelo Anthony, as he is averaging 20.2 points and 7.7 rebounds per game while shooting 39.2 percent from deep. When he was drafted last season, everyone knew his biggest asset was his potential, but nobody expected him to be this good, this fast. Porzingis looks like he will become the team's leader in the near future when Anthony starts getting old.
Austin: This award goes to a guy who has always had the potential to be a leader for his team but is finally doing just that, and that is Giannis Antetokounmpo. The 22-year-old Greek international has seen his numbers take leaps across the board, with points, assists, rebounds, blocks, and steals all increasing significantly. But beyond the rise in the stats, Antetokounmpo is showing a combination of maturity and skills that will make him a perennial All-Star and possible superstar for this Bucks organization. Avery Bradley of the Boston Celtics is another possibility here, with his rebounding numbers taking an astounding jump.
Kintaro: The Greek Freak has officially been living up to his nickname this season. Giannis Antetokounmpo has risen his game to unseen heights in his career and is not looking back. His scoring is up from 16.9 to 22.7 points per game, his blocks are up from 1.4 to two a game, his assists numbers are up from 4.3 to 5.8 a game, and his rebounding has especially gone into elite status as he has gone from 7.7 to 9.2 rebounds per game. More importantly, they are in a playoff spot as the quarter point of the season comes closer. A lot was expected from Antetokounmpo after his 2015-16 post all-star play was in stark contrast to his play before the break. Last season, in April, he averaged 21 points, nine rebounds, and seven assists in 36 minutes per game, numbers that would have most definitely gotten him into the all-star game if he played that way for an entire season. He has definitely stepped into more of a star role this season, leaving fans in awe with his versatility on both ends of the court.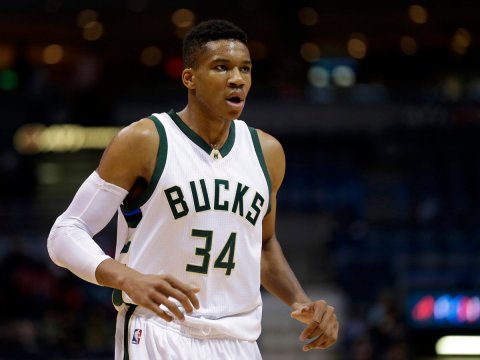 Early Sixth Man of the Year Goes to...
Sully: The Sixth Man of the Year may well go to a player who has finally overcome his injury plague, and that is Eric Gordon of the Houston Rockets. Since coming into the league in 2008, Gordon has never played a full season and that is because of his constant injuries. This season is different for the 27-year-old sharpshooter, who will be turning 28 on Christmas. The Rockets' offense is a three-point juggernaut and that is thanks to players like Gordon. He is averaging 17.6 points per game, shooting 43.8 percent from the field and 43.6 from deep. No other sixth man is close to his season averages, which will likely win him the Sixth Man of the Year.
Youssef: Much like the MVP award, this is strictly between two players: Eric Gordon and Lou Williams of the Los Angeles Lakers. Both are great scorers off the bench, as the former is averaging 17.6 points per game while the latter is averaging 18.8 points and have helped each team's second units a lot. While Williams has the slight advantage in terms of numbers, the Rockets are doing far better than the Los Angeles Lakers are. However, unlike with the MVP, voters do not really consider teams' performances when choosing the Sixth Man of the Year. Also, Williams has a larger portion of the scoring duties as the Lakers don't have the offensive firepower that the Rockets do in Harden, Ryan Anderson and others. Because of this, Williams is the frontrunner for the Sixth Man of the Year award so far.
Austin: Eric Gordon seems to have found a second wind for his career in Houston, where he is putting up solid numbers while coming off the bench a majority of the time. The Rockets' offense-heavy approach has allowed Gordon to thrive, and he has averaged over 17 points and over eight attempted three-pointers per game. His ability to get quick buckets will be key in the Rockets' path to the playoffs, and he has proven that he still has plenty of juice left in the tank. Lou Williams, in a similar sense, has an argument for the award as well.
Kintaro: Looking at the past Sixth Man of the Year winners, it usually goes to someone who can provide instant offense and is part of six-man starting lineup in a starting five. Players like Jamal Crawford, James Harden, J.R. Smith, Lamar Odom, and Toni Kukoc were good enough to start but their skills were most used off the bench because of the way they could spark their team. Eric Gordon has done the same thing for the Houston Rockets this season. Shooting a scorching 43.6 percent from three-point land whilst taking 8.4 per game has been a big part of his rejuvenation this season. The oft-injured guard was playing some of his worst basketball in the previous two seasons as he only played 106 of a possible 164 games and shot only 41 percent from the field. This season, however, seems like playing off an unselfish player like James Harden has elevated his game to new heights. He can play a multitude of roles just off of Harden. He can be a spot up shooter, a secondary scorer, and he has the ability to create shots for himself off the dribble with his swift handle. Gordon uses an array of moves with the dribble as he can use the threat of his shot to drive or step back for a jumper. Mike D'Antoni's system has also fit well into Gordon's game as 112 of his shots have been assisted already compared to only 148 of his shots being assisted last season. Gordon has all the tools to be the perfect sixth man, his great shooting, shot creating ability, and efficient three-point shooting makes him a valuable asset to the Houston Rockets.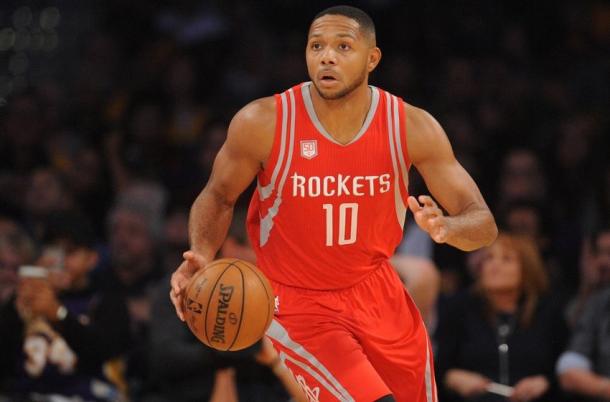 Early Defensive Player of the Year Goes to...
Sully: San Antonio's Kawhi Leonard two-time Defensive Player of the Year reign may come to an end. This year will be a face who wins the Defensive Player of the Year award and that is Anthony Davis of the New Orleans Pelicans. Davis not only poses a big threat in the low post but in fact anywhere on the floor. This season, he is averaging 2.4 blocks per game, tied for first in the league with Rudy Gobert of the Utah Jazz, as well as 1.4 steals per game, best for 23rd in the NBA. Davis's presence makes teams think twice when they go up against him as well as passing near him. Davis looks to be the defensive anchor from here on out.
Youssef: The clear favorite this year so far is Kawhi Leonard, last year's Defensive Player of the Year. While he has been worse on that end because of a larger role on offense, he is still the best defensive player in the league. But who comes after him? Rudy Gobert has become possibly the best rim protector, surpassing the likes of Hassan Whiteside of the Miami Heat and DeAndre Jordan of the Los Angeles Clippers. Giannis Antetokounmpo is in the top five in both steals and blocks, but averages aren't everything. Patrick Beverley is a dark horse, as his defense is the main reason why the Rockets aren't absolutely horrible at the end. Draymond Green of the Golden State Warriors is super flexible in terms of the positions he can defend, as he can lock up everybody from points to centers, and not only by kicking them in the fragile area. Despite all of these great defenders, Leonard is still the frontrunner for the award so far.
Austin: The young Frenchman in Rudy Gobert has been the centerpiece in one of the league's best defenses, blocking almost three shots per game and locking down some of the most offensively skilled big men. When the Jazz are at full health, Gobert is one of the key reasons why they can contend near the top of the Western Conference with the likes of the Clippers and Spurs. Draymond Green and Kawhi Leonard, as usual, have an argument but Gobert deserves the spotlight.
Kintaro: Rudy Gobert has come a long way since being traded on draft day in 2013 to the Utah Jazz. The Jazz are surging this season especially on defense and it's in no small part because of the "Stifle Tower", Rudy Gobert. The Jazz currently sit in a top-five seed in the West and have given up the least amount of opponent points per game at 95 points per game. Gobert averages 2.7 blocks per game and leads the NBA in defensive win shares with five. However, his impact is truly seen on his opponent's shooting percentage within five feet. Gobert only gives up 52 percent of shots within five feet, tops among centers that see at least 15 shots a game from that range. This number is astounding as it is 7 percent lower than the league average of 59 percent. Gobert right now is leading the Jazz to unseen heights and is the best defensive weapon on the best defensive team in the NBA. It is amazing that all the Jazz had to give up for him was Erick Green and cash considerations.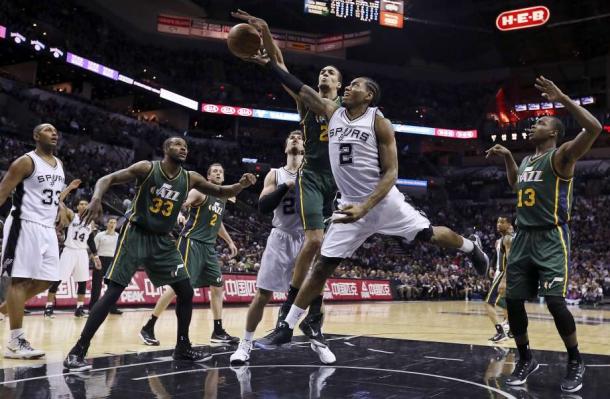 Early Coach of the Year Goes to...
Sully: The Coach of the Year has to go to Mike D'Antoni who coaches the Houston Rockets. He made the decision to start James Harden at the point guard position and paid off tremendously. Harden is averaging a near triple-double and he and D'Antoni are leading the Rockets as they currently sit third with a 22-8 record in the Western Conference. Also, to point out, the Rockets went on a 10-game winning streak, and their offense was on fire. They broke the NBA record with most three-pointers in a game with 24 and attempted with 61. The Rockets have their best offensive rating in their 50-year history with a rating of 114.5, which stands fourth-best in the NBA. It seems like 'offense mastermind' Mike D'Antoni was the right fit for Rockets all along.
Youssef: Can it be anybody other than Mike D'Antoni? He took a team that vastly underperformed last year and has made them one of the top teams in the league. He is the perfect fit for the offensive-minded Rockets, and players like Beverley and Trevor Ariza have helped on the other side of the court. He and Harden have gelled wonderfully, as he has helped his star player become one of the top MVP candidates. He has also gotten a lot from role players like Gordon and Anderson. Nobody thought that D'Antoni could get this much from his team, but the Rockets, thanks in large part to their coach, have been killing it.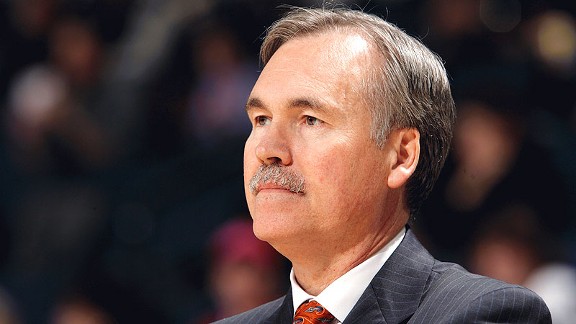 Austin: David Fizdale of the Memphis Grizzlies may be the best candidate. While the Grizzlies are only 18-12 on the season, it is impressive that they have done this well. Chandler Parsons and Mike Conley have both missed significant time with injuries, yet Fizdale has the team in playoff contention in his first year on the job. He has utilized such role players as Troy Daniels and JaMychal Green and established vets like Marc Gasol and Tony Allen to find success, especially on the defensive end. Mike D'Antoni also has to be high on the list with his transformation of the Rockets.
Kintaro: Quin Synder of the Utah Jazz are becoming a prominent story in the NBA season and Quin Synder is the one behind it. The Jazz are having their best season since he was hired in 2014. The Jazz have the stingiest defense in the league as they are first in opponent points against per game. They have also boosted their winning percentage from 13 percent about thirty games into the season. Snyder's team doesn't overwhelm teams offensively but are able to play from the defense out, to win games. They lead the league in fast-break points against per game, only allowing 10.3 a night. They also lead the league in opponent field goal percentage a game, as opposing teams can only muster 42.5 percent when they play the Jazz. The Jazz have been a young team waiting in the wings for years now, and it seems that they are fulfilling their potential this season and Synder has been a big part of that.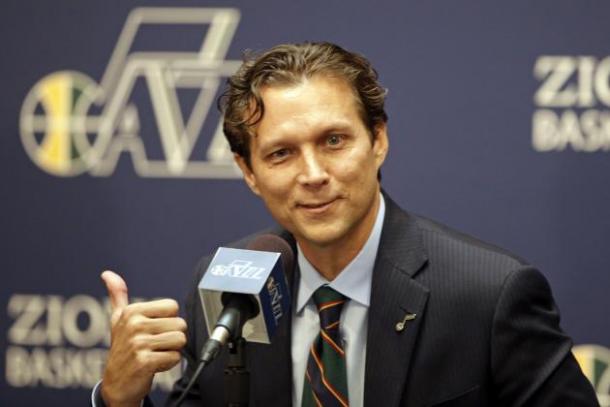 The Surprise Team from the East is...
Sully: The surprise team in the Eastern Conference may well go to the New York Knicks. After a terrible season last year, finishing 13th with a 32-50 record, the Knicks find themselves sitting fifth in the conference with a 16-13 record. Kristaps Porzingis has come to his own and made a household name for himself, Carmelo Anthony is playing better this season than last season, Derrick Rose seems to be fitting the system well, and head coach Jeff Hornacek is making the most of the roster. If they keep playing the way they are and make some offensive adjustments, the Knicks can definitely make a playoff run.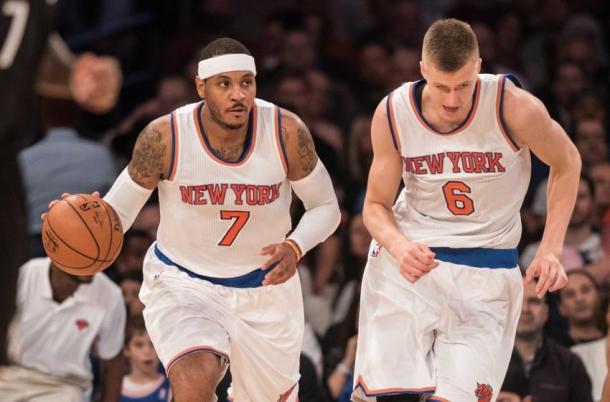 Youssef: Predictions for the Milwaukee Bucks were dim to begin the year, especially with Kris Middleton's injury. However, they are doing relatively well so far, as they are only half a game behind the sixth-seeded Chicago Bulls. This is in large part due to Antetokounmpo's crazy season in which he is leading the team in all major statistical categories. Jabari Parker's improvement has also greatly benefited the team, making him a candidate for most improved player with Porzingis. Once Middleton comes back and the Bucks get a third offensive option, they can become one of the top teams in the Eastern Conference.
Austin: The New York Knicks were certainly active in free agency, signing former MVP Derrick Rose and Joakim Noah, among others. However, there was a feeling that this team was full of "has-been" talent that would have been a contender several years ago. In a tight Eastern Conference, the Knicks are actually right in the playoff mix at 15-13 and have gotten tremendous production from their budding star Kristaps Porzingis. They are just a game behind the third seed in the conference, the Boston Celtics, and will look to build on their early success.
Kintaro: The Charlotte Hornets are the surprising team coming out of the Eastern Conference. After losing some key contributors in Jeremy Lin, Al Jefferson, and Courtney Lee to free agency in an up and down 2015-16 season where they finished sixth in the Eastern Conference, the Charlotte Hornets looked to be the team that would drop. However, Kemba Walker and the Hornets have raced out to a surprising top-four seed start. The Hornets have seen many players step up for them this season as they have gotten production from everyone on their team it seems this season. The Hornets not only have six players on their team averaging double figures in points per game, but their averaging 48 rebounds a night which is incredible since they go small with 6 foot 9 Marvin Williams at power forward. The Hornets also are a top 10 defensive team as they only give up 102.5 points per game (ninth in the NBA) and opponents only shoot 44.3 percent from the field against them (6th in the NBA). Lead by Nicolas Batum and Kemba Walker who only gets better by the year, the Hornets appear to be a potential contender in the East if they continue this play.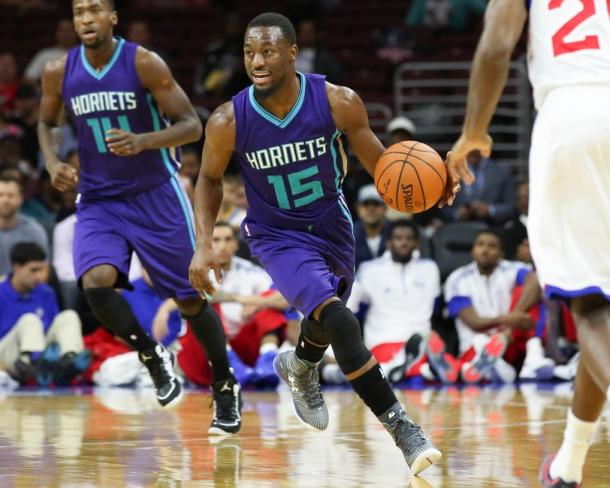 The Surprise Team from the West is...
Sully: Every team in the West has stayed the same with a few team jumping up or down but by the biggest surprise coming out from the Wild, Wild West is the Houston Rockets. Many analysts wrote the Rockets off and doubted them to even make a playoff spot. That all changed with 30 games into this season. The Rockets' lethal offense, Harden playing point, Gordon's consistency, and D'Antoni's coaching is what got them to where they are now, third place in the conference.
Youssef: Even the most optimistic people never thought the Houston Rockets would be the third best team in the stacked Western Conference. This is a major reason why D'Antoni is the coach of the year so far because the Rockets have astounded absolutely everyone. Their offense was predictable, but their solid defense is what is surprising everybody. Because of this major improvement, the Rockets have become a dark horse in the playoffs.
Austin: The most surprising team from the West is the Houston Rockets. This is a team that has struggled to reach an elite level due to chemistry issues and a lack of identity. Newly-hired Coach Mike D'Antoni has given them exactly that, and James Harden is performing at an MVP level after failing to make the All-NBA team last season. Many thought this team would be good offensively but struggle to win games due to lackluster defense. While the defense hasn't been particularly great, it has been enough to allow for a 22-8 record and close competition at the top of the Western Conference.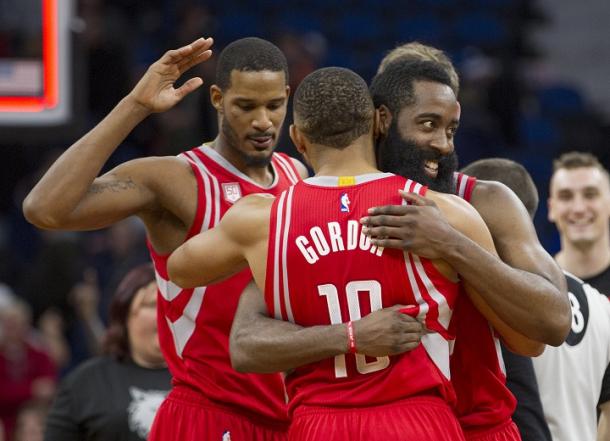 Kintaro: For years now, the aging core of the Memphis Grizzlies in Marc Gasol, Zach Randolph, and Mike Conley always seem to never go away. Right now, the Memphis Grizzlies are one of the best teams in the NBA despite some major injuries to start the season. Mike Conley and Chandler Parsons both missed time at the beginning of the season yet the Grizzlies kept on grinding like they're known to do. A few things have happened that have made them successful and it all starts with Marc Gasol. He's enjoying a career year averaging 20 points, 6.4 rebounds, and 4.1 assists per game and he has also incorporated the three-point shot into his stat-line as he has taken 100+ of them and he's shooting a great percentage at 43 percent. Bringing Zach Randolph off the bench has also done wonders for this career as the sixth man of the year candidate is putting up huge numbers in only 22 minutes a game. The defensive play has continued to be the identity of the Grizzlies as they are second in the NBA in both points against per game and opponent field goal percentage per game at 94.9 and 42.7 percent. The combination of emerging and aging role players has also given Grizzlies fans life as players like Tony Allen, JaMychal Green, James Ennis, Vince Carter, Troy Daniels, and Andrew Harrison have all chipped in. However, the question always remains for this bunch, can they translate this play into a deep playoff run?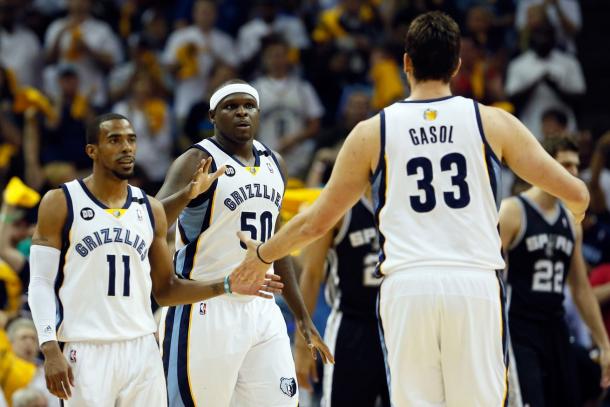 There you have it. That concludes our 2016-17 NBA Christmas roundtable discussion. Look out for more VAVEL roundtable discussions in the future. Enjoy the rest of the season and have a good holiday.