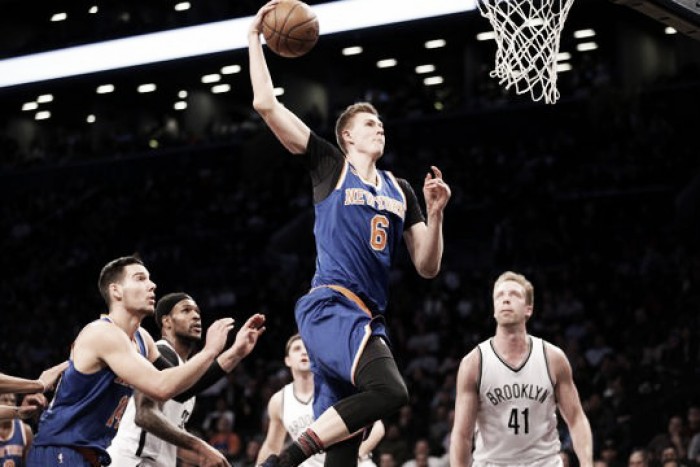 The New York Knicks sneaked out with a win at Barclays Center against the Brooklyn Nets after trailing in the first three quarters and falling behind by as many as 13.
Sloppy First Half for Both Teams
New York tied their lowest first quarter scoring of the season with 15 and trailed by 12 points. At halftime, both teams committed 10 turnovers apiece. They combined for a dismal 3-for-20 three-point shooting performance. The one bright spot New York achieved in the first half was they went on an 18-6 run in the second stanza of the game. Brooklyn endured and remain ahead by seven points after the first two frames.
Knicks Continue to Struggle Shooting but Show Signs of Comeback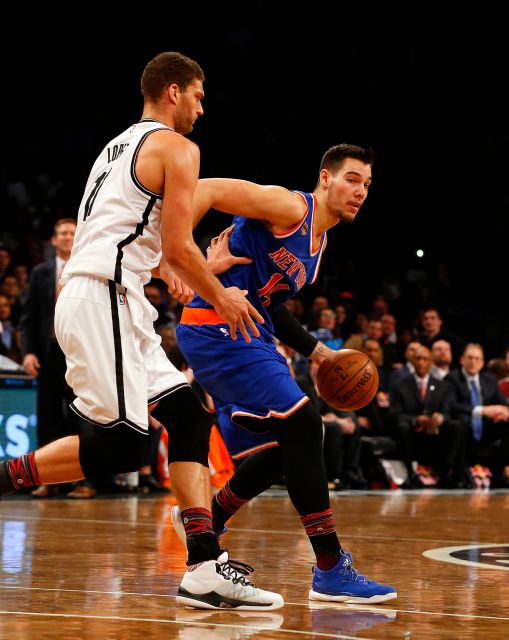 Brooklyn were outscored 26-24 in the third period despite New York still shooting at a horrendous 31 percent from the field. The Knicks wrapped up the frame with a 7-2 run.
New York Owns Last Quarter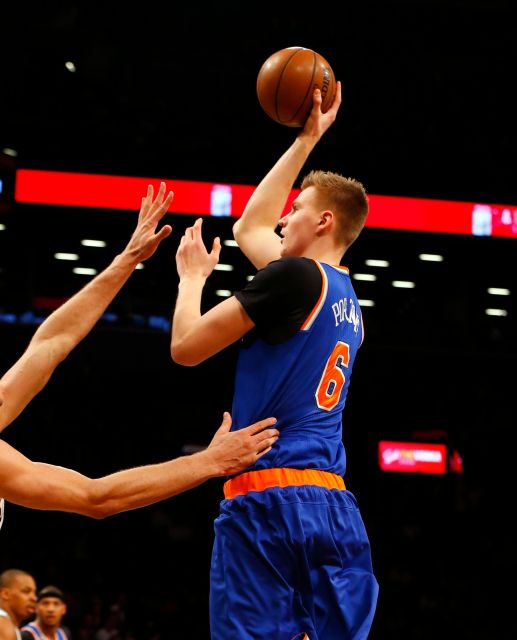 The Knicks achieved their first lead of the night with 5:42 left in regulation after a dunk from Kristaps Porzingis. Justin Holiday then drained a three-pointer to give New York a 82-78 lead. At that point, they were on a 16-2 run. Porzingis sealed the deal with three-point bounce with 30 seconds left in the contest. After an off night, Carmelo Anthony did not play the entire fourth quarter and instead cheered on his teammates from the sidelines. He scored 15 points and shot 6-for-22 from the field. New York tallied a total of eight assists in the final frame.
Top Performers for the Knicks
Porzingis finished with 19 points (including 10 points in the fourth quarter) and 12 rebounds. Center Willy Hernangomez achieved a double-double of his own with 16 points and 16 boards. Guard Sasha Vujacic scored a season-high 12 points and showcased two four-point plays. Guard Brandon Jennings notched six points and 10 assists.
Top Performers for the Nets
Forward Rondae Hollis-Jefferson led the Nets with 16 points and eight rebounds. Guard Bojan Bogdanovic scored 15 points and forward Trevor Booker chipped in 12 points off the bench.
Quotes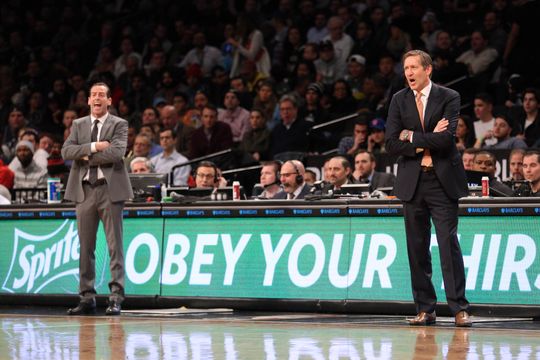 Knicks head coach Jeff Hornacek was asked about the team's win and said: "When the guys are sharing the ball that makes it easier on everybody."
He also talked about Hernangomez performance and said "Willy's done a great job. I think his defense is picking up. He's improving every day."
Porzingis also commented on the win and said, "Huge game for us. Tonight we felt like it was a must-win."
Nets head coach Kenny Atkinson gave his thoughts on the loss and said:"They started getting second and third shots. That's the story of the game, us turning it over and not controlling the defensive boards."
Other Things to Note
-Derrick Rose remained to be out of action due to an ankle injury.
-New York snapped a four-game losing streak at Barclays Center and they improve to 2-0 this season against the Nets. There are still two more meetings this season between the Atlantic division rivals.
-Brooklyn has lost 10 straight games at home.
-Vujacic is the first player this season to notch two four-point plays. The last player to achieve such feat was Houston Rockets guard James Harden last season.
Up Next
After playing three games on four nights, the Knicks will have two days to rest before returning to Madison Square Garden and hosting the Cleveland Cavaliers on Sat., Feb. 4, at 8:30 p.m. E.T.
The Nets will host the Indiana Pacers on Fri., Feb. 3, at 7:30 p.m. E.T.