 Vaanta, Finland is, understandably, not exactly a hotbed for basketball stars. However, out of this chilly city came a potential star. 20-year-old Lauri Markkanen was born in Vaanta and now faces his future in the big leagues. The seven-footer committed to the University of Arizona in 2015. He stayed in Arizona for just one season after declaring for the draft at the conclusion of his freshmen year. During his time in college, Markkanen put up some good numbers. He averaged 15 points and seven rebounds a game. The Finn saw the court often, averaging about 30 minutes a game. He was essential in Arizona's performance that led them to the Sweet 16. His numbers and performance earned him a first team all Pac-12 selection.
Now, several NBA teams are dissecting his game to debate his worthiness of a spot on their team. If he is selected, Markkanen has the rare honor of being an ambassador for his home nation of Finland. Only two Finnish players have ever made the NBA, Erik Murphy, and Hanno Mottola, but neither men had long-lasting careers in the league. Lauri Markkanen wants to be the one who does.
Strengths
Markkanen has a fascinating combination of size and skill which could make him an enviable pick for a team. He can play power forward while utilizing his size advantage considering he is seven-foot and 230 pounds. His size doesn't restrict his fluidity on the court. Shooting 42 percent from three-point range with 5.9 attempts per game, Markkanen is one of the best shooters in the draft regardless of size or position. His smooth jump shot and fast footwork is rare for a player of his size. The Finnish prospect could turn lights-out from any spot on the court. He is great at finding open looks, spreads the floor nicely, and is agile off-the-ball. However, he has skills in the paint too. He doesn't hesitate to attack the glass and can provide a highlight-worthy dunk on occasion. Most teams likely see a huge potential in the offensive ability of this young man.
Weaknesses
The inverse of his skilled offensive abilities is Markkanen's shaky defensive efforts. He might be seven feet tall and over 200 pounds but the 20-year-old isn't overly strong or athletic. It's not rare to see him getting out-muscled and out-rebounded by other big men and this problem could grow even larger in the NBA. At seven-feet, he certainly has the length but he'll need to work on his strength to truly compete down low. It's early in his career, but Markkanen could be a bit of a liability on this end of the court.
NBA Comparison - PF Dirk Nowitzki, Dallas Mavericks
Upon seeing Markkanen play, many people jump to the Dirk Nowitzki comparison and it's easy to see why. Both of these European players have exceptional length and size for their skill set. Dirk has been a great shooter for his whole career, averaging 47 percent from the field and 38 percent from three-point land over his span in the NBA. Markkanen has put extremely similar numbers in his time in Arizona - 49 percent from the field and 42 percent from deep. Obviously, Nowitzki-level is a best case scenario for Markkanen but his game has shown flashes of the seven-foot German veteran.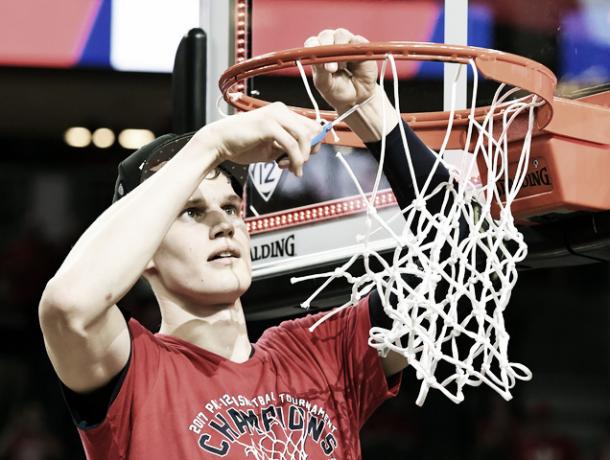 Potential Fits
The Finn kid has a number of potential suitors. His draft stock is somewhere around the later part of the lottery. The Minnesota Timberwolves, New York Knicks, and Orlando Magic could all be suitable destinations for the forward.
Minnesota already has a plethora of outstanding young talent but nobody will complain about adding more. Markkanen's length could compliment Karl-Anthony Towns and created a deadly tandem.
Meanwhile, the Magic could use help in many different areas on offense and Markkanen could provide that. He could be a major boost to their offensive arsenal.
Finally, the Knicks became a player in the Markkanen game after their president Phil Jackson met with him on Monday. Rumors have stated that Jackson is considering trading Kristaps Porzingis and drafting Markkanen to fill the hole that would be left by the Latvian star. Regardless of where he ends up, it's likely we will be seeing more from Mr. Markkanen and his Finnish offensive finesse.