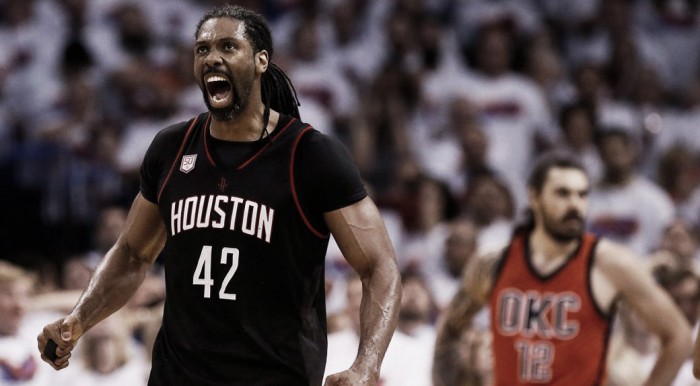 Update (3:26PM CT, July 2nd): Nene is now for sure back with the Houston Rockets after accepting a three year, $11 million contract. Here's to hoping the NBA doesn't find some other random rule to void this deal.
Nene agrees to a 3-year, $11M deal, per source. https://t.co/ulqGFLMGsP

— Adrian Wojnarowski (@wojespn) July 2, 2017
Update (1:07PM CT, July 1st): Due to the over 38 rule, the agreed contract was revoked. A team cannot offer a four year contract to a player who would be 38 years old by the end of the deal. The Rockets countered this with a three year, $10.9 million offer. However, Nene has declined that one.
Now, negotiations are back to "square one." However, the Rockets remain confident they can keep him on the team. They will probably add a couple million to his deal to sweeten it, and it will be worth given his production last season. Keeping him would definitely bolster the big man position.
Original Story:
Patty Mills' new contract with the San Antonio Spurs: four years, $50-million. Christiano Felicio's new contract with the Chicago Bulls: four years, $32-million. Shaun Livingston's new contract with the Golden State Warriors: three-years, $24-million. Granted, they're all younger than Nene, but considering all four are bench players with solid minutes, the Rockets re-signed him for virtually nothing.
Because of the Non-Bird Exception, the Rockets were able to offer the big man a four year, $15-million contract. Since they didn't have to pay more, they still have their full mid-level exception that they can use on another solid veteran to improve their depth.
Nene's Career was Resurrected in Houston
Nene played well in his first season with the Rockets last year, averaging 17.9 minutes, 9.1 points and 4.2 rebounds per game on 62.4 percent shooting from the floor. Those numbers get inflated to 18.3 points and 8.5 rebounds per 36 minutes. Obviously, he isn't going to play that much, but it proves that he is efficient and effective when on the court. Plus he had this beast game in the playoffs.
The Rockets Current Situation
Because the Rockets were able to spend little money on a quality role player, they can continue going all in for another star to pair with James Harden and recent addition Chris Paul. Sadly, Paul George is out of the question after his trade to the Oklahoma City Thunder (how did they just give up Victor Oladipo and Domantas Sabonis?). But free agents like Paul Millsap and Serge Ibaka are still viable options.
Keeping Nene also allows the Rockets to ship Clint Capela if need be. After averaging 12.6 points and 8.1 rebounds per game, there may be some interest in the young center. Daryl Morey may need to give him up to entice teams into taking Ryan Anderson's crazy $20-million salary. If Capela stays, Nene can continue to mentor him and provide quality minutes off the bench.
In terms of role players, their work is not done. The CP3 trade got rid of a bulk of the team. Just in case, here's a recap: Patrick Beverley, Lou Williams, Sam Dekker, Kyle Wiltjer, and Montrezl Harrell. They need depth in other areas.
J.J. Redick may not be a bad idea if the Rockets ship Eric Gordon. Andre Iguodala has just scheduled a meeting with the team. Although he may prove too expensive, he would be a great addition if the price is right. Luc Mbah a Moute can also fit as a three-and-D type player.
Bottom line: keeping Nene for so cheap is a very underrated move. If he has the same production as last year, he can be, once again, a quality backup for a bench that is heavily depleted. Now, the Rockets can focus on the big moves that they absolutely love making.
Click here for coverage on the George trade.
Click here for a roundtable on free agency (I know, my prediction for Blake Griffin was way off).