It is no secret that the Atlanta Hawks look vastly different than they did just a few months ago, and the organization's overall direction has certainly changed. Last season saw some ups, but was more generally filled with missed opportunities and mediocre performances. While the homecoming of Dwight Howard was much anticipated, he often failed to exert himself and experienced disagreements with teammates and the coaching staff. The team did, however, extend their playoff streak to ten consecutive seasons.
Now, most expect that streak to be in jeopardy with a much more inexperienced roster that lacks high-end talent. Travis Schlenk is the new GM in charge, and this is the first step in his plan to rebuild the franchise into a contender once again. It may be rough at first, but his emphasis on avoiding bad contracts should pay off in the long run. This season could also be a major opportunity for the Hawks to evaluate their younger options and eventually continue constructing their core through the 2018 draft.
Let's take a closer look at how the Hawks will stack up this season.
NBA Draft
The Hawks used the 19th pick in this summer's draft on the best player available, PF John Collins, who was expected to be a late lottery selection. The 20-year-old from Wake Forest has already showcased his insane athleticism in the Summer League, and he has the potential to earn significant playing time in his rookie season. While Ersan Ilyasova will likely start at the beginning of the year, look for Collins to challenge him as he gets more used to the professional game.
Schlenk used the team's second-round selections on guard Tyler Dorsey from Oregon and forward Alpha Kaba from Mega Leks in Europe. Dorsey may get some minutes in Atlanta, but he will likely spend most of his time in the G-League as he looks to become more physical. Kaba will remain overseas for the foreseeable future, but his combination of skills and size is something to keep an eye on.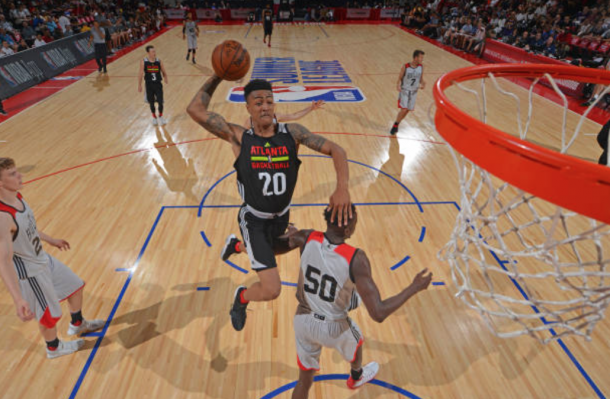 Free Agency Signings/Trade Additions
The first move of Atlanta's offseason involved a trade sending Dwight Howard to the Charlotte Hornets for Miles Plumlee and Marco Belinelli. Plumlee had a less-than-stellar season last year, especially considering his unsightly $12.5 million contract. The Hawks will hope that he becomes a serviceable rotation big in their system and recoup some of his value. Belinelli, on the other hand, should provide some decent shooting off the bench for Coach Mike Budenholzer.
A deal that was likely overlooked by most was the inking of center Dewayne Dedmon to a $6 million deal. Dedmon started 37 games last season for the San Antonio Spurs and will be a force on the defensive end and glass. His ability to run the floor at 7 feet tall is also unique and useful in the modern NBA.
Luke Babbitt, Quinn Cook, and Nicolas Brussino were all depth signings made by the Hawks later in the free agency period. Babbitt may be the best pure shooter on the team, shooting 41% from deep as a member of the Miami Heat last season. Cook will begin as the third point guard but could push Malcolm Delaney for the backup spot if he showcases his scoring abilities. Brussino, meanwhile, has the tools to be a solid bench wing and is just 24 years of age.
Free Agency Departures
The aforementioned Howard departed Atlanta much like his previous teams- not quite doing enough to convince warrant sticking around. While he put up decent numbers, Coach Budenholzer had to adjust his system to try and appease the 8-time all-star and it never really worked out. It says a lot that Atlanta took such a massive discount to ship him out of town.
The biggest loss by far for the Hawks was Paul Millsap, who signed with the Denver Nuggets for over $31 million after the Hawks chose not to offer him a new deal at all. The 32-year-old was key in everything Atlanta achieved last season, and he will be sorely missed. The front office simply didn't want to commit to a long-term deal with him considering his age and inevitable decline.
Tim Hardaway Jr is headed back to the New York Knicks after his breakout season and signing of the 4-year, $71 million offer sheet they put on the table. He averaged career highs in almost every category last year, but his defensive shortcomings and streakiness made it a fairly easy decision for the Hawks not to match the offer.
Also leaving the Hawks were bench players Jose Calderon, Thabo Sefolosha, Mike Dunleavy Jr, Kris Humphries, and Ryan Kelly. Sefolosha played a pretty big role for the organization over the past few seasons, and his defense will definitely be missed. Dunleavy and Calderon were brought in to help secure a playoff spot, but they were no longer necessary with a rebuild underway.
Depth Chart
PG: Dennis Schroder/Malcolm Delaney/Quinn Cook
SG: Kent Bazemore/DeAndre Bembry/Marco Belinelli/Tyler Dorsey
SF: Taurean Prince/Luke Babbitt/Nicolas Brussino
PF: Ersan Ilyasova/John Collins
C: Dewayne Dedmon/Mike Muscala/Miles Plumlee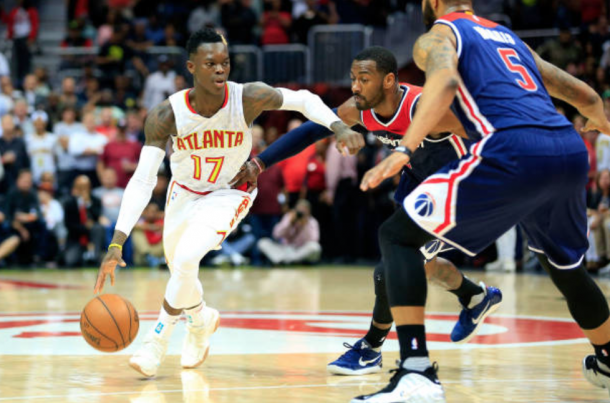 2018 NBA Draft Status
Next summer's draft could prove to be very important in the Hawks' rebuild, especially if they struggle this season and acquire a lottery selection. In addition to their own first-round pick, they also own the Houston Rockets' first-round pick and the Minnesota Timberwolves' if they make the playoffs. With Minnesota's additions this offseason, it is quite possible that this could happen.
2017-18 Season Prediction
This could end up being an exciting season for the Hawks if Dennis Schroder, Taurean Prince, DeAndre Bembry, and John Collins can all gel together on the court. Schroder is the team's best player at this stage, and he will hope to take a major leap on both ends of the floor with the increased responsibility, Despite all of this, the squad sorely lacks star power and the traits needed to make a playoff run.
Coach Budenholzer is one of the league's best, so he will likely squeeze out more wins from this group than most other coaches would. Even still, my prediction is a 28-54 record and 12th in the Eastern Conference.