 Honestly, after last year, I assumed every team's mentality would be to lay low while the Golden State Warriors wreck havoc until they self-destruct because of all humans' love for money. No matter the chemistry that the roster has, there will be a time when the Warriors couldn't afford all of their stars.
That mindset makes sense too. It's virtually impossible to defeat Golden State with their bevy of superstars. If teams try to compete, they risk losing future assets and may be horrible when this storm dies down.
Well, some teams decided they were going to take on the tempest, one of them being the Houston Rockets. They traded a good chunk of their team for Chris Paul and added both P.J. Tucker and Luc Mbah a Moute to improve outside shooting as well as defense.
The Rockets' Plan
Through these moves, it has become obvious how Daryl Morey and Mike D'Antoni plan on taking on the Warriors. With two playmakers in Paul and James Harden, they will always have someone on the court to distribute the ball and make plays. Now, both their first and second teams have outside shooters that the point can kick the ball to. Tucker, Mbah a Moute, and Trevor Ariza will also focus on smothering their shooters (aka their whole team).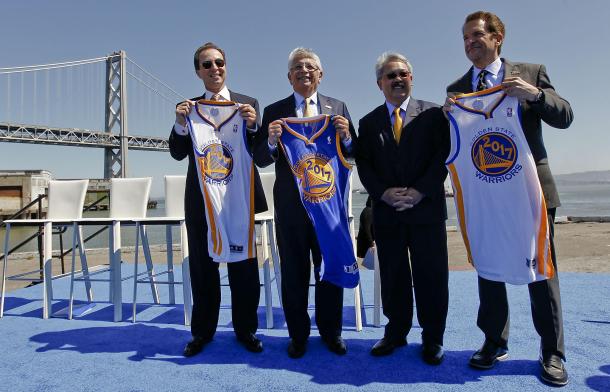 The Rockets had to make due with only adding one star instead of two. So, they plan to give the Warriors a taste of their own medicine on offense by raining threes while attempting to limit their output with good perimeter defenders. Pretty easy right? Not against one of the best rosters ever.
What have the Warriors been up to?
Enough about the Rockets offseason, I have been writing about that constantly since it began (every single word is a link to a different article I wrote about it, just to prove a point; you can even check). So how did the Warriors do?
Great, sadly. They kept all of their players even when it looked like Andre Iguodala and Shaun Livingston was going to leave. They have Kevin Durant taking a pay cut for that.
They also purchased the rights to Jordan Bell for only $3.5 million. For those who don't know, he's an athletic and promising defensive-minded rookie from Oregon. The dude is a blocking machine and can finish strong around the rim. Just watch these highlights.
They kept their trio of centers from last year: JaVale McGee, David West, and Zaza Pachulia. Finally, they replaced Ian Clark and James McAdoo, the only two players they lost, with Nick Young and Omri Casspi. Even without adding any big names, the Warriors had one of the best offseasons in the league.
What to Expect from the Game
I'm done talking about the past, let's focus on the present, I mean the near future, AKA the game.
The series last year was 3-1 in favor of the Warriors, but using that to predict this year's series doesn't make much sense when taking all the Rockets' changes into consideration. The Rockets' new look is something that honestly has never been seen: two of the best distributors playing on the same team. Best case scenario is tons of ball movement and open three-point shots. Worst case scenario is a pride battle between Paul and Harden.
Here are a few observations from the preseason; yes the preseason is a lot different than the regular season but it's still something. The defense has looked very good so far, and should definitely be an improvement compared to last year's. Also, a low-key problem with previous Rockets' rosters is the rather low percentage of three-pointers made. This season's team will take the same amount and should knock down more.
With the Rockets facing such good opponents, they will need to be on their A game from the get-go. There are no warm-up matches because if they're not clicking on all cylinders at tip-off, they're going to get trounced. On the other hand, do you know how great it would be for Houston to start the year with a victory? They need that momentum early on to have the willpower and mentality to take down the champions.
All of this has been leading up to the great showdown. Were the Rockets moves enough to compete with the Warriors? Are the Warriors simply too good for any team in the league to catch up? Tune in Oct. 17th at 10:30 E.T. on TNT to have an idea of what the answers will be.