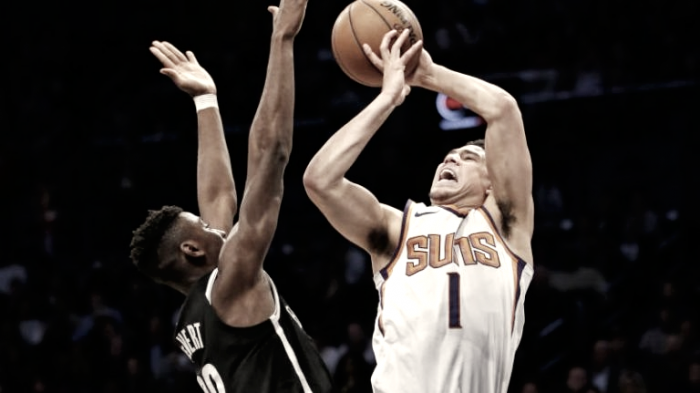 Last Wednesday night, the Brooklyn Nets celebrated an impressive victory over the Eastern Conference champions Cleveland Cavaliers. Since then, they have dropped three straight games. For the Phoenix Suns, they improved to 3-1 under interim head coach Jay Triano.
Battle of the guards
Point guards from both Suns and Nets went at each other in the first stanza of the game. Brooklyn's D'Angelo Russell scored 11 points while Phoenix's Mike James notched 12. James tallied the first eight points of the night for the Suns. Phoenix's shooting guard Devin Booker, who celebrated his 21st birthday Monday night, did not shy away in the opening minutes and scored seven points. With the help of both their guards, Phoenix took an early 30-24 lead.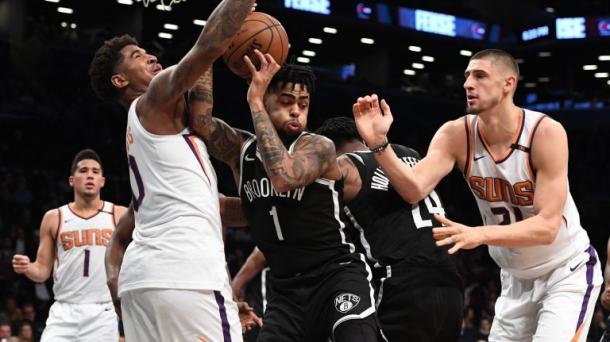 Booker and Russell continued to heat up
Booker continued to pour in points in the second period and scored 12. Russell showed no signs of slowing down either who summed up nine more points. Other than D-Lo, no other Net could find their shot but Brooklyn remained close due to committing no turnovers in the second frame.
Brooklyn displayed their largest run but fail to increase lead
Early in the third quarter, Phoenix led by 18, their largest lead of the night. Brooklyn then went on a 23-4 run and took a one-point lead heading into the final 12 minutes of the contest. During the run, the Suns missed seven straight field goals and did not attempt a single free-throw. Brooklyn had a chance to have a bigger lead due to Phoenix being over the foul limit by the 10:26 mark of the period. However, the Nets could not take advantage of the situation and missed several free throw attempts.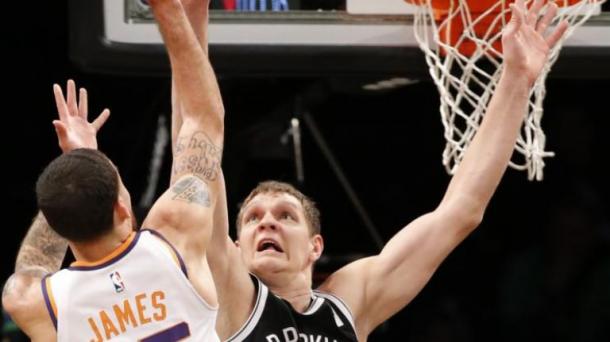 Suns close out game strong
The final 12 minutes of regulation ended with some déjà vu. Brooklyn picked up their fourth team foul with 10:10 remaining in the final quarter. Therefore, Phoenix received a load of free-throws throughout much of the period and unlike their opponents, they capitalized on the opportunity. The Suns finished the game on a 24-4 run.
Top performers
Brooklyn Nets
Russell led his team with 33 points, six boards, and four assists. Rondae Hollis-Jefferson chipped in 21 points and Spencer Dinwiddie scored 15 off the bench. DeMarre Carroll, who was back in action after having missed a game with a right ankle injury, notched 21 points.
Phoenix Suns
Booker concluded with 32 points, seven rebounds and four assists. James tallied 24 points T.J. Warren added 20.
Quotes
Brooklyn Nets' head coach Kenny Atkinson showed disappointment in his team's shots selections and said: "Lots of contested shots from everybody tonight."
Booker commented on his teammate James impressive performance and said: "He's a veteran overseas. The thing about basketball overseas [is] you have to know how to play. He's playing at his own pace, he knows situations, he knows tempo. I know I found him early and hit some big shots to start the game, and from there on in, he was just running."
Other things to note
-Brooklyn's Quincy Acy (left groin) and Jarrett Allen (left foot) did not play due to injury.
-In the first eight games, the Nets have allowed 950 points, most in NBA since the 1998-99 season.
-The next home game for the Nets will be in two weeks. They have a five-game road-trip up ahead.
-A moment of silence occurred prior to the National Anthem for all those victims lost during today's incident in downtown Manhattan
-The Suns' bus arrived late to the arena due to them being two blocks away from the incident.
-On Halloween night, the Suns' record improved to 8-9 while the Nets' record dropped to 6-8.
Up Next for the Nets and Suns
Brooklyn will start their road trip against the former Net Brook Lopez and the Los Angeles Lakers on Friday, Nov. 2, at 10:30 p.m. ET.
Phoenix will have a few hours to rest before visiting the Washington Wizards on Wednesday, Nov. 1, at 7:00 p.m. ET.