 San Antonio Spurs won against Chicago Bulls at AT&T Center on Saturday Night. With this result, the Spurs are 8-5 and 5th in the Western Conference.
Pau Gasol scored 21 points and two rebounds. Followed by Dejounte Murray who tallied 17 points and five assists.
On the other hand, Bobby Portis led Chicago with 17 points, same as his teammate Robin Lopez.
The Bulls are crossing a hard time, with only 2-9. The playoffs are a bit of a stretch as they are 14th in the Eastern Conference.
Spurs led to the half
The Spurs began the game with hungry. They notched 37 points against 15. The Bulls seemed lost, and couldn't make any pressure to decrease the board.
In the second period, the visitors started struggling to modify the game. Lopez scored ten straight points. Among Valentine with nine points, three rebounds, and three assists.
Lauri Markkanen who notched six points, two rebounds and two assists in the second quarter, suffered a left ankle sprain and had to leave the match.Thus, Portis entered at his place.
The host side made 26 points. The first half ended 63-47 for the Spurs.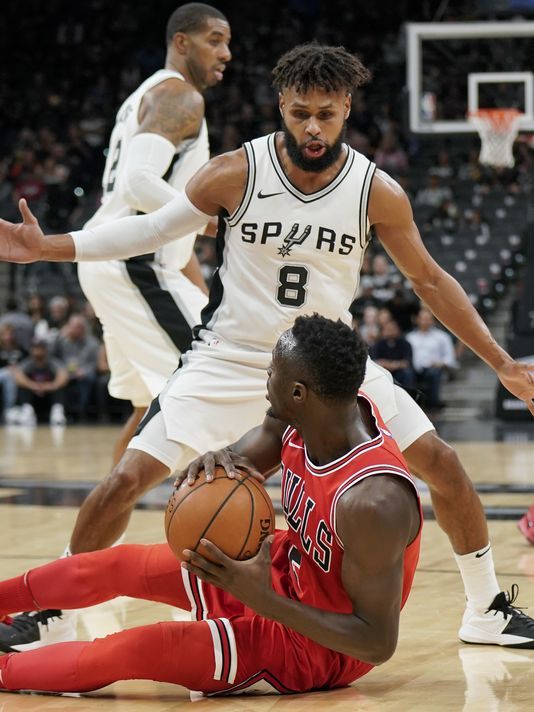 The hosts increased their margin and took a victory
The third quarter started with the Spurs leading the game, at the same time, the Bulls wanted to reduce their deficit. Consequently, San Antonio returned to show a better performance on the court.
Gasol was on fire, scoring 19 points, amid LaMarcus Aldridge with 14.
With the advantage was 97-70, San Antonio rose to control the game. Even so, they started to improve their defensive line to avoid any surprise, it helped them to get another win for 133-94.
Up next
San Antonio Spurs are going to take on the Dallas Mavericks as their next game on Tuesday at American Airlines Center.
Whilst Chicago Bulls visits Oklahoma City Thunder at Chesapeake Energy Arena on Wednesday.