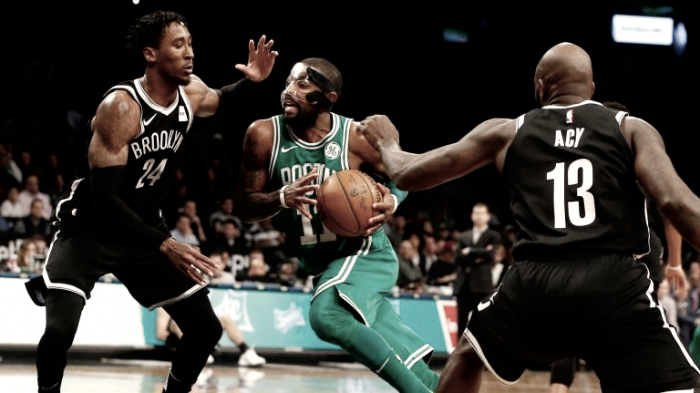 In a game of lots of runs, the Boston Celtics prevailed and continue to have the best record in the NBA, 13-2. The Brooklyn Nets put up a fight without their key player D'Angelo Russell but came up short and fell to 5-8.
Celtics make it rain from beyond the arc
Boston dropped three's with ease during the first stanza of the game. They shot 6-of-10 from downtown while their opponents struggled from that category and shot 1-of-6. Celtics' rookie Jasyon Tatum continued to impress and opened the game with eight quick points that included two three-pointers. Kyrie Irving also helped with the scoring early on and scored six to help his Celtics take a 30-21 lead by the end of the period.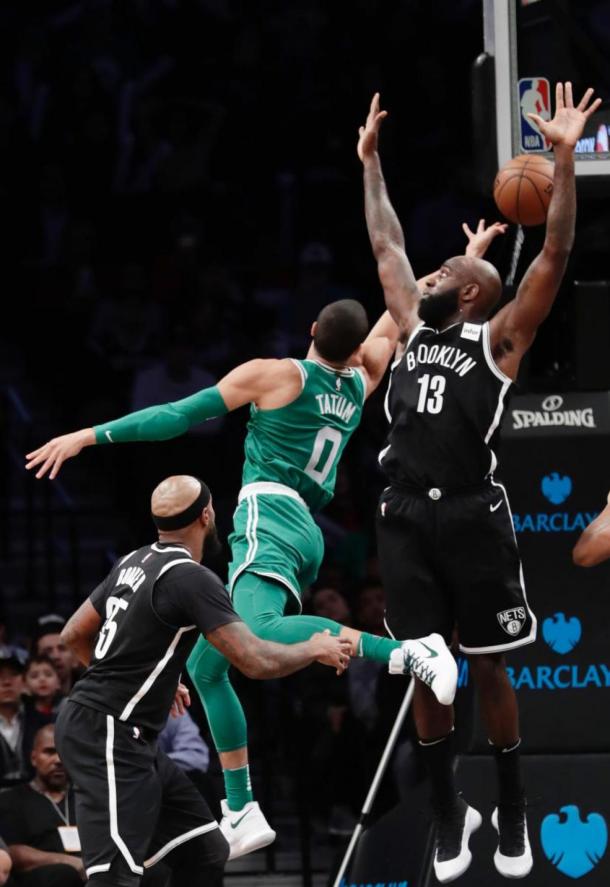 Nets tie up game
Brooklyn went on a 14-0 run during the second quarter. That helped tie the game at 52 by halftime. They outscored Boston 31-22 in the frame.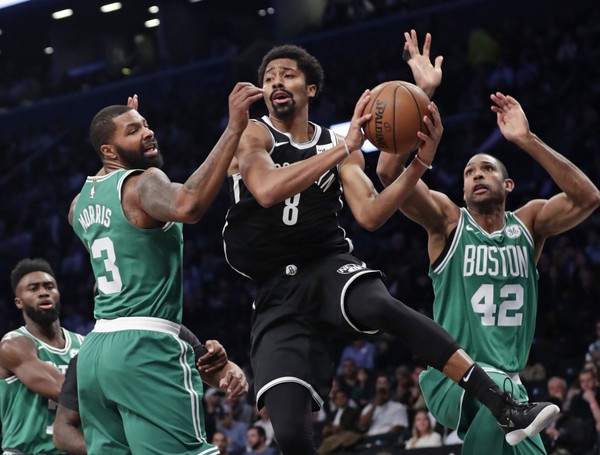 Boston displayed the largest run of night
The Nets continued to make runs and achieved a 65-61 lead by the 6:37 mark of the third period. Beantown countered and went on an enormous 19-2 run to take a commanding 80-71 lead heading into the final 12 minutes of regulation.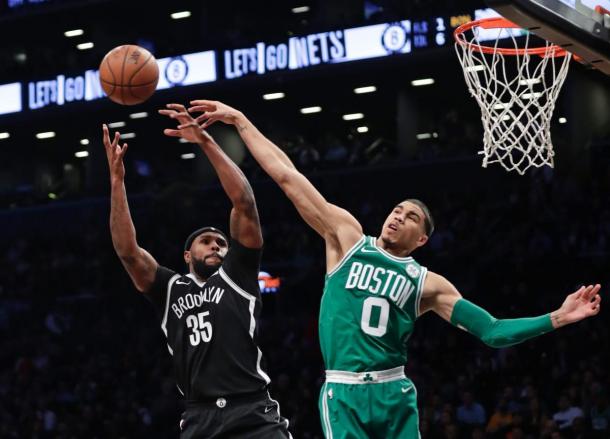 Morris helps Celtics close out game
Brooklyn fought until the end and brought the game back within five with two minutes left in regulation. Irving then hit two clutch free-throws which followed it up with a Jaylen Brown alley-oop feed to Tatum. Marcus Morris also helped seal the deal and scored 11 points in the fourth quarter.
Top performers
Brooklyn Nets
Joe Harris led the way from a bench role and tied a career-high with 19 points. Caris LeVert, who also came off the bench displayed a good performance and scored 15. Rondae Hollis-Jefferson notched 16 points and nine boards while Allen Crabbe chipped in 15 points.
Boston Celtics
All five starters finished with double-digit figures. Irving finished with 25 points and Tatum concluded with 19. Morris summed up 21 points and Al Horford recorded a double-double with 17 points and 11 rebounds. Brown contributed with 14 points.
Quotes
Nets' head coach Kenny Atkinson was asked about his team's performance and said, "The guys competed. We just have to do it for longer stretches."
Harris was also asked the same and responded, "It just goes to show when you play [a] great team, you can't just have little strings here and there."
Celtics head coach Brad Stevens gave some praise to Brooklyn and said "They do a great job of continuing to grind on you and making it as tough as possible. They come back a lot. You knew it was going to be tough."
Other things to note
-The last time Boston won 13 straight games was in the 2010-11 season when they had the All-Star trio of Ray Allen, Paul Pierce, and Kevin Garnett. The team record for most consecutive wins is 19 and was set from Nov. 15, 2008 to Dec. 23, 2008.
-The Celtics last loss occurred on Oct. 18, 2017 to the Milwaukee Bucks at the TD Garden.
-Irving was questionable to play due to a minor facial fracture. He logged in 29 minutes with a mask on.
-Beantown won their sixth straight game at Barclays Center.
-Brooklyn returned home for the first time since Halloween night. They won their first road game against the Phoenix Suns during their five-game western road trip and finished 2-3.
-Nets' point guard D'Angelo Russell did not play due to a left knee contusion. In his spot, Spencer Dinwiddie got the starting role after returning from a one-game absence due to a hamstring injury.
-Mexican entertainers Diego Alfaro and Georgina Holguin were in attendance to help promote the Nets upcoming games against the Miami Heat and Oklahoma City Thunder in Mexico City next month.
Up next
Brooklyn will have a few days to rest before they return to action against the Utah Jazz on Friday, Nov. 17 at 7:30 p.m. ET.
Boston heads back home for a showdown against the reigning NBA champions Golden State Warriors on Thursday, Nov. 16 at 8:00 p.m. ET.