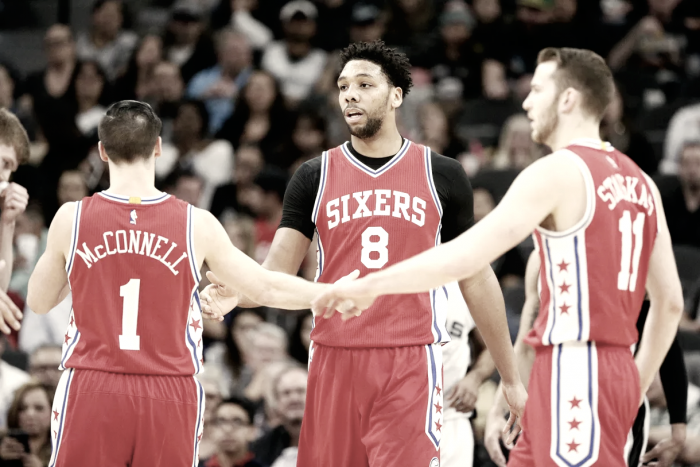 Jahlil Okafor finally got what he wanted.
The Philadelphia 76ers trade Okafor, Nik Stauskas, and a 2019 second-round to the Brooklyn Nets for Trevor Booker.
Zach Lowe was the first to report the news.
The Sixers are nearing a deal to send Jahlil Okafor to Brooklyn, league sources tell ESPN.

— Zach Lowe (@ZachLowe_NBA) December 7, 2017
What happened to Okafor?
The trade comes in after Okafor requested to be bought out from the 76ers but the team denied that request. Instead, Philadelphia wanted to get something in return for the 21-year-old big man.
Okafor, who was drafted third overall in the 2015 draft, has only played only two games this season and it was clear why he wanted out, mainly because his teammate Joel Embiid has been playing really well and is healthy. While Embiid was nursing his foot injury, Okafor had a solid rookie year, averaging 17.5 points, seven rebounds, and 1.2 blocks per game. He couldn't top his rookie year to his sophomore-year as he averaged 11.8 points, 4.8 rebounds per game, and one block per game because his minutes dipped from 30 a game to 22.
Now that he is a Net, Okafor may get some playing time as Tyler Zeller, Timothy Mozgov, and rookie Jarrett Allen share the center position. It will be interesting to see how he will fit with this Nets team.
A look at Nik on the Nets
Sharp-shooter Nik Stauskas, on the other hand, had lost his minutes because of J.J. Redick, who signed as a free-agent this past offseason and started the season at the shooting guard position. He's only played six games this season because of the depth the 76ers have at the guard position. Although Stauskas wasn't starting to begin with, he wasn't the first one off the bench either. Guards T.J. McConnell, Timothe Luwawu-Cabarrot, and Jerryd Bayless were the main options 76ers' head coach Brett Brown decided to go with.
With the Nets struggling to hit their three-point shots, ranking 24th in three-point percentage with 35.4 percent, Stauskas can earn his minutes by doing what he does best in knocking down threes. His career-year was last season when he averaged 27 minutes, scoring 9.5 points per game, while shooting 36.8 percent from deep. He will need to up that percentage just a bit in order to get consistent minutes off the bench.
Booker will have to battle to get minutes
Already loaded with forwards, Trevor Booker will have to find a way into the 76ers rotation. Dario Saric is currently starting at power forward and Embiid at center, with Amir Johnson backing them up. Both Robert Covington and Ben Simmons can play at the power forward position so it may be likely that Booker may get his minutes playing center off the bench. This may result in him taking Johnson's minutes.
Current situation for both teams
It will be interesting to see how this all turns out for both sides as the 13-10 76ers are making a run for the playoffs, tied for fifth in the Eastern Conference with the Milwaukee Bucks, while the 9-14 Nets are still looking to get things going, placing 12th in the conference.