 Isaiah Thomas will make his season debut Tuesday night against the Portland Trail Blazers, according to Cleveland Cavaliers coach Tyronn Lue. Thomas was traded to Cleveland this offseason in a blockbuster move which sent Kyrie Irving to the Boston Celtics in exchange for Thomas, Jae Crowder, rookie big man Ante Zizic, and the Brooklyn Nets 2018 first-round pick.
Lue is reportedly keeping Thomas on a minutes restriction, considering his lengthy time away from play and the need to steadily recover. Additionally, Thomas will not play back-to-backs at this point in the season, meaning he will miss Cleveland's big matchup against his former team, the Celtics, on Wednesday, a game many speculated could have been the first time we saw Thomas back on the court.
According to ESPN, a source told the site that Thomas may only play eight to 12 minutes in his debut, but the Cavaliers and Lue have not provided any information to confirm that.
The All-Star point guard has been sidelined this entire season because of a right hip injury, which he suffered in last season's playoffs, resulting in him missing the final stretch of Boston's postseason run. Thomas was a major contributor to Boston's success last season, as he had a career year averaging 28.9 points per game and 5.9 assists per game, leading his Celtics to the best record in the Eastern Conference.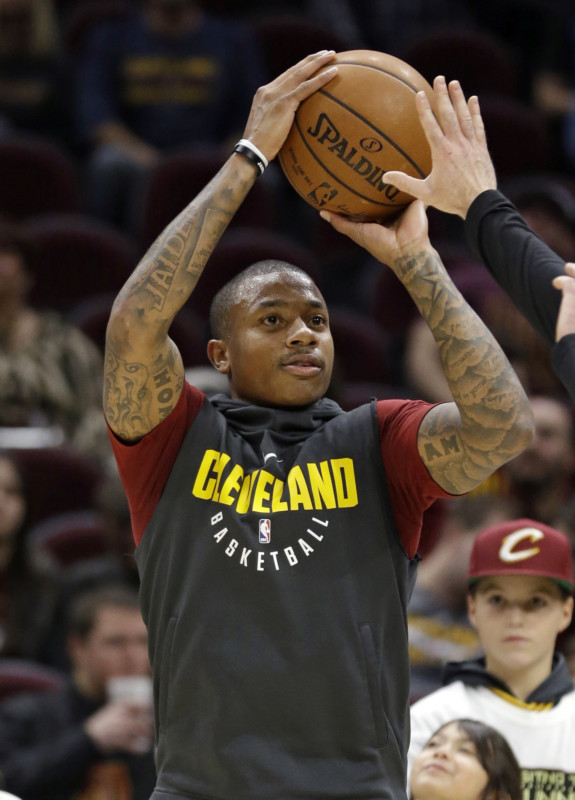 Where Thomas will fit in
Thomas's presence should be felt by Cleveland, as the team has suffered its ups and downs this season. A rocky start may be partially blamed on point guard struggles, as Derrick Rose suffered another devastating injury which has kept him out for a large portion of this season. Iman Shumpert, another player who was filling point guard minutes for Cleveland, has also been out.
Jose Calderon, who the Cavaliers signed this past offseason, has done a steady job in the starting point guard spot, with Dwyane Wade helping off the bench, but it will likely give Cleveland more stability and reliability at the position as Thomas eases his way back into his regular role.
Thomas has competed in scrimmages within the Cavaliers team, meaning he has seen decent action, but it will still likely take him some time before he feels comfortable with his role on this team.
"My hip is better, but I have no rhythm," Thomas said when asked about his return.
While Thomas is one of the most exciting young talents this league has to offer, he has made his presence known from the Cleveland bench. Thomas has shown no lack of energy as he cheers on his teammates from the sidelines, and has worn humorous shirts to make statements while rooting for his team. That said, while Thomas's ecstatic personality and celebrations will be missed on the sidelines, Cavaliers fans will have even more fun watching him play side by side with LeBron James, Kevin Love, and the rest of the team.
The Cavaliers and Trail Blazers will face off in Cleveland at 7 p.m. ET Tuesday night on NBA TV.