 Following weeks of speculation, the Cleveland Cavaliers finally make a move prior to the 3:00 p.m. trade deadline.  The Cavaliers will send two-time All-Star Isaiah Thomas, Channing Frye, and their own protected 2018 first-round draft pick to the Los Angeles Lakers in exchange for Jordan Clarkson and Larry Nance Jr., per ESPN's Adrian Wojnarowski.
Lakers sending Jordan Clarkson and Larry Nance to the Cavaliers, league source tells ESPN.

— Adrian Wojnarowski (@wojespn) February 8, 2018
Cleveland is sending Isaiah Thomas and Channing Frye to the Lakers for Clarkson and Nance, league source tells ESPN.

— Adrian Wojnarowski (@wojespn) February 8, 2018
Cavaliers also sending its 2018 first-round pick in deal to Lakers, league sources tell ESPN.

— Adrian Wojnarowski (@wojespn) February 8, 2018
Cleveland has been struggling as of late, and many were urging the front office to make a move as the deadline approached in attempts to incentivize LeBron James to stay with the Cavaliers this upcoming offseason.
Thomas was received in the blockbuster deal that sent Kyrie Irving to the Boston Celtics, and although expectations were high for the former All-Star, who only played 15 games in a Cavalier jersey, he has struggled in Cleveland since returning from a hip injury which had kept him sidelined for a good portion of the season.
Cleveland trade rumors
Rumors were circulating that the Cavaliers were aiming to move the first-round draft pick that they received from Boston, which originally belonged to the Brooklyn Nets, but they were searching for a high caliber player considering the pick will likely be a top-10 in this stronger draft year.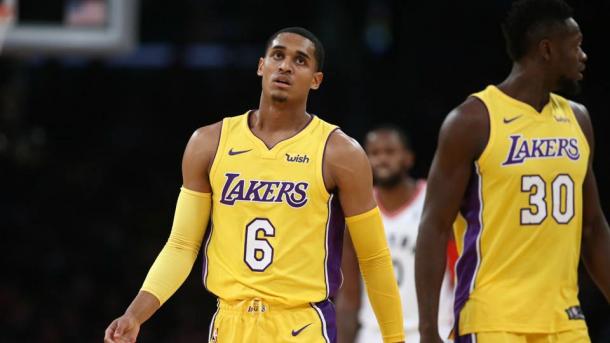 That pick is now off the table for Cleveland, considering that they traded away their other first-round pick.
Reports stated that Cleveland was also pursuing big names like DeAndre Jordan and Kemba Walker, however, as of this moment, none of those deals have had significant traction.
How this trade helps LA
According to Wojnarowski, this deal benefits the Lakers as it frees up cap space to pursue two max contracts in the upcoming years, and it also gives them additional draft support with the included first-rounder.
Three impactful details on trade for Lakers: They'll have space for two max contract slots in 2018 or 2019, replenish first-round pick in 2018 Draft and gets Lakers some shooting for rest of season with Thomas and Frye.

— Adrian Wojnarowski (@wojespn) February 8, 2018
Additionally, if Thomas can find himself and return to near the level that he was at last season, Los Angeles will have received one of the most lethal scoring threats in the league.
This marks one of the first deals of the day, and we will continue to keep you posted over the next couple of hours.