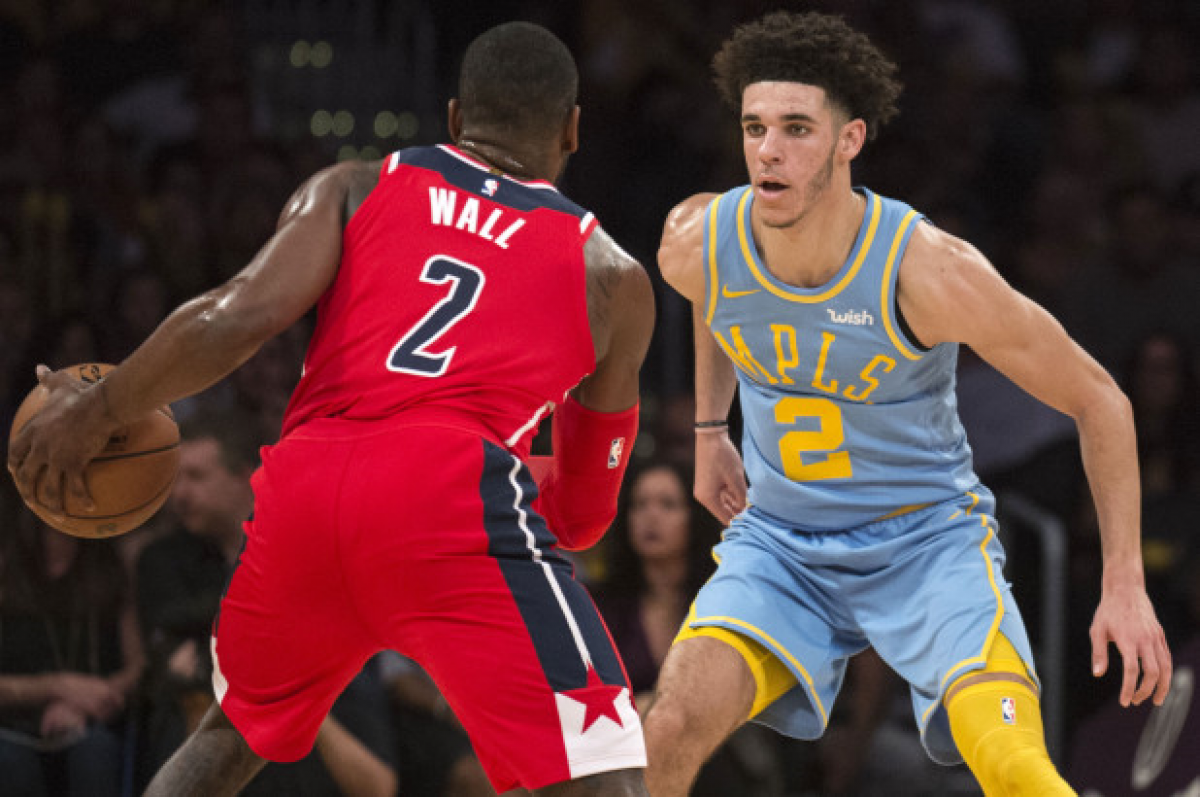 Lonzo Ball has been the subject of a lot of criticism and scrutiny dating back to his college days in his one year he spent as a freshman as a member of the UCLA Bruins men's basketball team. Mainly, this has been a direct cause and effect of the outlandish comments made time and time again to the national media by his father Lavar Ball.
It all started with a comment Lavar made during a late November, early season game the Bruins were playing in on November 25th, 2016. Lavar was approached by a reporter from ESPN, and was asked about the chances of his son's UCLA team winning the NCAA championship. Lavar's response was quote "I'm telling you this now before you hear it anywhere else, UCLA is going to win the NCAA championship and you think I'm playing." While at first, the comments didn't really have a national impact, by the time late January and early February when analysts and experts from all networks were making their annual bracket picks the video resurfaced and picked up a lot of steam nationally.
Shortly after the video caught steam, Lavar was the subject of all media platforms, from television monopolies like ESPN and Fox Sports, to paparazzi media like TMZ sports, all the way down to online blogs, people couldn't get enough of Lavar and his larger than life personality and outlandish proclamations. Lavar went on an interview with TMZ and was asked about if his son would ever reach the level of 2x MVP Stephen Curry (who at that point was coming off the first unanimous MVP award ever) Ball replied with the words that would send the nation into a frenzy by answering the question saying quote "Is he going to be as good as Steph Curry? Heck no, he better than Steph Curry to me, take my son and put him on the Warriors and put Steph on UCLA and see the difference." That quote sent 90 percent of American sports fans into an uproar.
Fast forward almost an entire year, which brings us to now. We have seen Lavar Ball become a huge celebrity, some argue bigger celebrity than his first son who is currently playing point guard for the biggest brand in all of the NBA. While most of the nation dislikes Lavar's antics, it all seems to be one big marketing scheme to promote the family's upstart brand, "Big Baller Brand" or known as "BBB".
Since that statement about his son being better than Curry, we've seen Lavar making crazy statements on every television show that he has made an appearance on. When he appeared on Fox Sports 1 show "Undisputed" he was asked about the comments and he doubled down, replying with "I know what work my son put in and what my boy is about and I truly believe in my heart that my son is better than Steph Curry." Ball also made an appearance on ESPN's "SportsNation" in which he made another outlandish comment which he declared he could beat Michael Jordan in a game of 1 on 1. Lavar said "Jordan is too small, he's too light, I would just back him into the post and score every time." Later in that same episode he went on to have a game of 1 on 1 with Marcellius Wiley and would win (even though the game was on a low rim and was just for show purpose.)
Most famously, Lavar appeared on ESPN's "First Take" in which he got into a verbal screaming match with Stephen A. Smith who came after Ball about all the outlandish comments he had made to the media, and in typical Lavar fashion, not only did he not back down, he yet again doubled down on his comments.
Lavar Ball may be pulling off his bigger goal which is promotion of the upstart Big Baller Brand, but by him doing that he has painted a huge figurative target on his eldest son's back at the NBA level. This was made very clear during Lonzo's first ever NBA game in which he had to go head up with the leagues best perimeter defender at the point guard position, Patrick Beverley.
Beverley, along with other stars, most notable John Wall of the Washington Wizards, made it abundantly clear that Lonzo was in for a rude awakening from these top notch point guards from the day he stepped in the league. NBA players respect Lonzo and his game, at least that's what can be taken from interviews, but they know that in order to quiet up Lavar, they will have to play his son extremely hard. In a weird way though, its almost like Lavar wanted this to happen, because even if guys like Beverley get the benefit of giving Lonzo a hard time and making him have a bad game, they still have to answer questions about it after the game, which in a roundabout way, promotes Lonzo, Lavar, and the Brand even more.
As of today, Lonzo Ball has been on the injury list since January 13th, dealing with an MCL sprain. Los Angeles seems to be taking the recovery process very slowly with their future point guard, exhausting every resource to make sure Lonzo comes back healthy to 100 percent, and to make sure he doesn't have any hiccups in his game when he does return to the court. Unfortunately, with Lonzo being hurt, Lavar really has no way to market his brand, because his signature athlete which is his oldest son, is not playing. In effort to keep the brands popularity growing, he has made more outlandish statements, which has sent ripple effects through the NBA and American sports media, even though Lavar is still currently half way across the world, watching and sometimes coaching his two youngest sons, who are playing professional basketball in Lithuania.
Everything Lavar has said has made the public have a obscured view of his oldest son, Lonzo. Media outlets everywhere are painting the just turned 20 year old point guard as a bust through 57 games of his rookie season, and for Ball, who has been battling injury since the preseason and summer league, has only played in 36 of a possible 57 games.
With Lonzo running the show as the starting point guard the Lakers record is 15-20, which equates to a .428 winning percentage. Without Ball on the court, the Lakers record is 8-14 which equates to a .363 winning percentage. Los Angeles has a total record of 23-34 which is about a .404 winning percentage for all games played so far this season. So as you see, while its a small sample size, the Lakers winning percentage goes down by about 6 to 7 percent with Ball off the court. Also, stats do lie sometimes, but in this case, they dont lie, but they also dont tell the entire story. With Ball on the court, the Lakers have been very competitive against teams better than them, and against the leagues top contenders. LA did beat Houston in Houston earlier this season behind a 39 point explosion from Kyle Kuzma, but on top of that victory, the team has played the defending champion Warriors three separate times, with the largest loss being only 7 points, and two of those games going into overtime, with a total margin of defeat of 13 points (4.3 points per game.)
With Ball on the court, the Lakers have been very competitive with almost every team they play, outside of the occasional blow out that happens all the time in the NBA where a team doesn't come ready to play and gets blown off the court, and that especially happens a lot to young, less mature teams. While with Ball on the court, the Lakers only have one win against a top 4 playoff seed, which is a game on October 25th, 2017 where the Lakers pulled out a 3 point win over the Washington Wizards (currently 4th in East). On the flip side of that, with Ball on the court, the team has had 9 games against a top 4 conference seeded team, and in those 9 games, only three have been double digit losses. In the Lakers total 36 games with Lonzo on the court, they have an overall point differential of (-61) which means that in Ball's 36 games the Lakers have only been outscored by a total of 61 points, which averages out to (-1.7) per game. In the 20 loses the Lakers have suffered with Ball on the court, they are -197, which averages out to (-9.85) per game, which means the Lakers lose by an average of 10 points with Ball on the court, but with him on the sideline, in the 14 losses without Ball, the Lakers are -404 which means they lose games by an average of 31 points per game, yes you read that right, 31 points per game. So not only does the Lakers winning percentage go down by an average of 6 percent without Ball on the court, their average loss margin increases by a whole 20 points, that's staggering.
Lonzo has wildly been considered a bust, and if people aren't ready to jump to that conclusion just yet, they do all agree that he has under performed, according to the standards set by his father. Lets look into Lonzo's splits, he averages 10.7 points per game, 7 rpg, and 7 apg. While people jump to conclusions of him being a bust because of his early struggles to score baskets, people tend to ignore the rebound and assist stats, which to the type of player Lonzo is, those stats are crucial tellers of how the young rookie is playing, not just his points average.
People must be careful to judge Lonzo under the same scale that they judge all of the other rookies in his class, and quite frankly, every rookie of the last 5 years. Analists love to look at Lonzo's stuggling shooting percentage and his struggle to point up big point games and assume he cant play at this level, but in reality, he's just not your prototypical 2018 scoring point guard we have grown accustom to seeing because of players like Steph, Kyrie, Damian Lillard and others. Lonzo is an old school, traditional, pass first point guard, who is not on the court trying to run up stats for himself, but trying to help his teammates run up their stats. Lonzo's sole purpose of being on the court, and the sole reason Magic Johnson drafted him so high is because of his ability to run an offense and make the right pass and the right play to put his team in the best situation to win. Jason Kidd is the player most are comparing Lonzo too, so lets look at their rookie season stats. Jason Kidd averaged 11.7 ppg, 7.7 apg, 5.4 rpg. Those numbers almost mirror Lonzo's numbers, and Jason Kidd wasn't nearly as scrutinized as Ball after one season, heck if anything he was praised for his play because he was awarded Co-Rookie of the Year with Pistons forward Grant Hill in 1994-95.
Lonzo Ball has a very unique game, with a very different skill set than we have grown accustom to over the past half decade, so rightfully people are wrongly judging him by standards that he will never meet, some inflicted because of his fathers brash personality and marketing techniques, and also some by Magic Johnson who said in his first press conference "Lonzo, leave me some of my records please." So this unjust and undo pressure on Lonzo, its easy to see where it comes from, but if you take all that out of the equation, take out everything his father has ever said, Lavar is his own man, and speaks whatever comes to his mind, but those comments do not reflect Lonzo or Lonzo's personality, because Lonzo like Lavar is his own man and deserves to be judged that way. Take Lavar away from Lonzo, take all his crazy comments, take Magic Johnson's comments away, take away the hype and the next time Lonzo ball is on your television or tablet screen, watch the game with the sound off, and let your eyes do the talking for you. Do not listen to the announcers and let them impact what you're seeing, forget the hype, just watch, and you will see that Lonzo Ball is a solid 20 year old rookie, and you will also see that he is a star in the making and will be around this league for people to deal with for a long time. (Sorry American public, you will have to be hearing more out of Lavar Ball's mouth for another 10-15 years.)