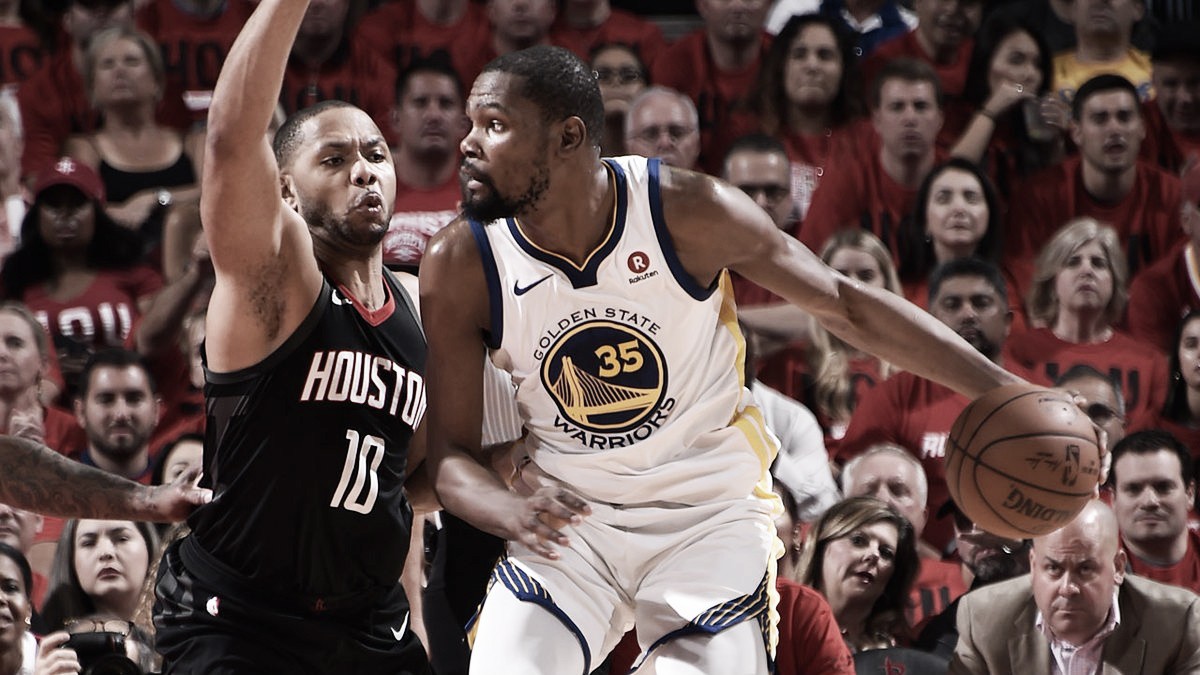 The Houston Rockets tie the series at one game apiece after beating the Golden State Warriors 127-105 at the Toyota Center on Wednesday night. Houston was led by none other than James Harden as he recorded a double-double with 27 points and 10 rebounds. Eric Gordon, who also scored 27 points, followed up Harden's offensive lead along with P.J. Tucker as he put up 23 points, grabbed seven rebounds, and dished out four assists.
The Rockets' offense finally got back to what they are accustomed to as their 110.3 offensive rating in these playoffs finally showed.
For the Warriors, Kevin Durant led all scorers with 38 points on 13-for-22 shooting from the field.
Houston will head to Oakland for Games 3 and 4 and hope to regain the shift in the series on Sunday at Oracle Arena.
Houston Rockets led by 14 points at the half
The game started with both teams playing well. However, Houston was jumped out with an early lead at the 6:52 mark, as they were leading 13-10. It didn't last long, as the Warriors tied it at 16 two minutes later.
Nevertheless, the Rockets finished the first quarter strong with Harden and Gordon leading Houston to jump out to a 26-21 lead.
Houston extended their lead in the second quarter at the 9:36 mark; leading by six points, 26-33. The Warriors did not have the strength to shorten the difference and with six minutes remaining, Houston was leading 46-35. The Rockets never looked back and continued their strong play on both ends of the floor, leading 64-50 at the half
Trevor Ariza finished at the half recording 15 points, two steals and three assists. Besides him, Harden and Tucker both scored 14 points. On the other hand, Durant was the only Warrior having any offensive success as he put up 18 points at the half.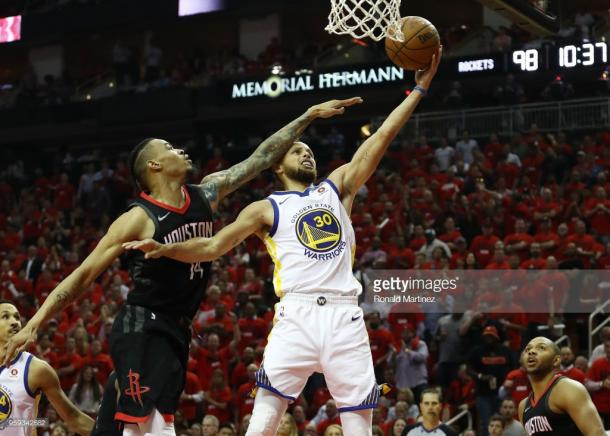 Kevin Durant tried to do it all, but Rockets were too much
Houston returned at the half playing absolutely better than Warriors did. Durant was still the only one playing well in the game as Klay Thompson and Stephen Curry were missing for the most part of the game.
At the 5:06 mark, the game was blown open as the Rockets led 83-66. They continued handing it to the Warriors as they led by 22 points for most of the third quarter. They finished the quarter strong, going into the fourth quarter with a 95-79 lead.
The Warriors tried to shorten the deficit but it was too little too late. Houston outscored Golden State 32-26 in the fourth and finished the game with a 127-105 victory.