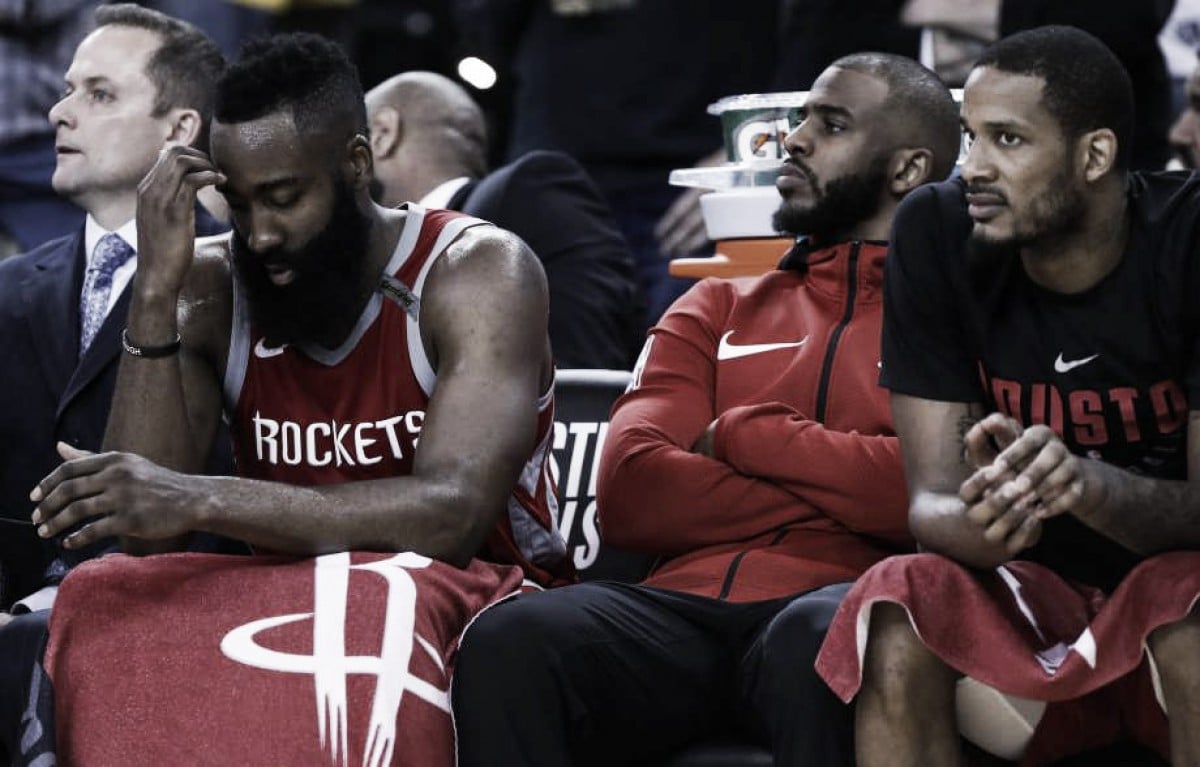 For a while, it seemed like the impossible was going to happen. Coming into the Western Conference Finals that everyone expected, many said that the Golden State Warriors would manhandle the Houston Rockets in five, maybe six games. The Rockets weren't supposed to have a 3-2 lead. For a while, there was hope.
But with less than a minute left in a pivotal Game 5, Chris Paul hurt his hamstring while going up for a layup and immediately grabbed for it before limping off the court. The always tenacious player couldn't even attempt to get back on defense he was in so much pain.
Without their number two player, the Rockets weren't the same. Things looked promising in Game 6 as they burst through the gates and got a 17 point lead. However, it all turned sour in the third due to a poor offensive display in the second half as well as Stephen Curry being Stephen Curry.
Game 7 was similar albeit much closer. The Rockets were always within striking distance but couldn't pull it off. It's hard to do so when a team is so off they miss 27 three pointers in a row. They weren't even bad shots, they were for the most part makeable.
While the Rockets far exceeded expectations by taking the Warriors two seven games, fans have still been pointing fingers at many different faces of the organization. Let's look at who these people are and if they actually deserve blame.
Who's to blame?
Referees
I'll try to be as unbiased as possible when writing this part since I know everybody complains about refs when their team loses. But some of these missed calls, I mean come on.
While there were some questionable calls in Game 7 as well, the games cannot be blamed on the referees. They only have so much impact on a game. The Rockets were playing extremely poorly in the second half and a few more calls going that way wouldn't have changed much. While it's tempting to blame the referees, and in my attempted unbiased opinion their calls did favor the Warriors, you can't say their the sole reason that the Rockets couldn't pull the upset off.
Mike D'Antoni
Many are blaming head coach Mike D'Antoni for the losses, some going so far as to say the team needs a new coach. First of all, that is just silly, and this is coming from someone who wrote this article when the team first hired him. However, since he became the Rockets' head coach, he has proven to me that he is the perfect fit.
The fans who have taken their disappointment out on D'Antoni so far liken him to former Toronto Raptors head coach and possible Coach of the Year (if it isn't either Utah Jazz coach Quinn Snyder or Boston Celtics coach Brad Stevens, then people are just crazy) Dwane Casey as a solid head coach with great players that cannot take his team to the Finals. However, there are several differences between the two.
First, Casey had five consecutive great years in the regular season with only one Conference Finals appearance. Second, his teams have never been able to take on LeBron James, even this year, when he's playing with a team worse than the historically bad 2007 Cleveland Cavaliers.
On the other hand, this is D'Antoni's second year with the team, and the Rockets' record has gone from 41-41 to 55-27 to 65-17. His gameplan has also worked throughout the regular season and is absolutely devastating when the team is healthy.
The main complaints against D'Antoni are in the last two games. In Game 6, people complained that he didn't rest the starters enough, causing them to be tired going into the second half and getting absolutely demolished.
While this did happen, how was D'Antoni supposed to know it would happen? This was his first playoff game without Paul and the 7-man rotation was working well against the Warriors. After Gerald Green, he couldn't rely on anybody, including Luc Mbah a Moute, who injured his shoulder twice in the regular season and as a result became ineffective. The Warriors will exploit any weakness, and sadly putting Mbah a Moute, Joe Johnson, or Ryan Anderson in the game would lead to a weakness they could attack.
He changed his rotation slightly in Game 7, giving Johnson and Anderson some minutes throughout the game while benching Mbah a Moute. Like mentioned earlier, the Warriors, Curry in particular, exposed Anderson, as his man would screen for Curry, forcing the defenders to switch and leaving Anderson on the greatest shooter of all time. Sadly, this came in the Warriors' notoriously efficient third quarter, giving them the lead for good.
However, D'Antoni has received even more flack for sticking to the gameplan in Game 7 even though his team had missed a staggering 27 consecutive three pointers. Fans questioned why the team didn't drive to the basket more. The sad part is that they did.
Typically, the Rockets' downfall is when they rely too much on the three, dribbling down the shot clock and settling for contested deep heaves. Harden is very prone to this kind of offense, but the role players sometimes get lazy too. 7 for 44 or less than 16% shooting from deep suggests that this happened, but it's simply not the case.
Harden (save for a few minutes in the fourth, which I'll get to later) and Eric Gordon would often drive towards the basket to find the defense collapsing in on them. They could go up for super hard layups, maybe get fouled in a game where they were getting no calls, but more than likely be blocked. OR they could kick it out to open players on the wings to take relatively open threes. They opted for the latter for the most part, a major reason why they both had six assists each.
As any shooter will tell you, the way to get out of a shooting funk is to keep on shooting. Curry lives by this rule. Kobe Bryant lived by it too. So did the Rockets. It did turn out to be their downfall, but they weren't going to win otherwise. The offensive gameplan was great, it led to a lot of open threes and on any other day, the Rockets would be going to the Finals. They could've driven more often, but there's only so much one player can do against three or more collapsing around them in the paint. There's always alley-oops to Clint Capela but do that enough times and the Warriors will be able to defend that too.
As much as it sucks to say, there was nothing D'Antoni could've done. One can't simply change the gameplan on the whim because the team has been playing this way the entire year. It is a lot more difficult than it seems to just change it up with no prior preparation.
James Harden
I have often blamed Harden for the Rockets' misfortunes. Even earlier in this series, I was worried that Harden was just proving my belief that he chokes in the playoffs. However, Game 6 and 7 are definitely not his fault.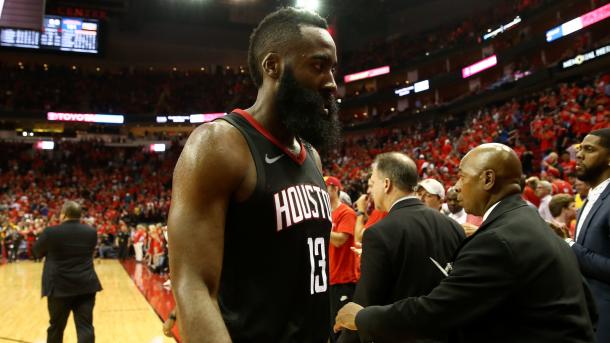 With Paul out, Harden was given LeBron level responsibilities once again, something that only the greatest athlete in sports himself can accomplish. It worked in the regular seasons prior to this one without Paul, but he'd always run out of steam in the playoffs, when the competition was much harder and focused on him. He had to try carrying a quality team against what many consider to be the greatest team ever. As great as Harden is, it was impossible if he didn't have help from everyone else.
Something that Harden proved this series was that he's a quality defender when needed, as he averaged more than two steals per game, getting three or more pretty consistently in the last few games. He also had to lock up some of the best players in the league, which he did surprisingly well.
Still, what most people are going to hate on is his leadership, saying he can't do it without Paul. You have to remember that he is one All-Star going against four. Even though he is the MVP most likely, that is virtually impossible to defeat, the Warriors are just too stacked.
Fans are mainly focusing on a period early in the fourth when Shaun Livingston was denying him the ball (he was holding him a little but whatever) and he wouldn't make a move towards it, allowing Gordon instead to go get it. Kudos to Gordon for trying to step up into Paul's position as the secondary ball handler. Honestly, he did a phenomenal job of slashing towards the basket to create open shots for others.
Back to Harden, I don't think it was laziness but fatigue. He saw that Gordon was having some success, and even with it, the Warriors were still focused on denying Harden the ball. They put a quality defender on him that didn't have fouls nor much playing time, therefore he could go all out on defense. Meanwhile, Harden was gassed from carrying the team all throughout the first three quarters. I believe Harden truly tried his all in the last two games, but it was just too much to handle.
Chris Paul
Paul would've done anything in his power to play in Game 7. If he was benched, it means that he was physically unable to play. It would've been a miracle given he suffered the same injury that sidelined Harden for three weeks in the regular season. Blaming him is just stupid. Moving on.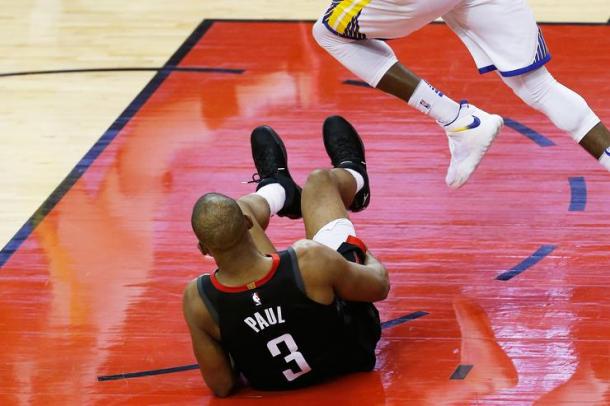 Role players
Finally, this is literally everybody else on the roster. However, I imagine Trevor Ariza will be getting the most hate. Ariza's one of my favorite players on this year's Rockets team and this article by Zach Lowe of ESPN clearly explains why. He constantly goes all out on defense and will not rest, nearing Bryant levels of obsession for the game.
Yes, he had zero points in Game 7. Yes, that is unacceptable. But his defense was simply amazing. He's long been the best defender on our team, and even though we added Paul and P.J. Tucker, he still is. Many wondered why he was kept in the game for so long despite his piss poor shooting, it was because the guy was locking up all of their best players. He's one of the most important cogs on the team and there was no way to take him off.
Speaking of Tucker, he was the player that impressed me the most amongst both teams in Game 7. Looking back, this was such a bargain deal. He had 14 points on 5-9 shooting, 2-5 from deep, 12 rebounds, eight of which were offensive, and four steals in a whopping 45 minutes. That is the most anybody played in the game. He was hustling on every play, getting offensive boards left and right and playing phenomenal defense. Sorry, I just wanted to shout him out. If anybody isn't getting flack, it's definitely isn't him. Anyway, moving on.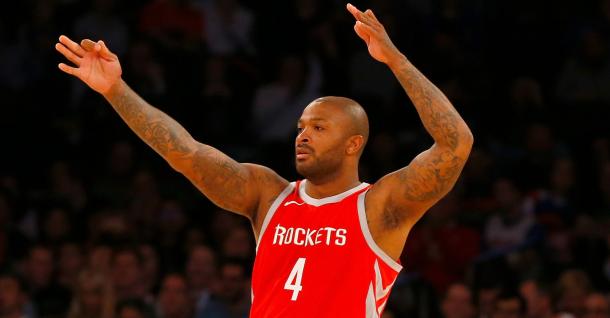 Gordon and Harden also shot poorly from deep, going 2-12 and 2-13 respectively. Green went 1-4 and 1-7 in the game. Capela, like Tucker, had a great game with 20 points and 9 rebounds, but he wasn't as active scoring late in the game. Ok, maybe this section was mostly about Ariza, but no, he shouldn't get hate either, his defense was amazing.
Honestly, you know what defeated the Rockets? Luck. While basketball is often decided with talent, obviously, luck plays a big part too. This was clear to me at some point in the third, when Ariza took an open three that looked like it was going to sink, just for it to spin out of the basket. On the very next possession, Curry takes a step back three. It bounces on the front of the iron, hits the top of the backboard, and goes in. Luck. And the Rockets sadly had so much bad luck that they couldn't make open shots.
How can the Rockets beat them next year?
As soon as the game finished, we all know what general manager Daryl Morey started thinking about. "How can we take down the Warriors next year?" As far as I see it, there are only two options.
LeBron James
I talked about this move in depth in this article, so I will keep it brief. Obviously, James is an amazing player to have. However, the Rockets would have to get rid of most of their team and risk having no depth in order to make this move. It worked with Paul, but they'd have to get rid of even better players like Gordon and Capela to make it work.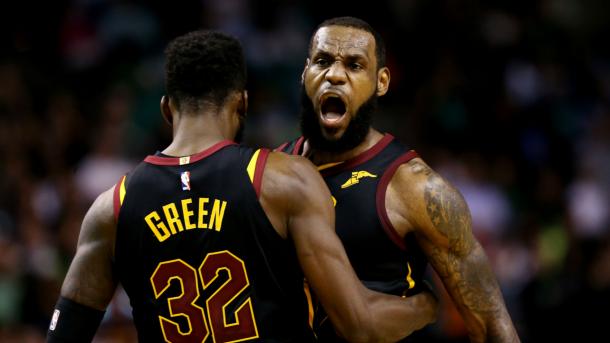 An option is to not resign Paul and instead get James, but Paul and James are very close friends. It's possible that if the Rockets slight Paul by getting rid of him for James, the latter will simply refuse to sign with the team. Then they're screwed.
With how close the Rockets got to taking down the Warriors (literally one injury away from doing so), I think the second option may be better.
Improve on current team
This is also a risky move. Everybody will be one year older. This includes Paul, who has been struggling with injuries for a while now and may be more fragile, Ariza, Tucker, and Mbah a Moute, who will hopefully use the offseason to successfully recover from his shoulder injury. Their ages next year are 33, 33, 33, and 32 respectively. For many players, this is around the time they start getting worse. And it's not like these players aren't important. The first three were all starters that brought the defensive energy the team needed and the third did before being hurt.
Hopefully they still have at least one more year left in them. With the way they played this year, I believe Ariza and Tucker do. Mbah a Moute may not but has become expendable if he doesn't recover well from his shoulder injury. I'm mostly worried about Paul. While I do think he will still be extremely effective while healthy, I wonder how long he'll actually be healthy. I think D'Antoni should look to either play Gordon and Paul together more with Harden on the bench or just play Harden more while Paul rests in order to lessen the workload on CP3.
Another major issue is Capela. He's going to be a restricted free agent this summer, meaning the Rockets have a chance to match any offer made on him. Sadly, it looks like the Phoenix Suns are getting ready to offer him a max contract. While that is a lot of money, I don't think he's worth it. If he does choose to accept that contract, it puts the Rockets in a weird position. Do you overpay him in order to keep him? If they do, they're basically done for the summer and won't be able to get anybody else.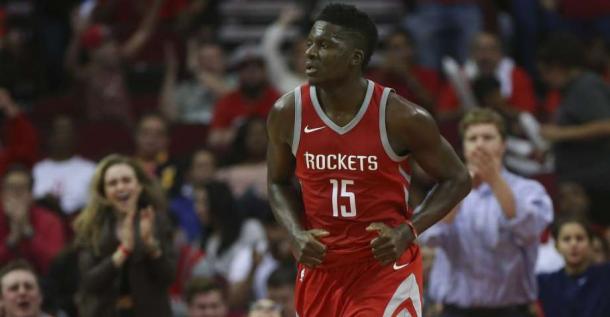 What they have to hope for is that getting this close to the championship convinces Capela to stay for one more year. He will be an unrestricted free agent the following summer and can get for the money then. Obviously, it is risky, as he may not be offered the max deal (actually, chances are he won't be as teams won't have to worry about outbidding the Rockets). Hopefully, his loyalty to the franchise means he won't leave.
The team can also extend his contract, which may be more tempting for him, but this will also lessen how much cap the team has to work with this summer.
The other important Rockets free agents are Ariza, Green, and Mbah a Moute. I assume the latter two will be willing to stay for cheap, especially Green who absolutely loves playing for his city.
Paul may ask for a max contract, although I'm hoping that, like with Capela, getting this close to an NBA Finals berth will tempt him to go for lower just so that the Rockets can make moves in the offseason. Ideally, the team finds someone willing to take Anderson's horrible contract, and if it requires them trading away a bunch of picks I think it's worth it.
A couple of players that could fit are Marcus Smart and J.J. Redick for very different reasons. The former is a restricted free agent that is looking to get paid, so that might automatically put him out of contention. However, if the Rockets somehow got enough money to sign him, he'd be another terrific defender that can frustrate Curry à la the one and only Patrick Beverley.
Redick is an amazing shooter that can space the floor. However, he may be more expensive than he's worth, as the Philadelphia 76ers needed $23 million to sign him for just one year. If he goes for cheaper this offseason, expect the Rockets to target him.
However, the team is probably more likely to go with players like Tucker and Mbah a Moute, three and D specialists that can make the defense extremely flexible and rely heavily on switching. Avery Bradley is a pipe dream and Kentavious Caldwell-Pope might still be too expensive despite not improving much. Ideally, Danny Green opts out of the final year of his contract. Otherwise, they may have to go for a cheaper option like Joe Harris. Regardless, look at the team to improve on their current roster unless Morey is able to pull some amazing stuff to get James and retain the role players currently on the team.