 The Houston Rockets were able to keep two of their own free agents so far in Chris Paul and Gerald Green. The former got the max deal he desired, a four-year, $160 million contract while the latter stayed home on a veteran's minimum deal, or $2.4 million for one year.
There were rumors that CP3's deal would be five years, meaning he would have been paid upwards of $35 million when he turned 38. Both sides were able to compromise since the point guard would have been well past his prime at that point.
Green, a key contributor off the bench, showed much Houston pride throughout the last season and quickly became a fan favorite. It's good that he signed a team friendly deal as he could've easily gone elsewhere for a better deal. Teams would love great three-point shooters off the bench that play with his passion.
Both were key pieces in the Rockets' run deep into the playoffs last year. Despite being injured for more than a quarter of the season, Paul made a significant impact on the team, averaging 18.6 points, 7.9 assists, and 1.7 steals while shooting 38% from deep. Green recorded his second highest points per game average in his career at 12.1, while adding 3.2 rebounds per game and shooting 36.9 percent from the three-point line.
The two players aren't the only people that the team retained recently. They picked up the option year on head coach Mike D'Antoni's three-year contract, thus keeping him through the 2019-20 season.
Now, the bad news
The good news comes after news came out of the team losing starting small forward Trevor Ariza to the Phoenix Suns. It's surprising that he would go from the team with the best record (65-17) to the one with the worst (21-61). It's likely that the Rockets were not able to give him the money that he desired, meaning that owner Tilman Fertitta was possibly not willing to pay a huge luxury tax to use their bird rights on the 3-and-D player. However, this is still better than him joining the Golden State Warriors, a popular rumor the days leading up to free agency.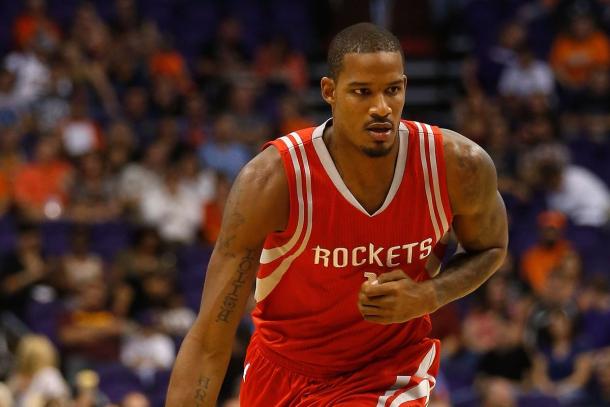 What to do now
The team's main concern is keeping Clint Capela. With the Suns drafting center DeAndre Ayton with their first pick and the Dallas Mavericks succeeding in signing center DeAndre Jordan (unlike last time) on a one-year deal, two of the Rockets' main competitors are gone. Still, Capela is deserving of a payday and he's going to get it, especially with Ariza out of the mix. The team can't afford to find replacements for both Ariza and Capela in free agency.
In terms of adding other players, they will probably go the same route they did last offseason after adding Paul: a bunch of 3-and-D players á la P.J. Tucker and Luc Mbah a Moute. The topic was covered near the end of this super long article, as players like Avery Bradley and Kentavious Caldwell-Pope would be ideal. However, with basically just the mid-level exception, chances that either of them sign with the Rockets are close to zip.
Therefore, much players seem like the best the Rockets can do. Danny Green exercised the $10-million option to stay with the San Antonio Spurs while Joe Harris re-signed with the Brooklyn Nets on a two-year, $16-million deal. Both of those contracts are more expensive than what the Rockets can afford. If you take into account the fact that the Rockets are a title contender, they can probably get some veteran at Harris' level. Wayne Ellington and Seth Curry (imagine the Curry brothers facing off in the Western Conference Finals) seem intriguing but again, possibly too expensive. Maybe they'll get someone for super cheap that will perform well above expectations like both Green and Tucker did last year.
Unless they can trade Ryan Anderson's super expensive contract, it looks like they'll have a similar team to last year's minus Ariza. With everyone a year older, can that team knock out the Warriors? Guess we'll have to wait to find out unless general manager Daryl Morey uses some of his Morey magic to make a super surprising move.