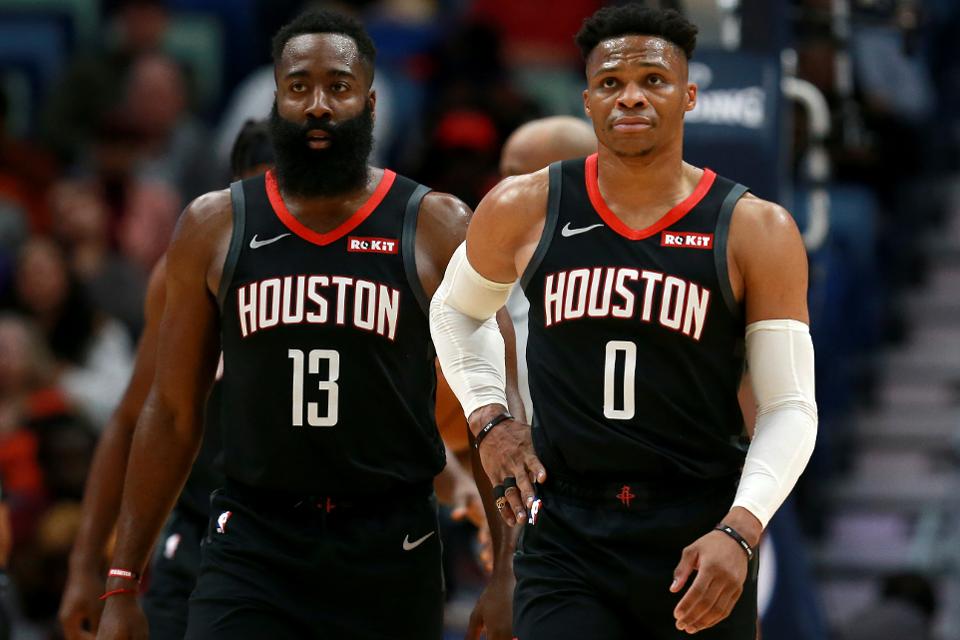 Key Statistics:
Record: 40-24 (sixth in Western Conference)
Offensive Rating: 113.4 (second overall in the NBA)
Defensive Rating: 109.9 (16th overall in the NBA)
Head Coach: Mike D'Antoni
The Houston Rockets have been a consistently good regular season outfit while under the tenure-ship of D'Antoni, with an impressive 173-73 record, but it remains to be seen whether they can take the next step in the play-offs.
Despite the arrival of 2017 MVP Russell Westbrook in the off-season, the team have failed to show signs of progression, in what has been a largely inconsistent campaign.
Although D'Antoni's offensive expertise have shone through once again, the team have struggled on the other end of the court. The switch to a small-ball approach with the mid-season trade of starting center Clint Capela in return for small forward Robert Covington has not done much to help them defensively either, which contributed to the Rockets only winning one of their last five games before the league was suspended.
This season could easily be the D'Antoni's last as head coach in Houston, and his struggles to create a team that operates at high levels on both ends of the court have continued into this season.
Grade: B
Point Guard: Russell Westbrook 27.5 PPG 8.0 REB 7.0 AST
Westbrook's first season in Houston has overall been a successful one as the second option on offense to James Harden.
With his third-highest scoring average from a career-best field goal percentage in his 11 seasons in the league, it is no surprise that the explosive guard has scored the ball well in D'Antoni's fluid offensive system.
However, Westbrook has continued to struggle from the three-point line in a team that attempt 44.2 shots from that range per game, which is more than anyone in the league.
Despite this, the former Oklahoma City Thunder player has adapted well to not always being the primary ball-handler on offense, linking up well with his former Thunder teammate Harden.
Rockets fans will be hoping this backcourt partnership will continue to blossom, with their performances key to any success the team may have in the future.
Grade: A
Shooting Guard: James Harden 34.4 PPG 6.4 REB 7.4 AST
The league has started to become accustomed to these monstrous scoring numbers from Harden in the regular season, with the Rockets playing a lot of isolation basketball through Harden in the D'Antoni era.
Through the first 22 games of the season, Harden averaged 39.3 points which is the highest total for a player in that amount of games since Wilt Chamberlain in 1962. Not just that, this season Harden tied with Michael Jordan for third-most 60- point games in history (four), behind only Kobe Bryant (6) and Chamberlain (32).
These numbers always seem to diminish in the playoffs which are what critics always highlight but going off his regular-season numbers it has been another great season for 'The Beard'.
With Harden well on his way to a third consecutive scoring title before the season was suspended, it will be interesting to see whether he carry this monumental scoring numbers over to the postseason whenever it next comes around.
Grade: A+
Power Forward: Robert Covington 12.8 PPG 6.4 REB 1.2 AST
It's hard to say what impact Covington has had on the Rockets team, having only played fourteen games since his arrival at the Toyota Center.
The Rockets gave up their starting center Capela to get Covington which began the small-ball era in Houston, how long this style of play will last remains to be seen.
The two-way wing put up steady numbers on both ends of the floor for his new team and the Minnesota Timberwolves over the course the season as he looks to secure a regular starting spot in D'Antoni's team.
Grade: B-
Small Forward: Daniel Hause 10.2 PPG 4.2 REB 1.3 AST
With career highs in all the key stats, Hause has continued his steady progression in his third full year in the league.
Hause's role in the team will likely become bigger with the new small-ball style that is being implemented, which has seen P.J. Tucker move to the center position and Hause slot in as the starting small forward.
The Rockets interior defence has suffered as a result of going small, but at 6'6" can hold his defending players in his position across the league.
Hause will need to improve his offensive productivity if he is to retain a spot in the starting line-up, with his field goal and three-point percentage dropping slightly from the previous season.
Grade: B-
Center/Power Forward: P.J. Tucker 7.1 PTS 6.9 REB 1.6 AST
Tucker may not fill the stat sheet but have featured in every single regular-season game in his two and a half years at Houston, the 34-year-olds value to the team is clear to see.
Tucker made the switch to the center position after Capela was traded away, despite being noticeably under-sized for the role, he took to his new responsibilities well initially with the Rockets going on a four-game winning run off the back of the Capela trade.
A corner three sharpshooter and a resilient defender, Tucker averaged the most minutes per game this season despite his age.
Despite already being an average team defensively (22nd in the league for Opposition PPG), without the Texas graduate Houston would have serious problems at that end of the court.
Grade: B+
Shooting Guard: Eric Gordon 14.5 PTS 1.9 REB 1.5 AST
Most would expect Gordon going to struggle coming back from a long-term injury, and its fair to say that he has, with his lowest scoring numbers since the 14-15 season.
Gordon's field goal percentage also dropped below 40% for the first time in his career this season, and his percentage from three-point range has also dropped over four per cent from last year.
The two-way guard will be hoping he can recapture his form from the 17-18 season, where his 18 PPG on 43% shooting percentage helped the Rockets reach the Western Conference finals.
His efficiency from deep has been key to the Rockets' regular-season prowess in recent years, who as mentioned previously rely heavily on their players' ability to shoot the three-ball.
Grade: C+
Shooting Guard: Ben McLemore 9.8 PTS 2.2 REB 0.9 AST
McLemore made the most of his opportunity when injuries to Gerald Green and Gordon opened up a spot for him in the rotation earlier in the season.
Over one nine-game stretch starting November 30, McLemore averaged 14 points on 39-of-85 shooting from deep. He made use of the spaces that were created when teams focused on the bulk of their defence on Harden.
He is one of many role-players on the Rockets team whose role is simple with two ball-dominant guards on the team: Catch, shoot and continue to improve his defence which came into question during his time at the Sacramento Kings.
Remains to be seen whether McLemore has a long-term future at this franchise, with the return of Gordon he will likely be on reduced minutes.
Grade: B
Point / Shooting Guard: Austin Rivers 8.5 PTS 2.4 REB 1.6 AST
Another two-guard in a similar position to McLemore on this Rockets team, Rivers has fit into the team well as a key scoring option with the second unit.
Rivers seems to be enjoying playing for the Rockets, paving his way in the league away from the critics that constantly associated him with his father, Los Angeles Clippers coach Doc Rivers, with giving him a career in the league.
His role in the team has been very similar to McLemore, as a 'Three and D' guard who can shoot the ball at a more than respectable rate.
Shooting 42% from the field and 36% from three, the 27-year-old can get hot when needed and hit big shots when the star backcourt are not on the floor.
Grade: B