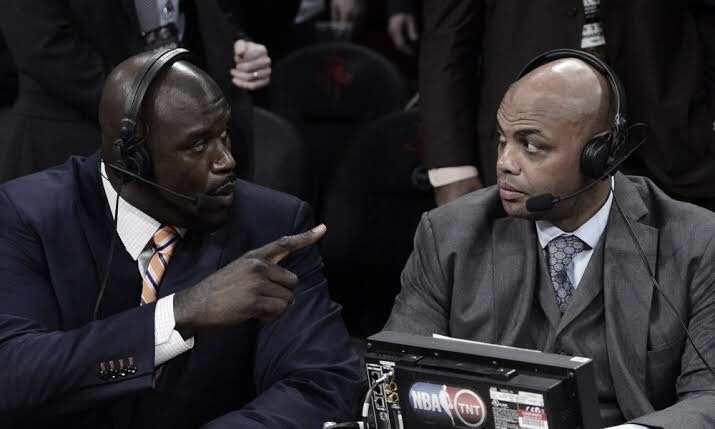 Along with the NBA returning, the most entertaining sports show on earth is back, as the Inside The NBA crew featuring Shaquille O'Neal, Charles Barkley, Kenny Smith and Ernie Johnson reunite once again to cover the season restart at Orlando.
Shaq and Chuck are back at it again, dropping some bold predictions that may include the Los Angeles Lakers and Milwaukee Bucks exiting in the first round of the playoffs.
What separates championship teams from the rest is the the ability to play on the road, but with no home court advantage, both Hall Of Famers have predicted there are big chances that the No. 1 seed in both the West and East leave Orlando early.
First it was Shaq's turn, who stated that the Brooklyn Nets will make it past the first round. Jacque Vaugh's team is currently the seventh seed in the East at 30-34, and will not have Spencer Dinwiddie, DeAndre Jordan, Kevin Durant, Kyrie Irving, Taurean Prince, Nic Claxton, Michael Beasley and Wilson Chandler.
''Since there's no crowd and they're playing in a ball room, Brooklyn will make it to the second round... You heard it here first.''
As of right now, Brooklyn would be playing the Raptors, but they are only half a game away from being the 8th. seed, which would mean they'd have to face the Bucks in the first round.
"You heard it here first… Brooklyn will advance to the second round." 👀@SHAQ thinks the Nets can surprise people in Orlando. pic.twitter.com/ONjRvYxKtb

— NBA on TNT (@NBAonTNT) July 15, 2020
Then 'Chuck' came with the same analogy of not having home-court advantage, and predicted the Portland Trail-Blazers will upset the Los Angeles Lakers in the first round if they secure the eight seed in the West.
Portland is currently the ninth seed, 3.5 games behind the Memphis Grizzlies in the playoff push. Along with the Trail Blazers, the Pelicans, Spurs, Suns and Kings are also fighting for that last spot into the postseason.
''McCollum and Lillard are possibly the best back-court in the NBA, both Collins and Turkic are terrific, and Whiteside has something to prove, and the Lakers have lost a couple of players... but Portland has to get in first.''
Chuck is back with another bold prediction 👀 pic.twitter.com/LpUTdD8CcH

— NBA on TNT (@NBAonTNT) July 17, 2020