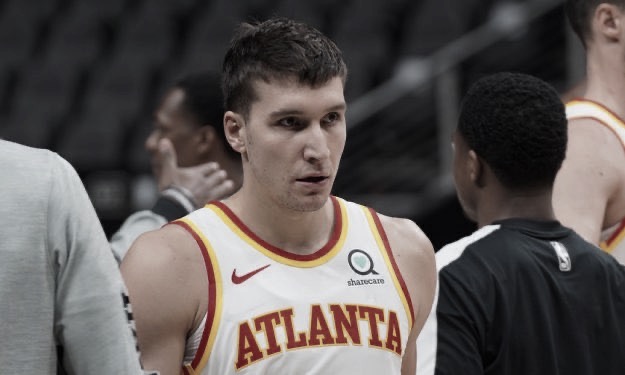 The Atlanta Hawks are one of the teams who are expected to make a playoff push in a loaded Eastern Conference this season.
They will have to do so with one of their key players sidelined for an extended period of time.
Sharporshooter Bogdan Bogdanovic, has suffered a fractured right knee and will be out indefinitely.
Following an MRI, he was officially diagnosed with "an avulsion fracture and associated soft tissue inflammation and a bone bruise."
An @emoryhealthcare injury update:

Following an MRI, Bogdan Bogdanovic has been diagnosed with an avulsion fracture in his right knee with associated soft tissue inflammation and a bone bruise. His treatment plan will be updated later this week.

More: https://t.co/jHyLKrPVQp pic.twitter.com/qjHTONvVgS

— Atlanta Hawks (@ATLHawks) January 10, 2021
Bogdanovic, who signed a four-year, $72 million deal with the Hawks during the offseason, was just one of multiple players who signed with Atlanta, including Danilo Gallinari, Rajon Rondo and Kris Dunn.
Unfortunately for the Hawks, Bogdanovic joins Gallinari and Dunn in the team's injury report. Dunn hasn't played due to ankle surgery, while Gallinari is currently sidelined with a sprained ankle.
Prior to the fracture, Bogdanovic played in nine games, averaging 9.9 points per contest along with 3.8 rebounds and shooting 38% from the field.