After a crazy Wild Card weekend, we enter into the NFL's Divisional round match-ups! The New England Patriots, Pittsburgh Steelers, Philadelphia Eagles, and Minnesota Vikings all got to sit home this past weekend as they waited to see who they will be playing.
There were some surprises during the Wild Card weekend that left me with a 1-3 record in my predictions. The Jacksonville Jaguars, Tennesse Titans, Atlanta Falcons, and New Orleans Saints all lived to fight another day.
With that said let's get into the predictions!
Saturday's games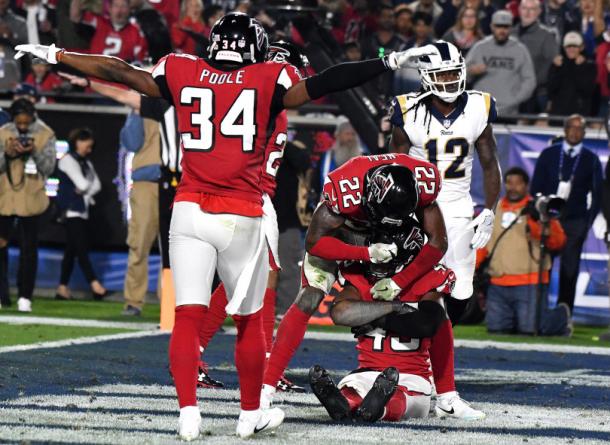 Atlanta Falcons at Philadelphia Eagles, 4:35 P.M. ET, NBC
Atlanta enters this game handily defeating the up-and-coming Los Angeles Rams high powered offense 26-13 even though Rams QB Jared Goff threw for 259 yards in the loss. The game was closer than the score made it seem, but Atlanta's defense is what gave them the win.
Atlanta's defense kept running back Todd Gurley in check and was able to get to Goff three times in the win. Atlanta's defense allowed just one touchdown to the Rams and was dominant throughout the game.
The Eagles got to wait a week to see who they faced in their divisional round match-up. They were a high powered juggernaut throughout the season, but when QB Carson Wentz went down with injury, they just weren't the same.
If Atlanta's defense can keep playing like they did last weekend, then I don't see the "Wentz-less" Eagles being able to muster much.
Prediction: Atlanta soars into their second straight Conference Championship over Philly, 32-17
Tennesse Titans at New England Patriots, 8:15 P.M. ET, CBS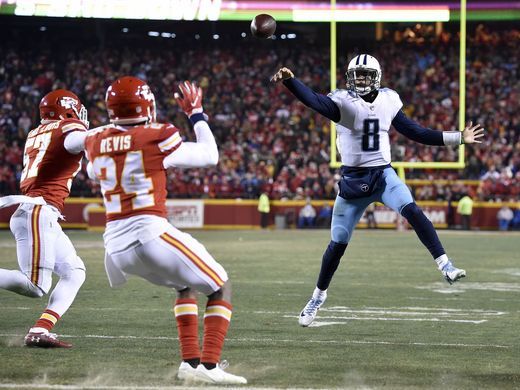 The Tennesse Titans had some late-game heroics from QB Marcus Mariota and RB Derrick Henry to propel them to a 22-21 victory over the Kansas City Chiefs. At the half, the game looked to be over as the Chiefs had a 21-3 lead and were rolling over the Titans. But, never count the Titans out, or never give Andy Reid more credit than he deserves.
A fluke touchdown pass that Mariota actually threw to himself started Tennesse's miraculous comeback as well as RB Derrick Henry running all over Kansas City for 156 yards, most of which was in the second half, and Tennessee's defense limiting RB Kareem Hunt to just 42 yards.
Even though Tennesse looked pretty good on both sides of the ball, they now have to go face the New England Patriots at home who will have had two weeks to prepare for this game.
It was fun while it lasted for Titans fans, but QB Tom Brady and head coach Bill Belichick are virtually unbeatable at home in the playoffs.
Predictions: Patriots beat down Titans, 42-17
Sunday's Games
Jacksonville Jaguars at Pittsburgh Steelers, 1:05 P.M. ET, CBS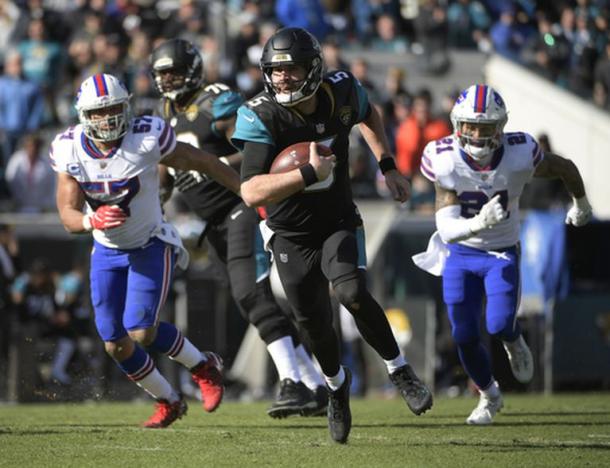 The Jacksonville Jaguars barely beat the Buffalo Bills in their Wild Card match-up 10-3 thanks to QB Blake Bortles clutch plays with his legs. The Jags looked very stout on defense causing the Bills to look like they were some JV team playing true NFLers on offense.
The game came down to a few plays that could have gone either way including a fourth and one on Buffalo's goal line that gave Jacksonville the lead, and when Buffalo also had their opportunities at the goal line but were driven back by an offensive pass interference call and QB Tyrod Taylor's inability to generate offense.
Jacksonville has to now go to play the Pittsburgh Steelers in Pittsburgh who they already beat earlier in the season 30-9. They made QB Ben Roethlisberger turn it over five times and forced the Steelers to pass 55 times playing right into the Jags great pass defense.
I don't see that happening again as Pittsburgh should be able to dominate the point of attack with one of the best running backs in the league in Le'Veon Bell.
Predictions: Pittsburgh's runs all over Jacksonville for the win, 34-27
New Orleans Saints at Minnesota Vikings, 4:40 P.M. ET, Fox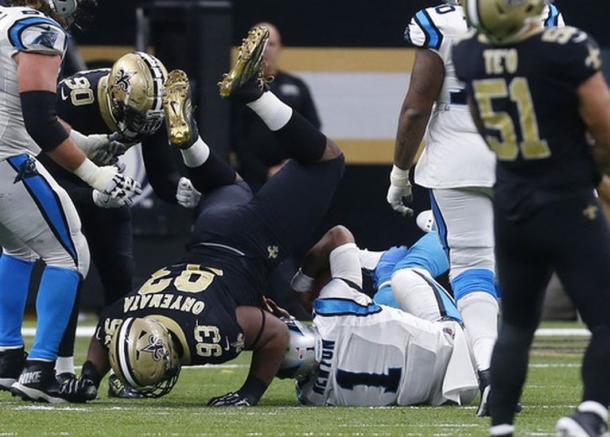 The Saints almost lost to the Carolina Panthers in the last Wild Card match-up of the weekend but got lucky after QB Cam Newton was given a questionable intentional grounding penalty basically sealing the Panthers fate, and giving the Saints the win 31-26.
The Saints rolled in the first half but seemed to lose it in the second half as Carolina tried to come back. But, the Saints would hold on to advance in the playoffs.
The Saints face the Minnesota Vikings who they saw in the first week of the season and were defeated by 29-19. But things have changed since then with Sam Bradford injured and replaced by Case Keenum and Alvin Kamara becoming the main focal point of the Saints offense.
I see the Saints rolling, and Drew Brees getting his eighth 300+ yard playoff game in his career.
Prediction: The Saints break up Minnesota's home streak to advance in a shootout, 48-45