 As we drew ever closer to the one of the biggest events in the National Football League, VAVEL USA ​has put together a final mock draft for the 2018 NFL Draft.
The whirlwind of rumors and conjecture surrounding the first overall pick, which belongs to the Cleveland Browns, has reached a fever pitch over the past few weeks. Sam Darnold has been the name most associated with this pick since the beginning, and thus he remains.
2. New York Giants select Saquon Barkley, RB, Penn State
The age old question about winning now or later will have to be answered by the New York Giants on Thursday night. It appears the team's brass believes a 3rd Super Bowl title with Eli Manning is within reach, prompting the team to go with the number one overall player on many analyst's draft boards in Saquon Barkley.
3. From Indianapolis: New York Jets select Baker Mayfield, QB, Oklahoma
In a draft season inundated with so much mystery, the New York Jets at third overall provide the closest thing to assurance this draft can offer. The Mayfield to Jets link has been corroborated more than a couple times by independent reports in the recent weeks.
4. Cleveland Browns select Bradley Chubb, Edge, NC State
Recent reports suggest the Browns are willing to trade back from 4th overall, but the opportunity to acquire one of the draft's tentpole players should give team G.M. John Dorsey pause. In most years, Bradley Chubb would be in contention for the first overall pick.
5. TRADE: Buffalo Bills select Josh Allen, QB, Wyoming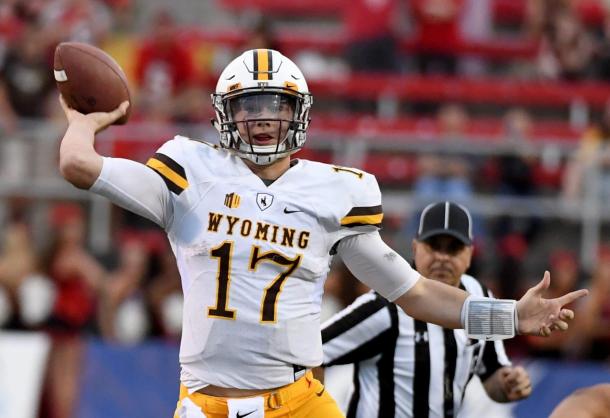 If one thing's for certain, it's that draft day trades are a near guarantee to occur within the top 10. The Buffalo Bills, with their gambit of high picks, have the most ammo to move up for a coveted passer. In this mock draft, that player is Josh Allen, whose powerful arm would be well suited to cut through Buffalo's patented lake effect snow.
6. From New York Jets: Indianapolis Colts select Roquan Smith, LB, Georgia
If the Indianapolis Colts have made one thing clear, it's that they would like to get faster on defense. Few players epitomize team speed than former Georgia linebacker Roquan Smith, who was often first to the ball against ferocious SEC running games.
7. TRADE: Denver Broncos select Josh Rosen, QB, UCLA
In this scenario, the Denver Broncos find their way back into the top 10 to take a falling quarterback in Josh Rosen. Even with Case Keenum presumably taking priority first team snaps under center in training camp, Rosen would push for a starting spot before long.
8. Chicago Bears select Quenton Nelson, OL, Notre Dame
A possible run on quarterbacks in the top 7 would be a great situation for teams rounding out the top 10. Widely considered among this draft's elite prospects, Quenton Nelson would immediately round out a formidable offensive line for the Chicago Bears.
9. San Francisco 49ers select Minkah Fitzpatrick, DB, Alabama
In 2017, the San Francisco 49ers eschewed taking one of the class' top safety prospects for a top defensive line talent in Solomon Thomas. In 2018, the team can take a player near Jamal Adams caliber player in Minkah Fitzpatrick, who also offers flexibility at corner.
10. Oakland Raiders select Denzel Ward, DB, Ohio State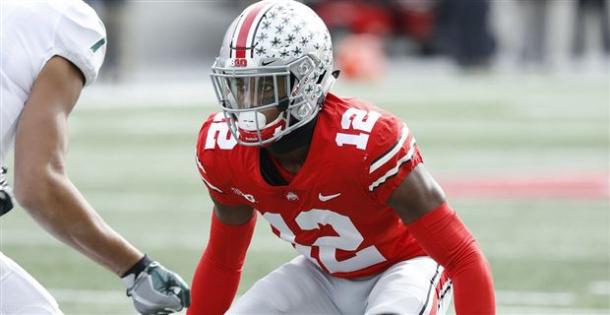 Aside from Karl Joseph, the expected starting secondary for the Oakland Raiders will likely see four new starters in 2018, and one of them might come at the top of this draft. Denzel Ward is a ready made slot corner who may push his former teammate, Gareon Conley, for starting reps on the outside.
11. Miami Dolphins select Tremaine Edmunds, LB, Virginia Tech
Though the Miami Dolphins lose out on a possible Ryan Tannehill replacement in this mock draft, the alternative talent at the skill positions would make more than consolation prizes. At only 20-years old, Tremaine Edmunds has both room to grow and learn as a bonafide front 7 playmaker.
12. From Denver: Tampa Bay Buccaneers select Derwin James, DB, FSU
A trade back couldn't of worked out better for the Tampa Bay Buccaneers than in this fictional scenario. With a clear need at strong safety, it's likely Derwin James would be on the short list for the team at 7th overall.
13. TRADE: New Orleans Saints select Lamar Jackson, QB, Louisville
In 2017, it was reported the Saints were prepared to select Patrick Mahomes at 11th overall. In 2018, the Saints play spoiler themselves and take a guy who would, for the first time, give the team a sneak peak of like after Brees.
14. Green Bay Packers select Marcus Davenport, Edge, UTSA
Defense has remained an achilles heel for the Green Bay Packers since 2011 Super Bowl. Marcus Davenport is a raw, but remarkable athlete who would give the team a renewed identity under new defensive coordinator, Mike Pettine.
15. Arizona Cardinals select Calvin Ridley, WR, Alabama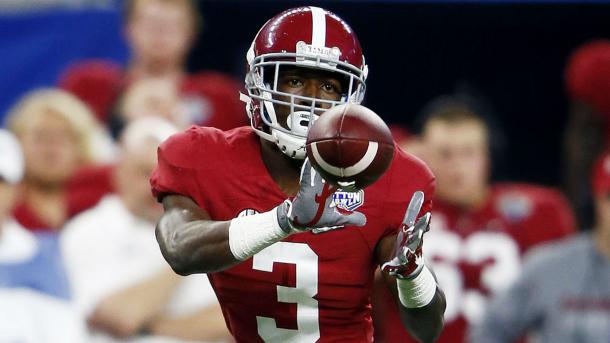 It's becoming increasingly likely the Arizona Cardinals will have to put up or be shut out of the quarterback quintet if they stay at pick 15 as they do here. Without a passer with the pedigree to go at this point, Calvin Ridley makes the situation better for any current or future signal caller.
16. Baltimore Ravens select D.J. Moore, WR, Maryland
The Baltimore Ravens have been on a receiver shopping spree during the offseason and the buck may not stop on draft night. Few players have ascended as quickly up draft boards as former Maryland receiver D.J. Moore, who could remain local at 16th overall.
Even at 17th overall, the Los Angeles Chargers have a superior roster than where their pick suggests. If the team does have a weakness, it is stopping the run up the middle. If nothing else, Vita Vea is without question the most dominant run stuffing defensive lineman in this year's draft.
18. Seattle Seahawks select Taven Bryan, DL, Florida
With both Sheldon Richardson and Malik McDowell off the roster, the Seattle Seahawks have a dying need at pass rushing defensive tackle. Former Florida Gator Taven Bryan is the type of unique athlete the Seahawks covet a the position.
19. Dallas Cowboys select Leighton Vander Esch, LB, Boise State
Dez Bryant being cut was the move heard around the league in the weeks leading up to the draft, but it has been linebacker that the Dallas Cowboys have been doing the most research on. Injury rumors aside, Leighton Vander Esch is among the top players at his position in a strong linebacker class.
20. Detroit Lions select Rashaan Evans, LB, Alabama
There's little doubt the Detroit Lions have an eye on a handful of prospects recently taken in this mock, but they shouldn't force a pick at a greater need if it player isn't there. Instead, the Lions could have a dynamic pairing of former rival SEC linebackers in Rashaan Evans and Jarrad Davis.
21. From Buffalo: Cincinnati Bengals select James Daniels, OL, Iowa
Sometimes, having a clear need makes the draft exponentially easier for both writers and decision makers (but more importantly writers). The Cincinnati Bengals' glaring need on the interior offensive line makes James Daniels (along with a handful of other guard prospects) an easy choice.
22. From Buffalo: Denver Broncos select Isaiah Wynn, OL, Georgia
If the Broncos end up as the team to inherit part of Buffalo's war chest, the bottom of the first round aligns well with their team needs. Isaiah Wynn is a starting quality player at both tackle and guard, and he could conceivably be better than both players currently slated to start on the Broncos' right side.
Although the New England Patriots are expected to move up for a quarterback by some, they may instead make the ground fertile for both a future quarterback and Brady's final years. In absence of Nate Solder, Mike McGlinchey is a quality starter level player with little flash but plenty of grit to his game.
24. Carolina Panthers select Will Hernandez, OL, UTEP
With Andrew Norwell going south to Jacksonville, the Carolina Panthers will need to address the pivotal guard spot sometime in this draft. Hernandez is a road paving people mover ready to clear lanes for Christian McCaffrey and Cam Newton right away.
25. Tennessee Titans select Harold Landry, Edge, Boston College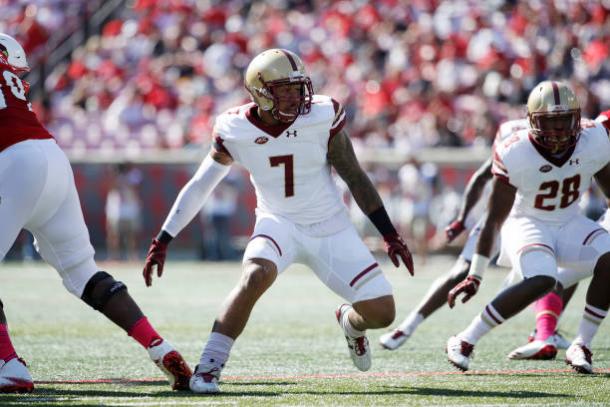 Although the Tennessee Titans have few glaring needs on defense, the team could stand to add a dynamic playmaker to tip the scales more often. A 2017 college season mired by injury allows to Titans to select perhaps the purest edge burning pass rusher in this class in Harold Landry.
26. Atlanta Falcons select Da'Ron Payne, DL, Alabama
Aside from standout defensive tackle Grady Jarrett, the Atlanta Falcons are surprisingly thin at the position entering the 2018 draft. Coming off a tour de force against Georgia in the National Championship game, Da'Ron Payne has put himself in a good position to make Mercedez-Benz Stadium his permanent address.
27. From New Orleans: Washington Redskins select Derrius Guice, RB, LSU
While moving back into the extreme back end of the first round is a major gamble for a team like the Washington Redskins, the team should still be able to address a need with a dynamic playmaker. Derrius Guice is viewed by some as the draft's best pure between the tackles runner, and the Redskins could use some of his vision and power against the NFC East next season.
Having a Super Bowl ready roster allows for some flexibility in the draft. In this case, the Pittsburgh Steelers can look nearly two years in the future (as well as provide much needed tackle depth) when the team may choose to move on from right tackle Marcus Gilbert.
29. Jacksonville Jaguars select Hayden Hurst, TE, South Carolina
The Marcedes Lewis era finally ended in Jacksonville after 11 seasons of faithful production. Hayden Hurst might not have quit a long stay in the league -- as he turns 25 before the start of week 1 -- as Lewis, but he'll give the team a better receiving option off the end of the line and in the slot.
30. Minnesota Vikings select Jaire Alexander, DB, Louisville
Like most teams at the bottom of round one, the Minnesota Vikings have the luxury of picking who they might believe is the best player available. Injuries have plagued Jaire Alexander's college career, but his on-field production and performance is that of a top 15 player.
31. New England Patriots select Mike Hughes, DB, UCF
In the last two offseasons, the Patriots have lost both Logan Ryan and Malcolm Butler to free agency. Talented former UCF corner Mike Hughes would immediately challenge both presumptive starters Jason McCourty and Eric Rowe to start opposite Stephon Gilmore.
32. TRADE: Arizona Cardinals select Mason Rudolph, QB, Oklahoma State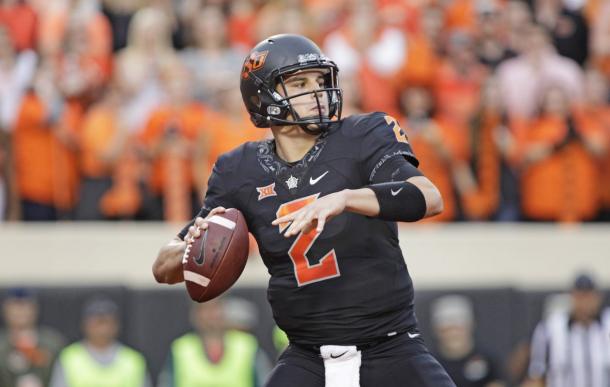 To round out this 2018 mock draft, the champion Philadelphia Eagles more back to recoup at least a 2nd round pick. For their wares, the Cardinals get a future starting quarterback under the valuable 5th year option deal.