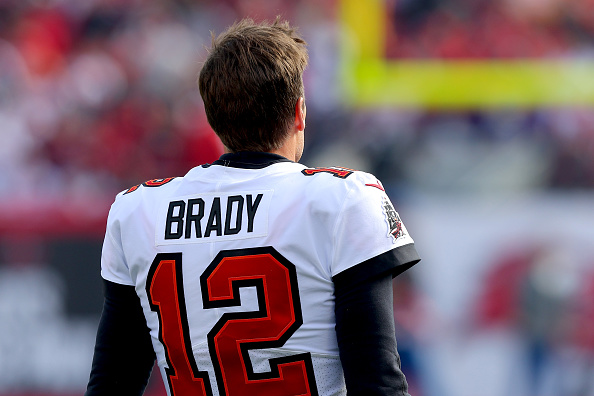 Tom Brady is officially retiring according to Ian Rapoport after spending 22 seasons in the NFL playing for the New England Patriots and the Tampa Bay Buccaneers.
Brady was originally drafted back in the 2000 NFL Draft in the sixth round by the Patriots but turned heads by becoming one of the greatest quarterbacks of all time.
Brady became the starter in his second season on the team after Drew Bledsoe the Patriots starter at the time got injured and from there he took the team and the league by storm.
Having been drafted out of Michigan Brady went on to win seven Super Bowl titles, a Superbowl MVP, a two-time NFL offensive player of the year, and a three-time all-pro.
He ranks number one in NFL history in completions with 7, 263, pass attempts at 11,317, yards at 84,520, passing touchdowns with 624, games started with 243, pro bowl selections with 15, and five Super Bowl MVPs.
Also Brady five times led the NFL in touchdown passes in 2002, 2007, 2010, 2015, and 2021 which is the most in NFL history by any player. He was even better in the playoffs making 19 appearances in which he started 47 games.
He earned 35 wins and made it to the Super Bowl a record 10 times winning seven of them with 1,165 completions, 13, 049 pass yards, 86 passing touchdowns, 14 game-winning touchdowns, and nine fourth-quarter comebacks which are the most again in NFL history.
His career record in 22 seasons is 243-73-0 with both New England and Tampa Bay. After 20 seasons in Foxborough Brady made the hard decision to leave the Patriots and head to the sunshine state to play with the Buccaneers.
Brady had previously stated he wanted to play till he was 45 years old but actually retires a year earlier and his first year In Tampa was a huge success.
He managed to lead the team all the way to the Super Bowl and made history as the first team to win it at home as the game was held at Raymond James Stadium in Tampa.
Last weekend he came very close to overcoming a 27-3 deficit against the LA Rams but fell short as the Rams managed to win the game in overtime on a field goal.
Brady is a lock to enter the Hall of Fame and there is a very good chance he gets in before the five year waiting period.