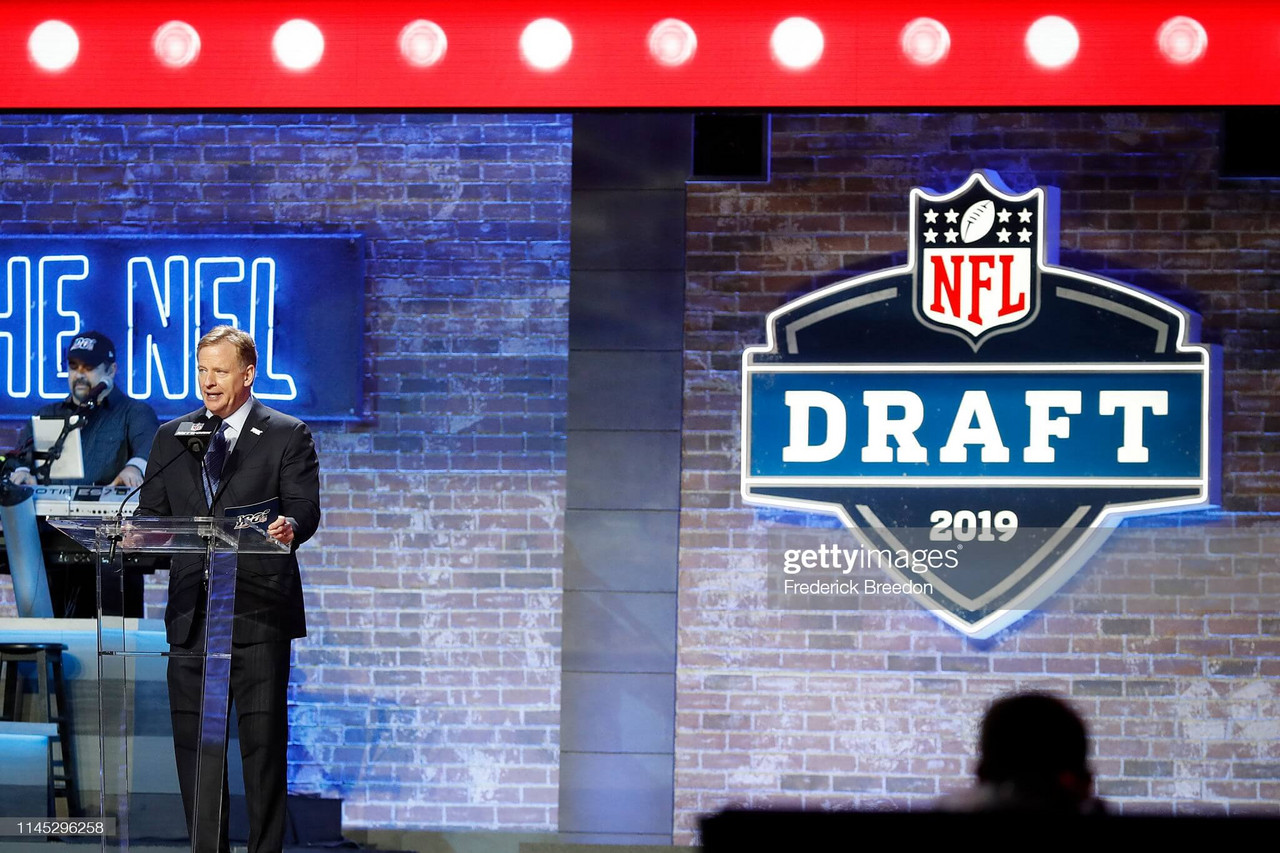 Around a fortnight ago, I wrote VAVEL UK's first 2021 mock draft. With draft night less than forty-eight hours away, we've compiled our last mock draft, with five draft day trades and some changes from the first mock.
There's slightly less detail in this mock primarily because all the picks were detailed in the first effort - any players you're not sure of then I would recommend having a read of the first mock before this one.
The order of the draft is up-to-date as of Tuesday 27th April, including the recent Baltimore Ravens-Kansas City Chiefs trade.
Without further ado, the 2021 VAVEL UK Draft is now open – the Jacksonville Jaguars are on the clock…
JACKSONVILLE JAGUARS – QB TREVOR LAWRENCE, CLEMSON
This is the #1 pick. No need to overthink this.
NEW YORK JETS – QB ZACH WILSON, BYU
The Jets basically confirmed they'll be selecting Wilson when they traded Sam Darnold to the Carolina Panthers.
SAN FRANCISCO 49ERS (from Houston via Miami) – QB MAC JONES, ALABAMA
This is a toss-up between Jones and Justin Fields. Is the Jones chatter merely a smoke-screen? I think Kyle Shanahan sticks with his gut feeling.
ATLANTA FALCONS – TE KYLE PITTS, FLORIDA
Atlanta could trade back, or they could select a quarterback to succeed Matt Ryan. With Kyle Pitts on the board, you've got a target for Ryan for next season with the rumours suggesting Julio Jones could be gone next year.
CINCINNATI BENGALS – OT PENEI SEWELL, OREGON
Joe Burrow looked awesome last season. Time to protect the man with the best offensive tackle in the draft.
MIAMI DOLPHINS (from Philadelphia) – WR JA'MARR CHASE, LSU
Do you want Tua Tagovailoa to succeed? He needs a weapon on the outside, and Chase fits into the culture steadily building in Florida.
DETROIT LIONS – WR DEVONTA SMITH, ALABAMA
Another pretty solid pick here, as the Lions replace Kenny Golladay with another strong receiving threat, giving new QB Jared Goff a weapon.
CAROLINA PANTHERS – OT RASHAWN SLATER, NORTHWESTERN
Who will be starting in Carolina next year? Regardless, you need the best tackle available to protect Sam Darnold or Teddy Bridgewater – but more importantly, the returning Christian McCaffrey.
DENVER BRONCOS – QB JUSTIN FIELDS, OHIO STATE
The answer in Mile High is not Drew Lock. It could well be Justin Fields, with his excellent dual-threat ability.
DALLAS COWBOYS – CB PATRICK SURTAIN, ALABAMA
This is a pick that stays from my original mock draft, as the Cowboys select the best secondary player in the draft.
CHICAGO BEARS (draft-day trade, from New York Giants) – QB TREY LANCE, NORTH DAKOTA STATE
It's last-chance saloon for Ryan Pace and Matt Nagy – both were thanking the heavens for their 8-8 playoff berth a year ago. They can't dither on this one, as they trade up with the Giants to select an uber-accurate Trey Lance, who could sit behind Andy Dalton for the first month of the year if the Bears struggle.
PHILADELPHIA EAGLES (from San Francisco via Miami) – WR JAYLEN WADDLE, ALABAMA
Another continuation from Mock Draft #1 – Nick Sirianni needs a receiving threat for Jalen Hurts, and Waddle's consistent award-winning seasons place him in good stead.
LOS ANGELES CHARGERS – OG ALIJAH VERA-TUCKER, USC
Protect Justin Herbert. Seriously – don't overthink this one.
MINNESOTA VIKINGS – OT CHRISTIAN DARRISAW, VIRGINIA TECH
Could the Chargers pick Darrisaw in the preceding pick? Possibly, and if so then put Vera-Tucker here. The Vikings need help on the offensive line desperately, not just for Kirk Cousins but also to unleash Dalvin Cook once again.
NEW ENGLAND PATRIOTS – CB JAYCEE HORN, SOUTH CAROLINA
I struggled to see where the Patriots would go here, but their reliance on defense ensures they go with Horn, who has NFL lineage with his father Joe Horn. Watch out for them trading up for a QB, but Cam Newton is serviceable for now and Bill Belichick loves a defensive playmaker.
PITTSBURGH STEELERS (draft-day trade, from Arizona) – LB MICAH PARSONS, PENN STATE
The Cardinals, here, look around and see no real fits, with a cornerback needed but nobody worthy of a 16th pick. They trade with the Steelers who select the exciting linebacker Parsons to boost their already-scary defense.
NEW ORLEANS SAINTS (draft-day trade, from Las Vegas) – LB JEREMIAH OWUSU-KORAMOAH, NOTRE DAME
In a similar situation to Arizona, the Las Vegas Raiders look around and see few fits. They flip the pick to the Saints who add a Swiss Army Knife to their defense.
MIAMI DOLPHINS – EDGE KWITY PAYE, MICHIGAN
The Dolphins could easily trade down with this pick and acquire even more capital, but with Paye still on the board, they add an interesting piece to their defense. Playing the Buffalo Bills and the Patriots twice a year calls for reinforcement off the edge, and Paye would give them such flexibility.
WASHINGTON FOOTBALL TEAM – LB ZAVEN COLLINS, TULSA
In my original mock, I had the Washington Football Team picking up an offensive lineman. But Collins' excellence in coverage sees the WFT select him here to deal with the likes of Dak Prescott and Jalen Hurts in the NFC East.
NEW YORK GIANTS (draft-day trade, from Chicago) – EDGE GREGORY ROUSSEAU, MIAMI
This is a gamble from the Giants, as Rousseau is a difficult prospect to gauge given his opting-out of the 2020 season. However, his talent off the edge can't be ignored and he would provide a brilliant use of this acquired pick.
GREEN BAY PACKERS (draft-day trade, from Indianapolis) – CB ASANTE SAMUEL JR, FLORIDA STATE
I said in my original mock that the Colts would be more likely to trade down, and with a few cornerbacks still on the board, the Green Bay Packers seem like ideal candidates to move up. Samuel is similar to Jaire Alexander and he could be the perfect partner on the outside.
TENNESSEE TITANS – EDGE AZEEZ OJULARI, GEORGIA
The Titans need a receiver – but there isn't many real options here. Instead of trading down, they pick up a neat piece on the edge in Ojulari, which would be needed given they face three exciting quarterbacks in the AFC South next year (providing Deshaun Watson sticks with the Houston Texans, or more aptly, if the Texans stick with him).
NEW YORK JETS (from Seattle) – OG LANDON DICKERSON, ALABAMA
This is a pretty self-explanatory pick. Zach Wilson needs some protection, and Dickerson is a plug-and-play character across the line. He would be a superb selection to compliment Mekhi Becton on the Jets' offensive line.
ARIZONA CARDINALS (draft-day trade, from Pittsburgh) – CB GREG NEWSOME II, NORTHWESTERN
The Cardinals will be frustrated that the Packers select Samuel three picks earlier, but the availability of Newsome provides high upside with plenty of experience at cornerback.
JACKSONVILLE JAGUARS (from L.A. Rams) – OT TEVEN JENKINS, OKLAHOMA STATE
Jacksonville need to protect Trevor Lawrence – they have to. Every general manager in the league will urge them to not let Lawrence turn into another Andrew Luck. Build the line around the quarterback. In fact, select another three lineman in this draft. Don't worry about the defense for now, don't worry about winning right now – just give Lawrence fifteen years behind a strong line and they will compete.
CLEVELAND BROWNS – EDGE JOE TRYON, WASHINGTON
The Browns were ever-so-close to beating the Kansas City Chiefs, and they'll be looking at the Super Bowl with envy given the Chiefs were awful on the outside. The Super Bowl showed how important edge rushers are, especially in their waves – this is an easy pick for the Browns, though they could flip this pick to move up or down.
BALTIMORE RAVENS – OT ALEX LEATHERWOOD, ALABAMA
Baltimore would not trade Orlando Brown to the Chiefs if they didn't have a plan for the offensive line in the draft. Leatherwood is exciting on the line and is superb against the pass rush. The Ravens could kick him inside to guard.
LAS VEGAS RAIDERS (draft-day trade, from New Orleans) – S TREVON MOEHRIG, TCU
Moehrig is a real centre-fielder and you just know that Jon Gruden loves a ball-hawk on defense. Look for the Raiders to select him with this pick; picking him earlier would have been a slight overdraft.
PITTSBURGH STEELERS (draft-day trade, from Green Bay, via Indianapolis) – CB CALEB FARLEY, VIRGINIA TECH
The Colts traded away a near-certain first-rounder for Carson Wentz, and that will make Chris Ballard sick to the very core. He relies on draft capital to survive, and so it would surprise nobody in Indianapolis if he flips another first-rounder to acquire some more capital in later rounds and next year. Maybe it's a little unrealistic for the Steelers to trade up twice, but they could go all-in for Ben Roethlisberger's last year or two.
BUFFALO BILLS – RB NAJEE HARRIS, ALABAMA
Don't overwhelm your young QB. I'll bring this back to the Andrew Luck example. Remember when the Colts had to rely on sixty-eight-year-old Frank Gore to carry the rock, a move that resulted in just one 1,000-yard season? Give Josh Allen a competent running-back to take twenty carries a game and the Bills could run down some of the best defenses in the cold winters of New York.
BALTIMORE RAVENS (from Kansas City) – EDGE JAYSON OWEH, PENN STATE
And with their acquired pick, the Ravens pick up Penn State's Jayson Oweh, who could well be a crucial piece to the Baltimore defense for the next six years or so. He's only been an edge rusher for a year, and a place in Baltimore doesn't mean he has to start every Sunday. Ease him in gradually, and the rewards could be tremendous.
TAMPA BAY BUCCANEERS – DL CHRISTIAN BARMORE, ALABAMA
The Buccaneers showed that speed off the edge kills a team on the biggest stage. Keep building the defense to keep the team ticking for when Tom Brady retires in the next fifteen years, and then you can rebuild – or retool - on offense.