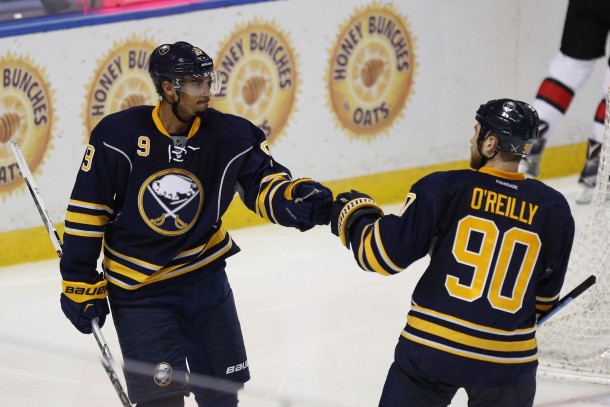 It's like day and night between the past two Buffalo Sabres' seasons. The Sabres are still well out of a playoff spot, but the competitiveness of the team is undoubtedly better than the previous two seasons. Last year, Tyler Ennis led the team in goals with 20, now just 24 games into the 82 game slate, Ryan O'Reilly already has eight goals as does rookie sensation Jack Eichel. The Sabres seem to have rebounded in a big way and the success cannot be ignored.
Besides those two additions, the Sabres have improved greatly in their shot differential. Last year they would be trapped in their own zone for long periods of time and their goalies would just be peppered with shots, but now the Sabres have cut that down to 29 shots a game to 29 against. This evens the scoring chances and gives the Sabres a good chance to win each time they step onto the ice.
Another contributing factor is the improvement of the Sabres powerplay, which is now eighth in the NHL. This can be attributed to the influx of talent with Ryan O'Reilly, Jack Eichel, Sam Reinhart and Jamie McGinn, who all have special talent for finding the net and the right play when up a man.
Also, players that have just been added to the team have accounted for 34 of the team's goals. The Sabres have added so many new pieces that it was almost impossible for them not to be more successful this year, which is exactly what GM Tim Murray had in mind when he made these moves over the summer.
Going forward, the Sabres will need to sure up the goalie situation and find a true number one. They have dealt well with the tough circumstances of losing Robin Lehner in the first game of the season with solid play from both Chad Johnson and rookie Linus Ullmark. With Lehner still out it becomes necessary for one of the two to take control of the crease and become a regular starter. The Sabres are still on the outside looking in, but have the talent to compete and challenge for those playoff spots.