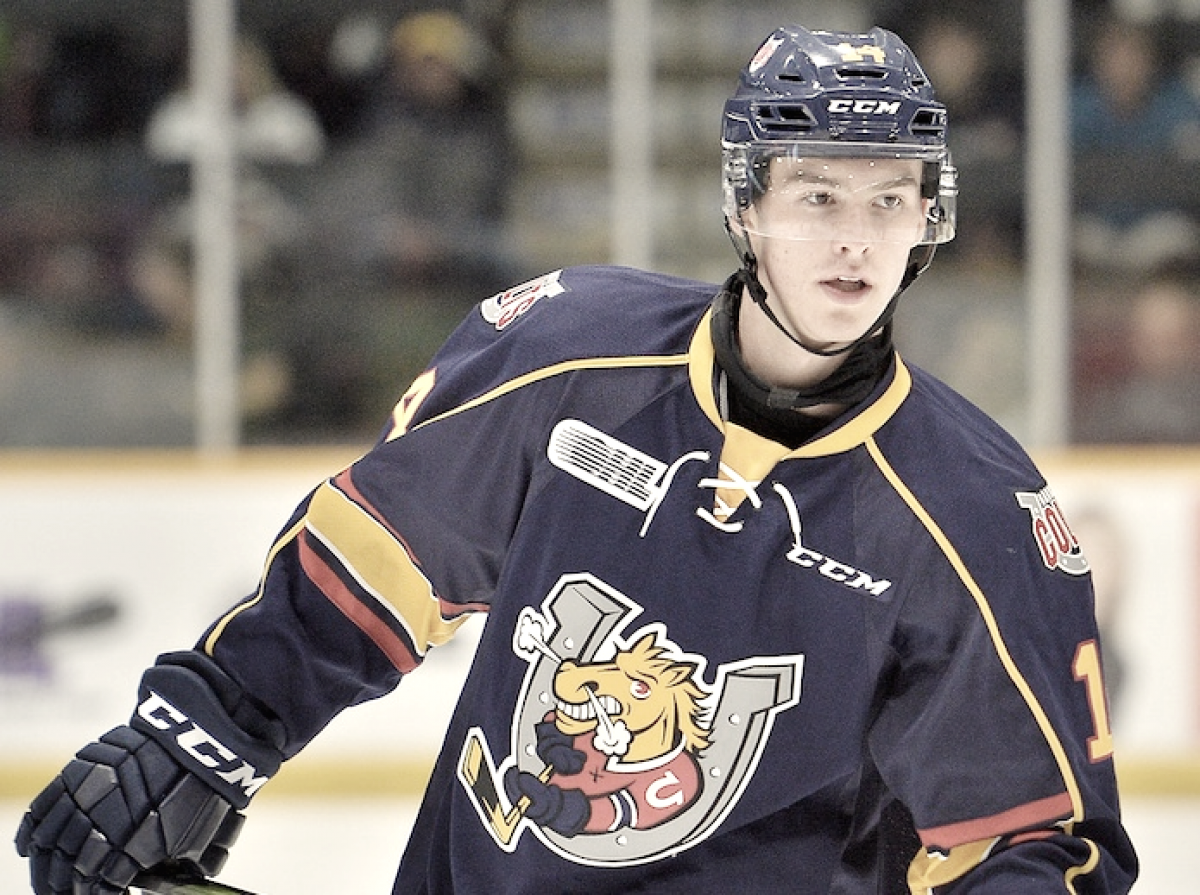 Ever since Andrei Svechnikov started playing professional hockey, he has been a heralded goal and point scorer. In his first documented season with a professional under-16 team, Svechnikov totaled 37 points (21 G, 16 A) in 16 games, and the following season in 2015-16, he totaled 61 points (36 G, 25 A) in 20 games, seven of those games being with the under-18 squad which is the next level up.
Svechnikov has had a storied career already at a young age for being a pure goal scorer and point producer. The Russian born skater already had quite the reputation which only grew after a tremendous 2017-18 season with the Barrie Colts of the OHL. He was on a 60-goal pace and won rookie of the year in the OHL (an award which he had won previously in USHL) before he was injured.
Svechnikov is being hailed as the "next great Russian goal scorer," whose career trajectory is expected to mimic that of the most recent Stanley Cup Champion, the great Alexander Ovechkin. His abilities and plays follow along closely with that of Ovechkin's, so it's no wonder that they would be compared.
These players in the upcoming 2018 NHL Entry Draft have been groomed for this moment, and up and down the draft board there is constant talent that can immediately make the jump to the next level. Svechnikov is definitely someone to add to that list.
Even though he isn't going first overall, if he came out in any other draft class within the last few years, he might have gone first. This kid has the abilities to become the next great superstar in the NHL.
Svechnikov's strengths and weaknesses
Andrei Svechnikov has one of the purest shots in this draft class and has the ability to score from anywhere. He has the ability to shoot from either circle or take a one-timer immediately off the faceoff. His hands and vision are already at an NHL level as well as his playmaking ability.
He uses his speed and size to move the puck into the offensive zone and set up his teammates. He has an absolutely blistering shot and he is able to get himself set up and slip away from defenders to find his spot on the ice. While he shouldn't be known as a "speed blazer," he still has good breakaway speed.
There have not been many pure goal scorers that have been able to light up the score sheet like Svechnikov has in his time in the USHL and the OHL. As a 16-year-old in the USHL, Svechnikov had 58 points (29 G, 29 A) in 48 games which led him to win rookie of the year. In the OHL, he had 72 points (40 G, 32 A) in 44 games which led him to win rookie of the year then too.
But goal scoring isn't Andrei Svechnikov's only reason why he's at the top of draft boards. He is able to use his size and his upper body strength to his advantage and getting into a shoving match to get the puck off the faceoff was commonplace for him.
One of his main problems is his discipline. He is very good at getting under opponents skin, but he also lets opponents get under his skin as well. He spent too much time in the penalty box for a player of his abilities with 67 penalty minutes while he played in the OHL and 68 minutes in the USHL.
Where will he be drafted?
Unless something crazy happens there is no question that Andrei Svechnikov will become a Carolina Hurricane. There have been numerous reports that he has met with the Hurricane's head coach, their GM, and their owner. He has visited at least three times, possibly more, and has already talked about how much he would love to be there.
So, like I said previously unless something absolutely crazy happens, Svechnikov will be taken second overall. Mark my words.
Are you excited for the draft? What do you think is a proper projection for Svechnikov? Tell me in the comments below!