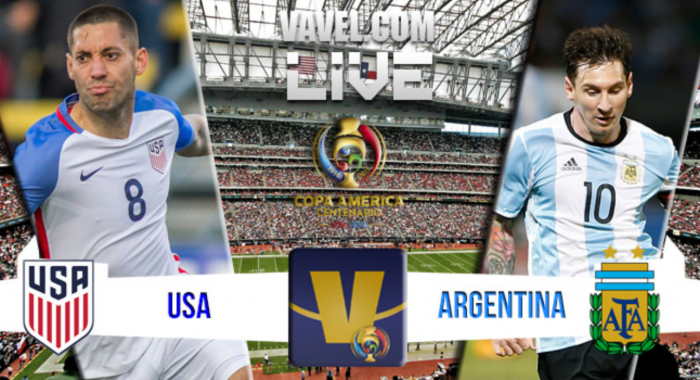 Fulltime: USA 0 Argentina 4
90' Three minutes of added time
86' GOL ARGENTINA! Higuain gets his brace, assisted by Messi. 4-0!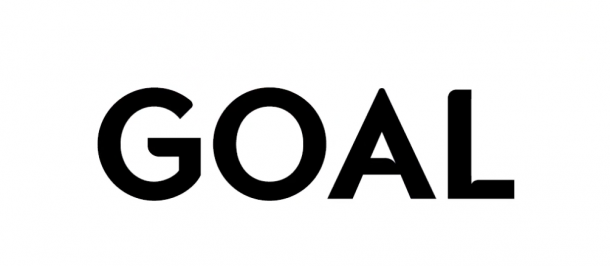 84' Substitution: Rojo off for Cuesta (ARG)
83' Messi's far post shot is just saved by Guzan.
78' Substitution: Nagbe on for Demspey (USA)
77' Pulisic's one time shot is wide.
67' Substitution: Lavezzi off for Lamela (ARG)
65' Laezzi has been taken off by the medics and play resumes.
63' Yikes, Lavezzi falls over the ad boards as he was backpeddling, from my view it appears he might have broken his arm. Nasty injury.
59' Substitutions: Biglia on for Fernandez (ARG), Birnbaum on for Beckerman (USA)
50' GOL ARGENTINA! Higuain recieves a ball in the box, first shot saved, but he puts in the rebound. 3-0 Argentina!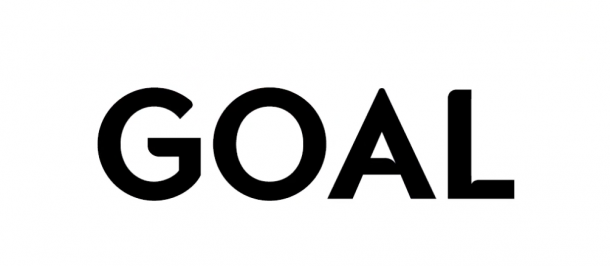 46' Second half underway in Houston
We have an intruder on the field who hugs than bows in front of Messi.....
Halfitme Substitution: Pulisic on for Wondowlowski (USA)
Halftime: USA 0 Argentina 2
45+' Guzan and Lavezzi collide after an offside call, a skirmish breaks out.
45' One Minute of added time
42' Yedlin's quick turn and cross goes skimming past the six yard box untouched.
35' Yedlin played in on the right flank but his cut back pass is defended well.
32' GOL ARGENTINA! Messi rips home an incredible free kick. Magestirial! 2-0 Argentina!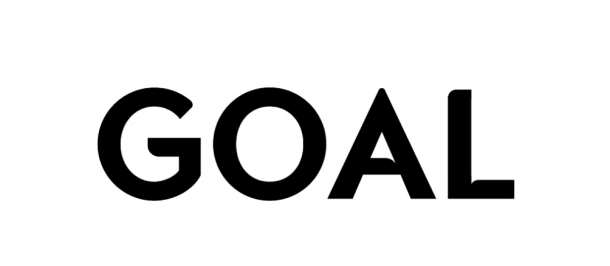 31' Yellow Card awarded to Chris Wondowlowski (USA)
28' Argentina playing keep away from the US. The Yanks still in the 4-4-2.
22' Guzan! Argentina ctaches the US off guard on afree kick an dplays Higuain in, but Guzan is there to smother his shot.
15' On the US counter, Bradley fumbels and Messi goes the other way. After dribbling a defender his shot is saved by Guzan.
14' Argentine domination so far. Even after their turnovers, the US can not hold onto possesion.
8' Close! Messi's one time shot is over the bar.
7' US first chance at goal is a free kick, but Wondo can not reach the ball and Romero catches it.
3' GOL ARGENTINA! Pocho Lavezzi heads home a Messi chip. 1-0 Argentina.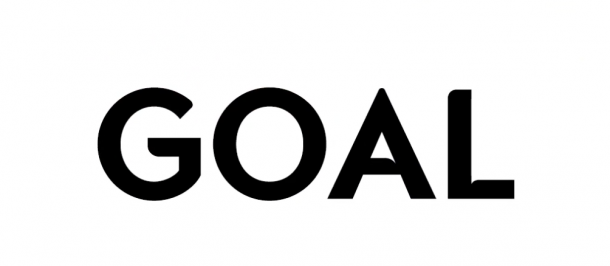 2' Argentina on the attack early, but Messi's cross goes touched at the back post.
0' KICKOFF here at NRG Stadium in Houston, Texas!
Anthems have been sung, almost time for kickoff....
The teams are making their way on to the pitch, almost anthem time!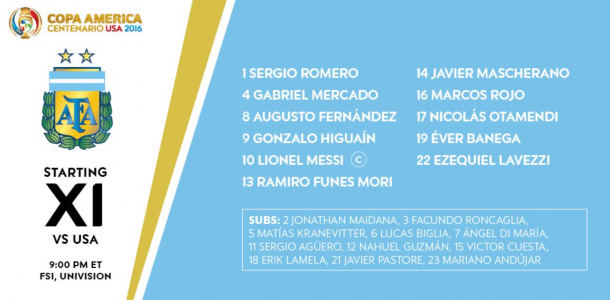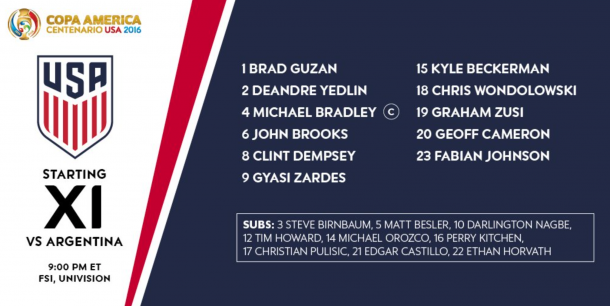 Paraguayan referee Enrique Caceres has been selected to officiate the semifinal in Houston. Caceres had previously worked Mexico and Uruguay's Group C match in Glendale, Arizona. In that match, he showed six yellow cards and two reds.
The semifinal at NRG Stadium has sold out, Copa America organizers announced on Monday. The stadium, home of the Houston Texans of the NFL, has a capacity of 72,220 spectators.
"Like every team in the world, there are strengths and weaknesses," he said. "You say, 'OK, let's analyze things. Let's find ways to break them down. Let's find ways to score against them.' Obviously, we have to be on top of our game defensively, that's a no-brainer. But we've done extremely well the whole competition defensively. We've only given away set pieces. Out of the play, we haven't conceded a goal. We are ready to fight, to chase them, to be all over them."
Klinsmann would not divulge any possible tactical or player changes for the semifinal in Houston.
"You are talking about two wonderful players, the best in the world in their time," Klinsmann said. "It's now Messi's time, and when I had the opportunity to play many games against Maradona, it was Maradona's time. We all admire these players. But there are also ways to stop them. I am not the type of person who pulls out old stories and tells the players how we did it. That's not me, but there are ways to play against these wonderful players."
Jurgen Klinsmann knows that stopping Messi, just like Maradona was in his playing days, is impossible.
"You guys are probably worrying more about Messi than we are," Bradley told reporters. "Very good player. That's also probably an understatement. It's still a soccer game with 11 of their guys against 11 of our guys."
"At the end of the day, whoever is sharper, whoever has more guys who can compete at a high level and understand the moment, that's typically which team has a better chance to win," said Bradley.
"We don't want to make (Argentina) out to be mission impossible," said Bradley.
Even with the absences, American midfielder and captain Michael Bradley is treating Argentina as normal opponents, not as gods.
Both Alejandro Bedoya and Bobby Wood, who have started all four US matches in the tournament so far, have been suspended for the match because of yellow card accumulation. Also suspended is Jermaine Jones, who picked up two yellow cards and was sent off in the second half against Ecuador.
"Well, Messi has faced various ways of playing him," Martino said. "Bolivia decided to have a personal marker on him. Other teams tried to lock him up, to be around him and right on top of him. Despite all that, he was able to give assists and score in the last game. The fact there is a coach and a team trying to stop the best soccer player in the world? I think it's a logical thing, any way to neutralize him. I just hope every possible way has to be a legal way to do it."
Tata Martino is not worried about how the US will approach containing Leo Messi, as he has mentioned how other sides have tried (and failed) before.
"Now be even hungrier. Be even more aggressive, more determined than you ever were before," Klinsmann continued. "So add another 10 percent to what you did already. If everybody does that, we have a game with Argentina."
"This is really now a special moment," Klinsmann said at the pre-match press conference. "This is a moment that, I told the players already yesterday here before we started training, this is a once-in-a-lifetime opportunity for you now. You got into the semifinal, you made yourself proud, but now go for more."
It's not every day that the USA is in a semifinal of a major international soccer tournament. Yanks head coach Jurgen Klinsmann is keen to make sure his side take in and grasp the moment.
"I'm rather concerned," Martino said, "by the U.S. of the first half against Ecuador. Our intent is to play a game closer to the second half of the U.S. game against Ecuador."
Argentina coach Tata Martino is a bit concerned to face the US, especially if the side that performed well in the first half in Seattle comes to play.
Argentina had a more comfortable affair, defeating Venezuela 4-1 in Foxborough on Saturday night.
In their quarterfinal against Ecuador in Seattle, the United States hung on to win 2-1.
Hello, and welcome to VAVEL USA's Live coverage of tonight's crucial semifinal encounter between the United States and Argentina at the Copa America Centenario! My name is Josef Leizerowitz, and I'm genuinely thrilled to be bringing you tonight's match between