There has been much speculation surrounding 19-year-old U.S. Women's National Team player, Mallory Pugh over the past few months. After much speculation and a few offers ranging from the Portland Thorns to the world renowned Paris Saint German, U.S. Soccer has signed Pugh a contract which includes a subsidy to play in the National Women's Soccer League - as announced on Lifetime's Game of the Week. With this contract, the Washington Spirit have excersized their option to claim the youngster as a newly subsidized player. This is the first time in NWSL history the Distribution Ranking Order came into being and has been used on a player entering the league as a Federation Player.
Although talk about Pugh has heightened over the past few months, the young player was making news back in January of 2016 when she was called up by Jill Ellis and earned her first apperance - and scored her first goal - for the full team against Ireland at the age of 17. Since then, Pugh has been part of the full team and hasn't looked back. She made the squad of 18 for the 2016 Olympics, and though the USWNT fell short she became the youngest American to score an Olympic goal in their 2-1 victory over Columbia.
Although there was rumors of her possibly forgoing college to start her professional career early, Pugh was set to join UCLA's recruiting class of 2020 which features Canada's Jessie Fleming and many other young, bright talents. However, she deffered enrollment at UCLA due to the U-20 Women's World Cup, when U.S. Soccer demanded all players participating in the World Cup had to redshirt their first season, and Pugh wasn't able to return to UCLA until winter quarter.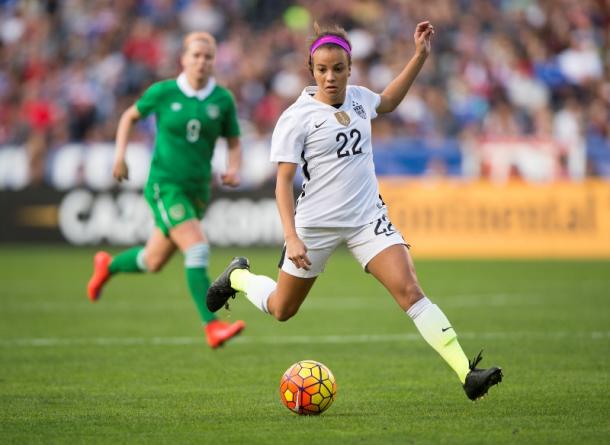 She made major waves last month, when she announced that she was dropping out of UCLA to pursue a professional career after playing three spring games with the Bruins.
The Washington Spirit made two offseason trades in order to put themselves on top of the Distribution Ranking Order, which was originally their goal in hopes of receiving Andi Sullivan of Stanford. They first traded Ali Krieger to the Orlando Pride and switched for the No. 2 position on the list while Orlando went down to No. 9. Then, they sent Megan Oyster to the Boston Breakers in exchange for Kristie Mewis, Kassey Kallman, the No. 1 spot as well as a few draft picks.
Now that the Spirit has claimed Pugh, they will fall to the bottom of the order while Boston takes the top spot. Pugh is eligible to join the Washington Spirit immediately after signing her contract.