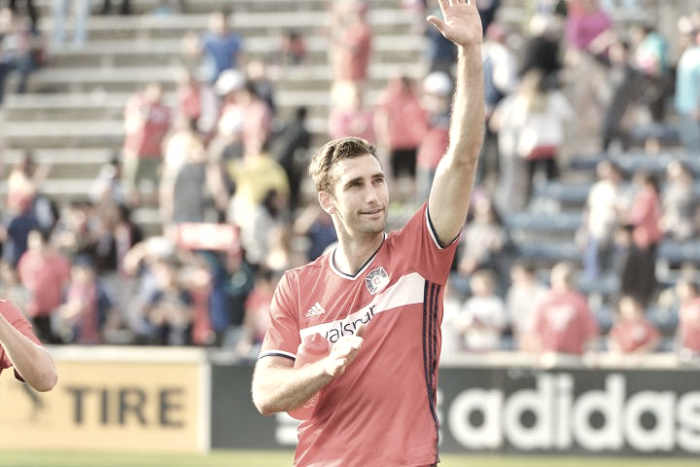 On Thursday, Jonathan Campbell of the Chicago Fire spoke with VAVEL USA author Jay Stucchio about his draft experience as well as gives tips to this years draft class ahead of Friday's 2018 MLS SuperDraft. The 24-year-old went on to speak about his professional debut, his first MLS goal, and what he expects from both himself and Chicago Fire in 2018.
Interview
Vavel USA: Coming into MLS you had high expectations due to your long list of achievements from your time at UNC. Despite all the expectations you managed to deliver. Do you have any advice for the incoming draft class?
Jonathan Campbell: I advise any draft picks to find out what they believe will give them the best chance of being a professional soccer player. For every player, this might differ with how much time and effort they're willing to devote. Then there will be highs and lows during the season but no matter what, stick to that game plan. There are things that you might have to adapt, but whether you are starting or not making the 18, that focus and drive needs to stay consistent.
Vavel: To follow that up, I have to ask what your draft day experience was like. Did you know Chicago was interested in you? Was landing in Chicago a surprise?
Campbell: I loved my draft day experience - it's something I'll always cherish as I had my family there with me to celebrate. To be honest, I thought my interview with Chicago Fire went really well and we saw eye-to-eye on a lot of concepts and beliefs for the club. However, I didn't think I had a chance with their draft pick selections to actually be drafted by them. Then they made a trade for a pick and things fell into place from there. So it was a surprise that it happened, but I wasn't too surprised that they were interested in me.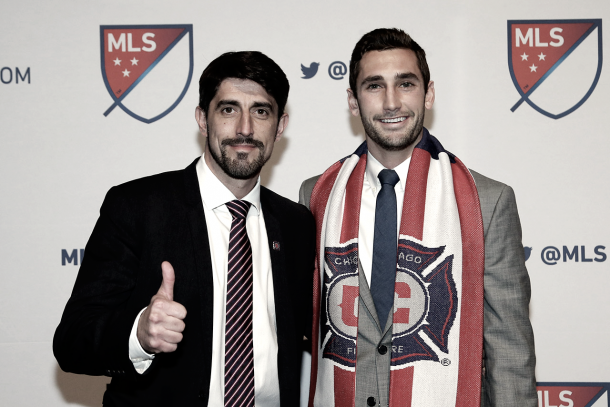 Vavel: Can you describe the moment that you stepped onto the field in your first MLS match vs New York City FC?
Campbell: Well I love that it was at home in front of Toyota Park to play my first match. I didn't start but I subbed on and I remember thinking that I needed to stay calm and composed, but also make a difference. It's a moment where you've been dreaming about it your whole life, but it happens so fast and in a couple seconds you're on the field. I actually remember thinking about how awesome that feeling was right then, and thinking to myself that I need to do this more often! It creates motivation so that you can continue stepping on the field.
Vavel: Another first I have to ask about is your first professional goal. As a defender, you're not always expected to find yourself on the scoresheet. However, you grabbed the opening goal against D.C. United less than two months after your professional debut, how did that feel?
Campbell: As a defender, you're not the first person they look to for a goal. However, if you are good at scoring on set pieces, it can be a very intriguing aspect of your play that'll catch the coach's eye. I want to see myself improve in this area and be more of a threat on the offensive end. I scored a goal earlier against NYCFC away, but it was called back. In that game, I was so stunned that I didn't appreciate the moment or fully embrace it. It was called back and then scored against D.C. United where I felt like I really grasped the moment. Had a full knee slide in the rain and couldn't have imagined a better goal celebration. I believe I was even lucky enough to have my parents at that game as well!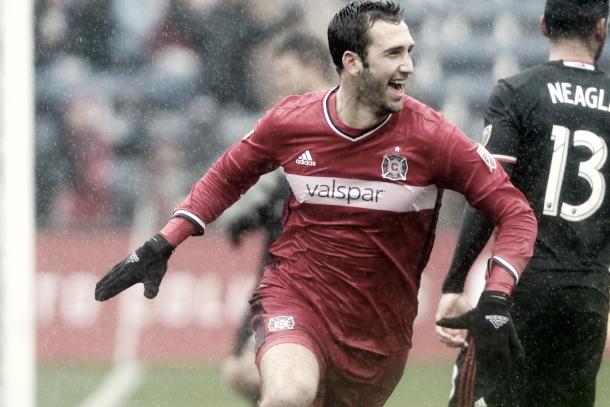 Vavel: You helped Chicago reach the playoffs in 2017, what can we expect from you personally and the Chicago Fire in 2018?
Campbell: From me personally, I think you can expect the same tenacity from a guy who's hungry to be on the field and do whatever it takes to see his team succeed and move on. We want to keep pushing to get better and from me personally, I want to continue improving on my ability to play out of the back and always be more consistent. I know I have more room for development, but the team does as well. We now have set a standard of quality for performances and for an overall season and we look to beat that bar this year. We can't take our foot off the gas after one year of making playoffs.
2018 and Beyond
As mentioned, the Chicago Fire had a very good 2017 that they can build off of and hope to improve on in 2018. With Jonathan Campbell's clear dedication to keep improving, Nemanja Nikolic, the 2017 MLS Golden Boot winner returning as well as Bastian Schweinsteiger extending his stay one more year, the Fire will continue to be a dangerous side.
Despite a good regular season the Fire did go out in a disappointing loss to the New York Red Bulls and knowing what the taste of playoff defeat tastes like, they'll certainly be hoping to make a playoff run in 2018.