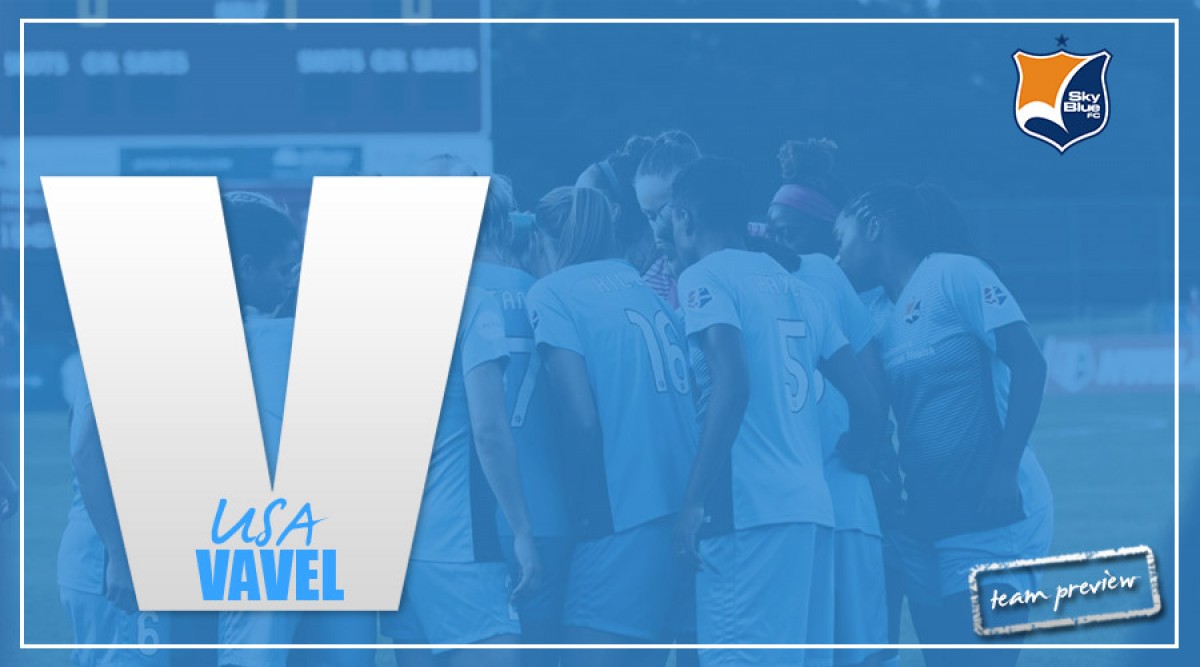 Sky Blue FC looks like a brand new team heading into the 2018 season. With a new head coach, two new assistant coaches, and 13 new players the New Jersey side will look to improve on their sixth-place finish last season. Sky Blue opens their season on March, 31st at the North Carolina Courage. The Seattle Reign will travel to New Jersey for Sky Blue's home opener on April 15th where the Reign will face their former teammates Rebekah Stott and Katie Johnson.
Ups and Downs of 2017
Sky Blue faced many losses throughout last season both players, staff, and results wise. Defender Erin Simon broke her foot in the middle of the season, to which she would not make a full recovery from in the 2017 season. Veteran center back, Christie Rampone, left due to accumulated injuries in August. Head coach Christy Holly also stepped down in August. These changes shook the team and from there, their defense continued to struggle. Sky Blue also had their positives when they beat top clubs and Sam Kerr shined in late June and July. In June Sky Blue beat the Portland Thorns in Portland by a 3-1 scoreline where Raquel Rodriguez scored the fasted goal in NWSL history and Kerr had a brace. Then in July Kerr was the difference maker in North Carolina when Sky Blue defeated the top team in the league. Kerr's heroics showed again in July against FC Kansas City and the Chicago Red Stars, scoring multiple late game-winning goals to pull back points.
2018 Beginnings
Sky Blue faced Penn State University, University of North Carolina, West Virginia University, and St. John's University during preseason. Things started off rough for Sky Blue when they dropped their first game to Penn State by a score of 1-0. Shea Groom and McKenzie Meehan found their connection against UNC both scoring a goal and providing the other with an assist. In the third week of preseason against West Virginia Sky Blue's Raquel Rodriquez was the difference maker. The Costa Rican international was taken down in the box, then buried a penalty in the first half. The 1-0 score would stand for the rest of the game.
The brand new offense hit its stride in the final preseason match against St. John's. Six goals were scored by five goal scorers including a brace for Janine Beckie. Also adding their name to the score sheet were Shea Groom, Savannah McCaskill, Raquel Rodriguez, and Adriana Leon. Sky Blue looked very well connected finding gaps to connect with teammates in the box to get plenty of shots off.
Active Offseason
Sky Blue made numerous moves this offseason, trading away Sky Blue veterans for young fresh faces and Carli Lloyd. Sky Blue received seven players in exchange for four players making it seem like they got the best deal. However with losing Kelley "natural position of everywhere" O'Hara and Sam "best forward in the world right now" Kerr who knows if the extra players can rise to the levels of O'Hara and Kerr. One player that will try to match Kerr's goal scoring ability will be New Jersey native Carli Lloyd. Lloyd returns home bringing with her in the trade former Houston Dash teammate and Canadian international Janine Beckie. Beckie's form with the Dash has not matched her form with the CANWNT. Beckie has appeared in 41 matches and scored 22 goals with Canada.
Sky Blue added to their attack trading for Shea Groom, Jen Hoy, and Katie Johnson. In her two seasons with FC Kansas City Groom tallied 13 goals and 6 assists. Johnson played her rookie season in Seattle where she impressed with four goals and two assists. Johnson is part of the senior Mexican National Team, she graduated from the University of Southern California along with Sky Blue teammates Mandy Freeman and Kayla Mills. Johnson the youngest of the three has so much potential and the goals are going to be coming off her season once she finds her chemistry with the midfield and other forwards. Johnson is only in her second season, but with her constant presence with the Mexican National Team, she has the ability to develop into a dynamic and successful forward.
On the defensive side, Sky Blue picked up Christina Gibbons and Rebekah Stott. Gibbons had a very promising rookie season with FC Kansas City playing both in the midfield and on defense. The young defender played Westfield League in Australia for Melbourne Victory during the offseason. Stott played with Seattle in the NWSL and also spent her offseason playing in the W-League playing for Melbourne City. Stott is also a part of the New Zealand Women's National Team.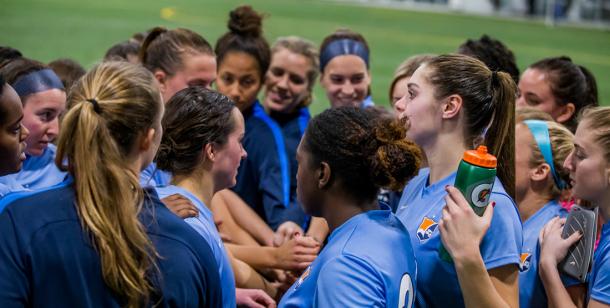 Through the Dispersal Draft of the Boston Breaker's players, Sky Blue picked up the up and coming star Savannah McCaskill, Adriana Leon, and Amanda Frisbie. McCaskill is fresh out of the University of South Carolina but has already impressed with the USWNT, in 2018 she has four caps already. Leon impressed with the Breakers in 2017 she tallied six goals and six assists. Sky Blue also picked up defender Frisbie, but she has not yet reported to her new team in New Jersey.
Defense wins games
In 2018 Sky Blue should focus on their defense. The New Jersey side only signed two new members to their defense which is surprising because their defense struggled all of last season. The defense let in 47 goals last season, with their top goalie, Kailen Sheridan, in just her first season. Sheridan made 83 saves last season so it is not to say the skill wasn't there rather players were getting inside the box far too easily. Hopefully, with the new additions to their backline, Gibbons and Stott will help to prevent players from getting shots off. During the offseason, Sheridan spent time in camp with the CANWNT where she earned one start and let in no goals. If Sky Blue wants to have a better season, then stopping goals should be their focus on scoring goals.
Record prediction: 11-7-6 (win-loss-draw)
Overall placement: 5th