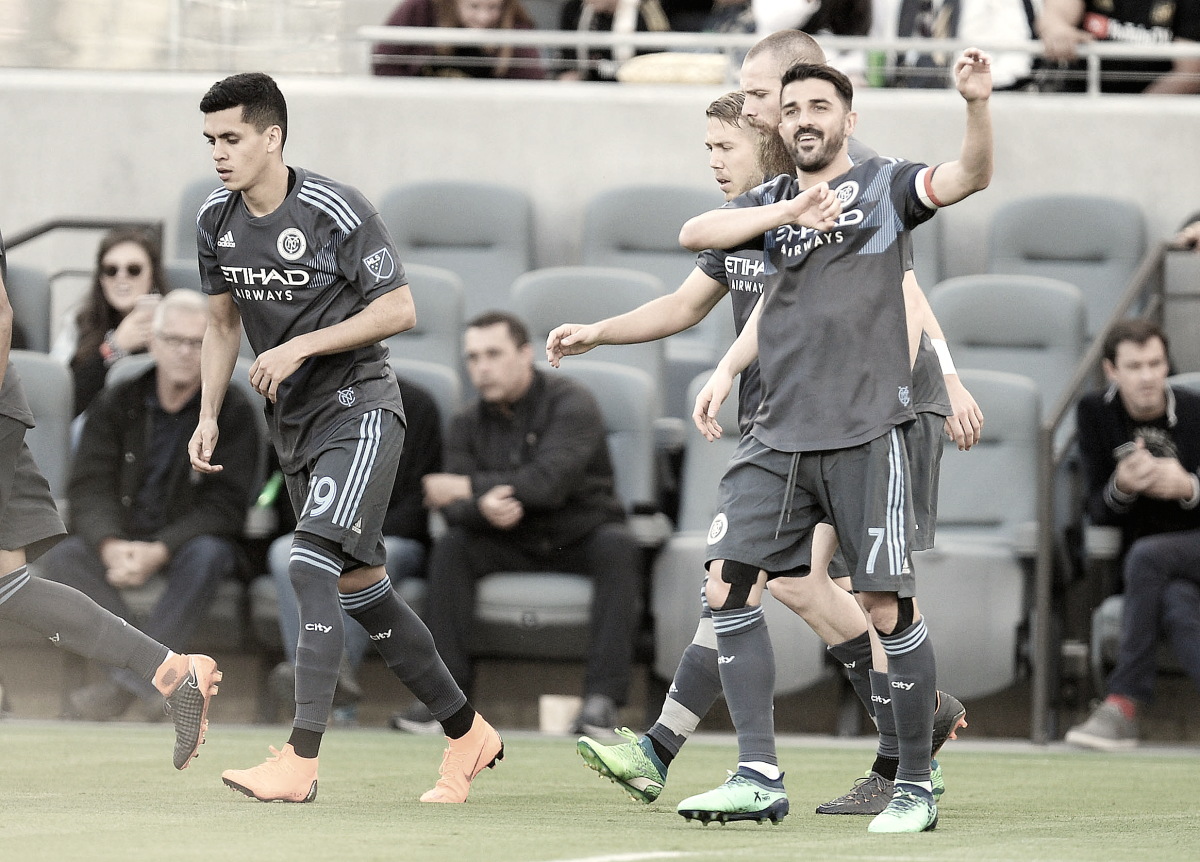 After a 4-0 defeat at Red Bull Arena last week, New York City FC bounced back and battled it out with a strong LAFC side to earn a point. After going ahead, the boys in blue conceded twice to put themselves behind but as they've done all season, proved resilient and grabbed an equalizer.
Next week, NYCFC will return to Yankee Stadium to host the Colorado Rapids, but first, the players reflected on Sunday night's match with LAFC.
When asked about his substitutions, Patrick Vieira said "Yeah, I think we concede that goal and there were so many minutes to go. I had wanted to make a move – it was something we had prepared." The man now being linked to multiple Managerial positions in England went on to say "We had players on the bench who can make a difference when we need it."
A man never hesitating to compliment his players said "I was really pleased because of course to not just get the goal, but it was really on his mind and that's what I want from the players on the bench – to come into the game and help out the team. I think it was a great example today."
LAFC are a recent introduction to MLS and recently opened Banc of California Stadium. Vieira also didn't hesitate in complementing that by saying "It's a really good stadium, a really good football (soccer) stadium. It was unbelievable. What I love about the stadium is the feel – the feel to play and to allow the fans to see a good game of football." Seemingly in a complimentary mood, Vieira said "I think it is one of the best teams we've played so far in this league. They possess the quality and the pace and the ability to create. I am really happy going back to New York with the point – it's a really good sign."
David Villa opened the scoring for the visitors and seemed happy with the result. "The game was difficult. We played against a good team. I think good soccer was played between both teams – there was a lot of intensity and at the end of the game, I think we saw what both teams were capable of on the field."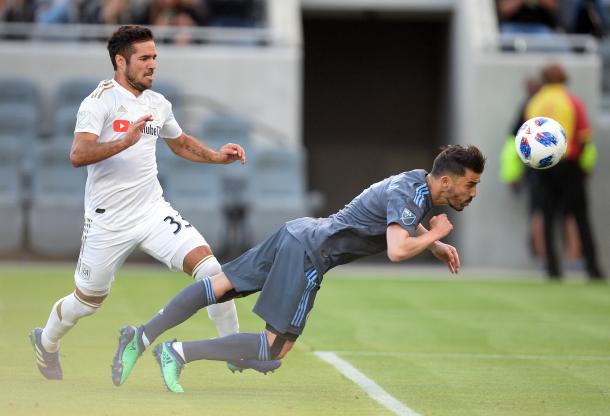 When asked about bouncing back after the loss to the New York Red Bulls, "El Guaje" said "Yes, it's hard. It's been a difficult week after everything that happened the other day with the [New York] Red Bulls. The team reacted well after a difficult week." The goalscorer followed that up with "We are trying to forget what happened there every day, but it's always going to be complicated. But what's important is that the team came out playing energized and has had moments in the game where it has stepped in and taken its place on the field. It's important for us to get this point."
NYCFC defender, Ronald Matarrita, shared his captain's thoughts regarding LAFC in saying "[They're] an excellent team. I think they know how to manage their games well. I think they've done a good job at being hosts to us in their home stadium." The Costa Rican went on to say "We're conscious of the fact that we're playing against a good team and we took all the precautions to prepare for them and are happy with the results."
Next up, NYCFC will look to get a taste of three points as they host the Rapids at home after two weeks without winning. After that, they'll travel down south to play the Houston Dynamo before returning home to host fellow 2015 MLS expansion side, Orlando City SC.