After weeks of rumors, Monday morning officially marked the end of Patrick Vieira's reign as manager of New York City FC. The Frenchman returns to his country to manage OGC Nice in Ligue 1. The former Arsenal midfielder spent two and a half seasons managing NYCFC before leaving for Nice where he'll continue to support the MLS club from afar.
The shortly vacant managerial position was quickly claimed by Domènec Torrent. Though probably not a household name in America, it is fair to say Torrent is the most decorated Assistant Manager of the last decade. Domènec has been the Assistant Manager of Pep Guardiola ever season since Pep began managing in 2007. Since beginning the partnership with Guardiola, the pairing has picked up a staggering 24 trophies in 11 years while managing at some of the biggest clubs in the world including FC Barcelona, Bayern Munich, and Manchester City.
Despite losing a successful manager in the middle of the season, David Villa, who has worked with Domènec in the past during their spell in Barcelona, remains confident in his club to continue to pursue silverware.
Quotes
David Villa opened things up with: "It was a difficult day because in the morning, we found out that Patrick is leaving." NYCFC's all-time leading goalscorer went on to say "Patrick was so important for the club and for us, so it was a difficult day of news but after that, when we found out that Dome and his staff were coming to replace Patrick, it was great news after the bad news."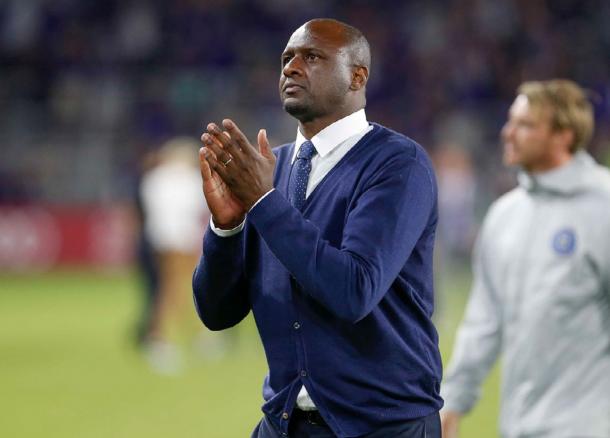 Continuing to praise Torrent, Villa said: "I know him and I know some of his staff. I think it's the right and best person we could have to replace Patrick. Finally, it was a difficult day in the morning but a happy one in the afternoon."
The complimenting didn't stop there as he had some kind things to say about City Football Group (CFG): "It's one of the great situations being part of the great City Football Group. Not so many clubs in the world would have the opportunity to have this style of commitment."
Luckily for David Villa and his teammate, he feels that the similar coaching style between "Dome" and Vieira will help the transition. "Knowing Patrick and knowing Dome and knowing how they work, I don't believe the team will be affected a lot in the change. Every coach has their own situations or decisions but Dome is a similar style of coach to Patrick."
Villa reiterated the fact that he knows Torrent well. "He's a man of soccer, he knows everything, he has a great style that he's been working on for the last 15 years. It's great for us to have here. I know his personality too because I worked with him for years at Barcelona which was a great experience for me because we captured so many trophies."
When reflecting on the time spent together with Torrent at Barcelona, David ​said: "They were great years for me in my career – I am so happy – it's great news for NYCFC because we can continue growing the team and growing the club."