 With the NWSL on FIFA break, some international players continued their 2019 Women's World Cup qualifying campaign in Europe and in Central America. August 30 thru September 1 was the first set of the final qualifying matches for UEFA. Eight NWSL players took part in the first set of games this weekend. Raquel Rodriguez of Sky Blue FC was the only NWSL player to play in CONCACAF Central America qualifying tournament for Costa Rica. While World Cup qualifications were going on, international friendly matches were played in Canada and France.
UEFA World Cup Qualification
Jodie Taylor and England traveled to Wales to faceoff against Seattle Reign FC teammate Jess Fishlock for a spot in the 2019 Women's World Cup. Houston Dash forward Rachel Daly was also called up to join Taylor with the England Lionesses. England would beat Fishlock and Wales 3-0 to punch a ticket to their fourth consecutive Women's World Cup. Taylor played 77 minutes before begin subbed out. She may have taken a knock and will not travel to England's last qualifying match. Daly did not get the start but saw the field in the 88th minute to finish the match. Jess Fishlock played all 90 minutes for Wales. Wales will have to wait for the September 4 results to see if they qualify for UEFA's second place tournament.
Utah Royals FC defender Rachel Corsie and Scotland hosted Switzerland in their second to last World Cup qualifier. Scotland needed a win to stay in the hunt to win the group. Scotland's captain Corsie played all 90 minutes to hold off a powerful Switzerland attack to edge the Swizz 2-1. The teams are now tied for the top spot with Switzerland holding the first tiebreaker on head to head goal differential. Switzerland will travel to Poland while Scotland will travel to Albania for their last matches of their qualifying campaign. If Scotland do not qualify directly, they have earned enough points to be in good position for the second place playoff tournament. Portland Thorns FC Ana Crnogorcevíc was scheduled to start for Switzerland but was injured during warmups.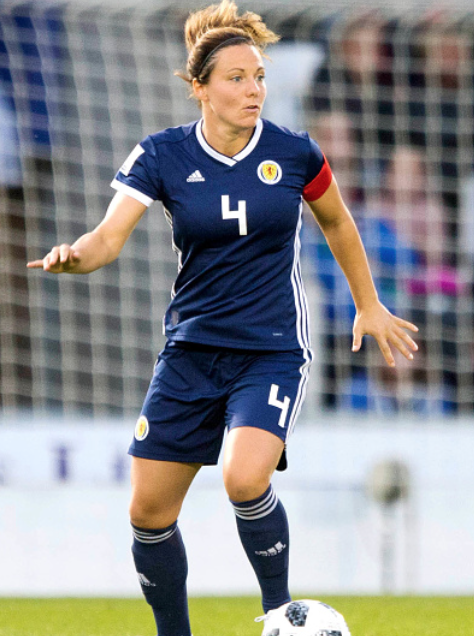 Seattle Reign FC defender Theresa Nielson played all 90 minutes for Denmark in their qualifier against Croatia. Denmark needed a win or a draw to keep up with group leader Sweden. Down 1-0 late in the match, former Portland Thorn FC striker Nadia Nadim tallied in the 92 minute to save Denmark's chances to win the group. Now only two points behind Sweden, Nielson and Denmark will face Sweden in the final match on September 4. Winner will go to the 2019 Women's World Cup, while the other will be in good position for the second place tournament.
North Carolina Courage midfielder Denise O'Sullivan earned an assist with the Republic of Ireland in a 4-0 win against Northern Ireland. O'Sullivan played all 90 minutes in the match, but is eliminated from competition.
Utah Royal FC and Iceland midfielder Gunnhildur Jónsdóttir were defeated by Germany 2-0. If Iceland had won, they would have qualified for the 2019 World Cup. With the loss, Jonsdottir and Iceland will look to qualify for the second place playoffs. Germany will most likely win their next match and secure their World Cup spot. Iceland's next match will be against Czech Republic on September 4. Iceland will need a win or a draw to be in position for the second place tournament.
CONCACAF Central American qualifying competition
Sky Blue FC midfielder Raquel Rodriguez and Costa Rica took on El Salvador, Nicaragua and Panama in the CONCACAF Central American qualifying competition. The top two finishers would advance to the 2018 CONCACAF Women's Championship. Costa Rica took all nine points, winning all three matches and outscoring their opponents 18-2. Rodriguez scored a goal and three assist against El Salvador. Against Nicaragua, Rodriguez scored a 61st minute goal in a 4-1 win. Finally, Rodriguez scored 2 goals and registered one assist in a 3-1 victory over Panama. Rodriguez four goals earned her the top goal scorer for Costa Rica in the competition.
International Friendlies
France vs. Mexico
Sky Blue FC Kaitlyn Johnson and Chicago Red Stars Christina Murillo of Mexico traveled to France for an international friendly. France took the game 4-0. Johnson and Murillo both started the match and were subbed off. Murillo in the 63rd minute from a tough collision and Johnson came off in the 83rd minute.
Canada vs. Brazil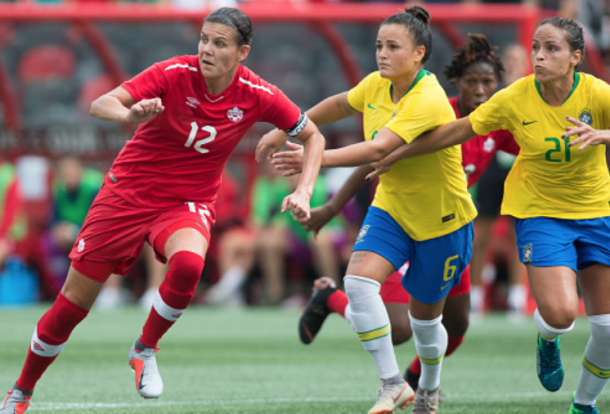 Portland Thorn FC forward and Canada's captain Christine Sinclair hosted her Portland teammate Andressinha and Brazil in Ottawa, Ontario, Canada Saturday afternoon. Houston Dash forward Nichelle Prince scored the lone goal, off a Janine Beckie free kick rebound, to beat Brazil 1-0. Allysha Chapman (Houston Dash), Diana Matheson, Desiree Scott (Utah Royals FC), Shelina Zadorsky (Orlando Pride) all appeared in the starting lineup. In the 70th minute, Rebecca Quinn (Washington Spirit) came on for Scott, Adriana Leon (Seattle Reign FC) came on for Beckie and Matheson was also subbed off. With the substitution, Leon made her 50th appearance for Canada's National team. Goal scorer Prince was eventually subbed off in the 80th minute. For Brazil, Monica, Camila (Orlando Pride) and Debinha (North Carolina Courage) got the start for Brazil. Debinha was subbed off in the 71st minute while Andressinha got to see the pitch in the 77th minute. FIFA's Best 3 finalist Marta did not travel to Canada.