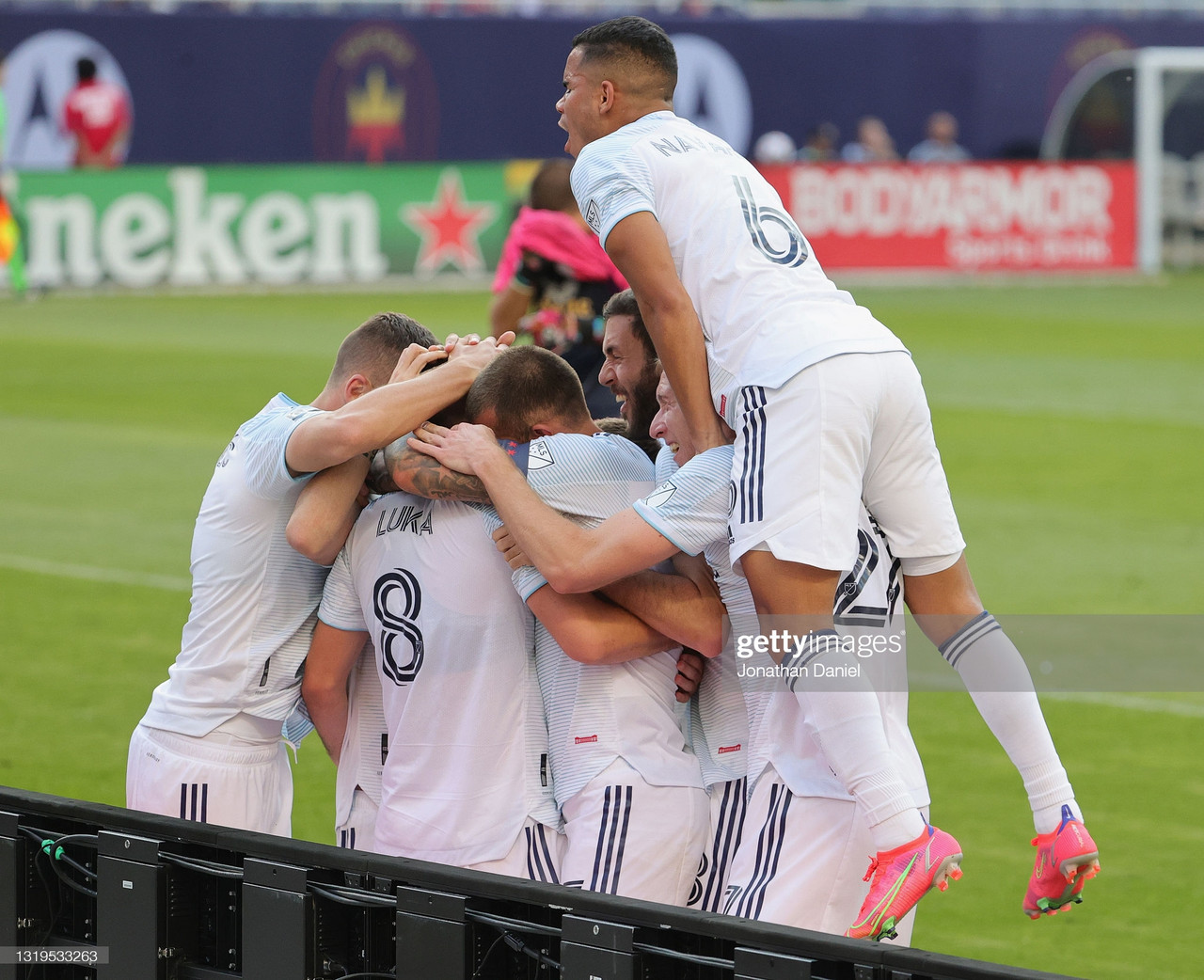 Two inconsistent Eastern Conference teams face off on Saturday as the Chicago Fire hosts CF Montréal at Soldier Field.
Chicago were able to pick up their first win of the season last weekend, as they defeated Inter Miami 1-0. The better side throughout, the Fire just couldn't finish their chances, and it seemed like the contest was potentially heading for a scoreless draw. However, a goalkeeping error gifted them a goal late on, and they were able to hold on to secure the victory and all three points.
Montréal, meanwhile, had their worst showing of the campaign last time out. At "home" (which isn't technically at home since they're forced to play in Florida, but whatever) to last-place FC Cincinnati, they would have expected to pick up another win, especially after taking the lead on the day. However, the Canadian side bottled it, giving up two late goals to lose against the odds.
There will be more pressure on Chicago in this game due to them being the hosts, but Montréal will certainly be aiming to secure a potential statement victory.
Team news
There is good news for the Fire on the injury front, as Ignacio Aliseda might be able to return after recovering from a thigh issue. The team will still be without the likes of Stanislav Ivanov and Kenneth Kronholm, though, who are both dealing with long-term injuries.
Montréal, meanwhile, could be without a trio of players, as Luis Binks, Ballou Tabla, and Mason Toye are all currently doubts for the contest.
Predicted lineups
Chicago Fire: Shuttleworth, Sekulić, Omsberg, Calvo, Navarro, Stojanović, Pineda, Medrán, Frankowski, Berić, Gutiérrez
CF Montréal: Diop, Struna, Camacho, Waterman, Brault-Guillard, Hamdy, Mihailovic, Wanyama, Bassong, Hurtado, Quioto
Ones to watch
Luka Stojanović
One of Chicago's best players this season, Luka Stojanović's performances have been especially impressive considering the circumstances.
Joining the Fire before the start of last season, fans didn't get to see much of him, as he tore his MCL in only his second game for the club. That injury ruled him out for the rest of the campaign, leaving the team with a hole in midfield.
Stojanović finally returned at the start of this year, and he hit the ground running. Scoring just 11 minutes into the opener against the New England Revolution, he then grabbed another goal the following week versus Atlanta United. His most recent strike was the most important, even if it was his luckiest, as his free-kick led Chicago to victory over Inter Miami.
Although the midfielder has been superb, it's unclear how much he'll be able to feature this weekend. Head coach Raphaël Wicky has understandably eased him into the squad, making sure to not play him too often or for too long. However, there's a good chance that Stojanović will be able to start versus Montréal, which is bad news for them, and good news for the Fire.
If Stojanović has been this good while still on the road to full recovery, who knows what he'll be able to do once he's finally 100%.
Djordje Mihailovic
The Chicago kid comes back home this weekend, and he might be coming back with a point to prove.
Things were looking so bright for Djordje Mihailovic and the Fire. He made the jump up from the academy to the first team at the age of 18, and he played a role as Chicago finished 3rd in the Eastern Conference and made the playoffs. However, it was in a postseason game that he tore his ACL, which took him out of action for nearly 10 months.
Mihailovic played well upon his return, but something just wasn't right behind the scenes. There were rumors linking him to different European teams, and his future had become unclear. It almost seemed like management was punishing him for looking elsewhere, as he started to feature less and less.
When new management came in, there was hope that things would change. They did not. The American didn't start much early on, and even when he became a consistent presence in the starting lineup, he was often utilized out wide and out of position. In the end, the club decided to move on, trading him to Montréal.
He's done well upon his arrival, as Mihailovic grabbed a goal on his debut, and he scored last weekend versus Cincinnati. He has also played consistently, starting all but one of their matches in his more natural center-midfielder role.
Most Fire fans still have a soft spot for him, so Mihailovic's return to the Windy City will likely be a nice one. However, that could change if he's able to find the back of the net on Saturday.
Last time out
The two sides did face off last year, with that contest taking place at the Red Bull Arena (home of the New York Red Bulls) since Montréal were not allowed to play in Canada.
Chicago would take an early lead after a mistake at the back from Montréal. A sloppy pass from Clément Diop was intercepted by Djordje Mihailovic, who managed to get the ball to Robert Berić. He did the rest, hitting a low shot past Diop and into the back of the net.
Their advantage wouldn't last for long, though, as Montréal equalized about seven minutes later. Coming via more bad goalkeeping, a relatively tame shot from Bojan Krkić wasn't dealt with properly by Bobby Shuttleworth, and the rebound fell to Lassi Lappalainen, who managed to dink the ball over the Fire's number one from close range.
Montréal then went in front themselves past the hour mark. A cross from Zachary Brault-Guillard deflected before going right to Maximiliano Urruti, who was somehow able to instinctively redirect the ball toward the bottom corner in a clinical bit of finishing.
The Fire would not go down without a fight, though, and they tied things up in the 73rd minute. Diop made a mess of a cross from Álvaro Medrán into the area, only getting a weak hand on the ball. That allowed it to fly right to Francisco Calvo, and he was able to capitalize on the error, heading home from a few yards out.
That proved to be the final goal of the contest, as both sides ultimately had to settle for a point.
How to watch
The game will air live on WGN, ChicagoFireFC.com, and ESPN+ at 12:00 p.m. CST.