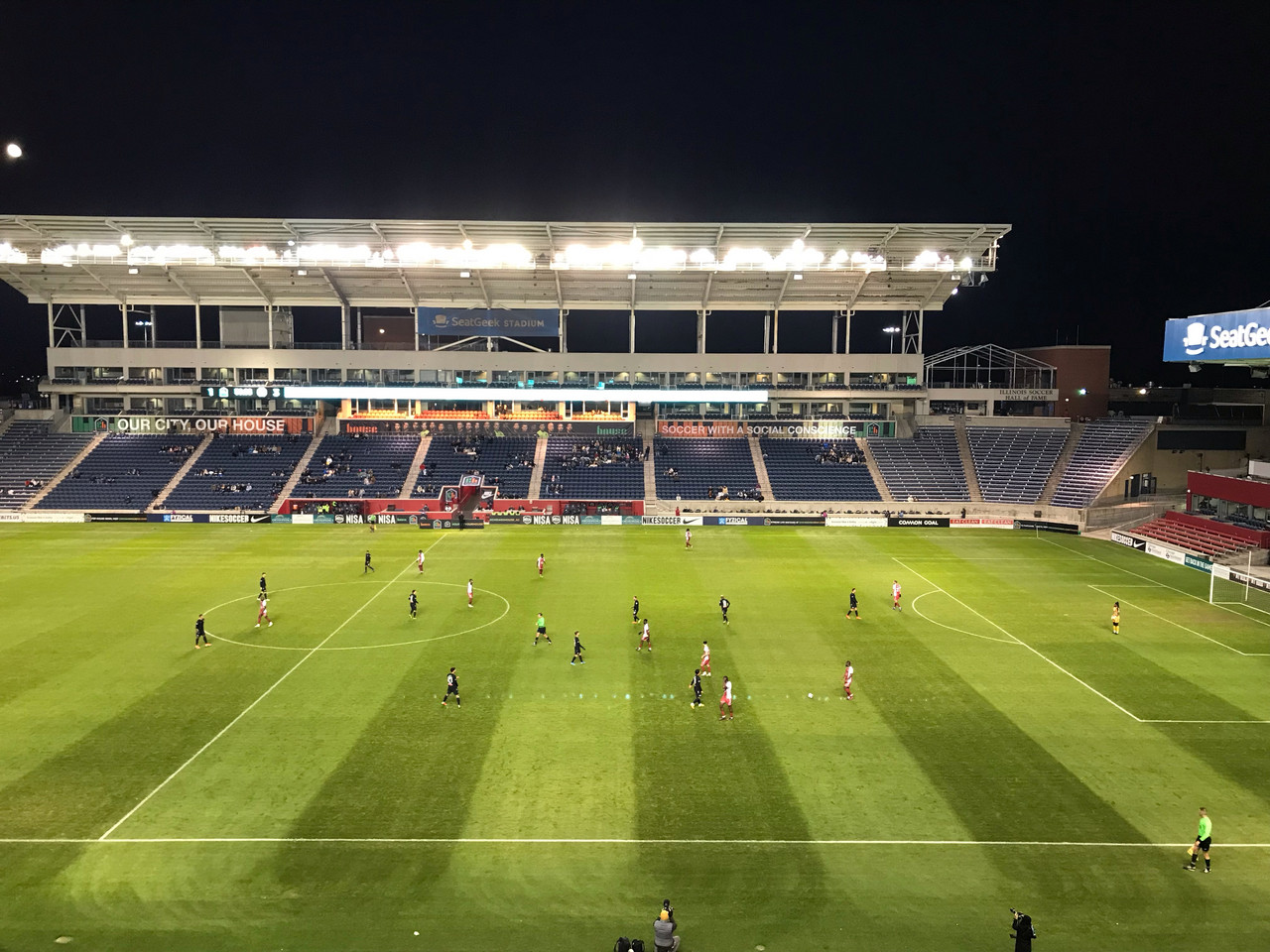 Chicago House Athletic Club's home unbeaten streak was snapped on Saturday night as they lost 5-2 to Maryland Bobcats FC at SeatGeek Stadium
An admittedly exciting contest for the neutral, Chicago took the lead early on through Nazeem Bartman. Maryland bounced back incredibly well, scoring three before the end of the first half. Wojciech Wójcik pulled one back for the hosts from the penalty spot, but it proved to be too little too late as the Bobcats grabbed two more late on to secure the win and all three points.
Story of the match
Chicago opened the scoring before the five minute mark. A cross wasn't dealt with properly by goalkeeper Joel Isyaq, and the ball bounced around a bit before falling to the feet of Nazeem Bartman, who turned before rifling home from close range.
Maryland didn't take too long to respond, though. They equalized in brilliant fashion, as a clever flick-on from Kay Banjo played Tunde Akinlosotu through on goal, and he managed to place a low shot past an onrushing goalkeeper to finish the move off.
They nearly grabbed a second a little later on. Banjo found space in the box and went for goal, but his strike was blocked by Drew Conner, who got back in time to bail his side out.
However, that effort would be for naught as the Bobcats made it 2-1 right after. The resulting corner picked out Banjo in the area, and his header flew past everyone and into the back of the net.
It didn't end there, as Maryland scored a third before the end of the half. A loose ball went right to Banjo, and his instinctive strike took a deflection before going in past a helpless goalkeeper.
Chicago almost pulled one back in stoppage time when a lovely lofted pass from Andrew Ribeiro played Bartman in behind the defense. He couldn't convert, though, as his low shot rolled just wide of the far post.
The House started the second half on the front foot, but they should have given up a goal near the hour mark. A free-kick was spilled by goalkeeper Michael Novotny right into the path of Karpeh Jr, but the forward somehow didn't score, instead hitting a shot way off target from only a few yards out.
They continued to pile on the pressure going forward, and they eventually earned a penalty as a result after Seo-In Kim was taken out in the area. The spot-kick was then converted by Wojciech Wójcik, who confidently buried the attempt.
Despite Chicago's best efforts, they failed to create one last real chance for themselves, and Maryland made them pay in the final few moments. A counter played Banjo through on goal, and he finished off his hat-trick with a curling volley that barely beat the goalkeeper.
They grabbed one more before the night was done when Adam Yingling pounced on a rebound to slam home from close range, putting an exclamation mark on proceedings for the Bobcats.
Takeaways
This Maryland attack has some real talents. The likes of Tunde Akinlosotu, Kay Banjo, and Molley Karpeh Jr all had highlights in this contest thanks to their skills on the ball and their movement off of it. Things may not always work out, but when they do, it's quite nice to watch. That is unless you're an opposing defender, of course.
Chicago has seemingly officially shifted to the 4-2-3-1 formation they've been using as of late. They utilized it once again tonight, which means that their old 4-4-2 probably won't be coming back anytime soon. There's some positives and negatives to it, of course, but the important thing is the new lineup gets a lot of the team's quality attackers out on the field at the same time.
It gets really cold really fast in Chicago.
Man of the match - Kay Banjo
This was the Kay Banjo show.
The midfielder dropped an absolute masterclass on the night, playing a part in four of Maryland's goals. He assisted the first in style, as his cheeky flick set-up his teammate perfectly. He then turned from provider to scorer, heading home a corner before having a close range shot find it's way into the back of the net. The last goal was his best, as he curled a first-time volley past the outstretched fingertips of the goalkeeper.
Banjo's impact may have faded a bit as the game went on, but he still did enough to secure three points on the road for his side.