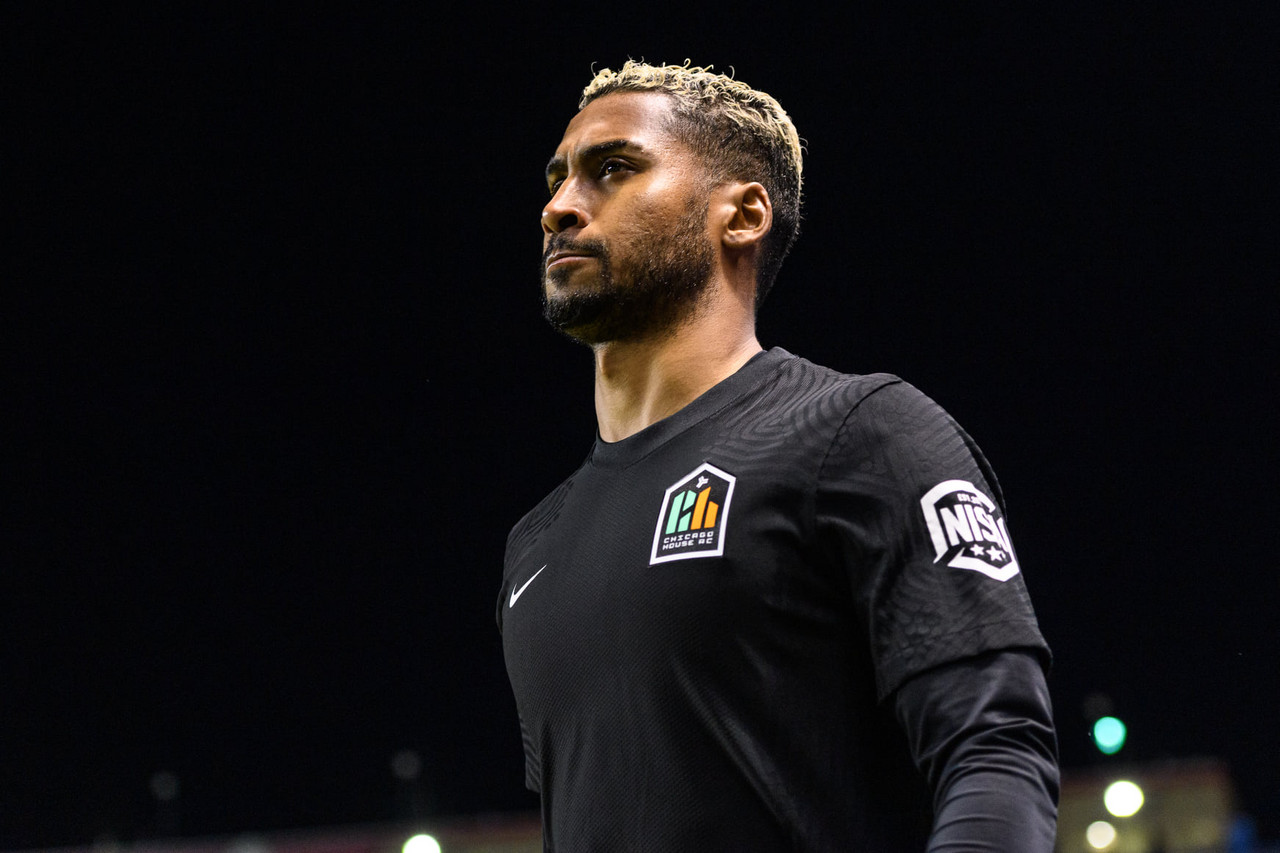 You couldn't blame Chicago House Athletic Club fans for not knowing who exactly Nazeem Bartman was early on.
For many, he was just someone they had seen on the team's roster page. He may have been the club's number 10, but he didn't feature on the field for nearly two months. With Chicago's lack of updates on his status on social media, he became an almost invisible figure.
That all changed in October. Bartman started to play, and he started to play well. Just like that, he was adding a new dynamic to the attack, and the House were turning their results around as well.
So, what exactly happened?
A delayed start
Due to outside factors, Bartman had to wait a while to get going.
His signing for the club came quite late in the summer, as he only joined at the very end of July, about a week before the start of the campaign. His arrival was a bit of a personal one.
"I was invited to the tryouts by coach C.J. Brown, and after the tryouts he told me that he was interested in bringing me in, so I came in," said Bartman.
However, the player wasn't able to hit the ground running due to a condition he was dealing with at the time. Suffering from plantar fasciitis, which is inflammation at the bottom of the foot, the pain made it practically impossible for him to play. For a regular person, the ailment is very painful. For a soccer player, it's borderline unbearable.
"So that put me out for a while," said Bartman. "We were basically trying to find anything that would alleviate my pain. It took a while, to be honest. It took like two months."
Just as he was about to recover from that issue, Bartman was hit with another setback.
"As I was making my recovery, I picked up a calf injury. That basically put me out even more, like another four weeks," said Bartman. "I was dealing with a lot of different injuries. That's the cause as to why everything took so long for me to get back onto the field. I guess I came back too early to intense training since my body wasn't used to it so I picked up an injury as a result. It was a lot to deal with, man."
The attacker was ultimately able to heal from that injury as well, which finally set the stage for his return.
Slow but steady
Bartman still had to be patient, though.
He was slowly eased back into the team, forced to settle for brief cameos off the bench. He played 16 minutes in his debut, and the next game saw him on the field for 13 minutes. The following weekend was a big step forward in his recovery, as he started, even if he was hauled off at half-time.
For some players, this gradual return would have been brutal. After being out for so long, they would simply be chomping at the bit to play for as long as possible.
Not Bartman, though. He's been there and done that, and he realized that he had to trust the process.
"As a player, I've been in the game for a while. You can't just come back in and expect a starting position," said Bartman. "It was smart [of] the coaches and the staff to make sure I took my time. Playing too many minutes soon after returning risks another injury. I appreciated that they gave me the time to get match fit. I played more and more, and even when I started they made sure to not give me too many minutes and they allowed me to recover and be ready for whatever was next."
It all proved to be worth it. On October 24th in a game at home to the Maryland Bobcats, Bartman was named to the starting lineup once again. After only four minutes, he managed to score his first goal for the House.
It wasn't the prettiest goal, coming courtesy of a loose ball that just happened to fall his way. However, he deserves plenty of credit since he stayed composed, turning before firing home past a defender on the line.
Despite the final result, it was still a wonderful moment for the player.
"It's always a good feeling to score, especially as a striker. We get paid to score goals. It felt good to get my first goal for the House," said Bartman. "We didn't walk away with the three points, which was disappointing, but on a personal level it felt good to get my goal and to build onto the confidence that I was able to gain."
He also made sure to mark the occasion in style. Following the goal, he ran to the sidelines before recreating the famous Siphiwe Tshabalala celebration from the 2010 World Cup. As a South African himself, the dance was a nice way to pay tribute to his roots while also reminding him of home.
"I've been away from home for a very long time now, so doing that sort of thing and listening to South African music keeps me close to where I come from, and it reminds me of there so I try to do those types of things," said Bartman. "That actually used to be my celebration in college as well. Plus that moment is iconic, everyone remembers it, not just in our country but across the world."
Unfortunately no one really got involved since they didn't know what was going on, but he wants to change that. "Hopefully I can get my teammates to join in more in that celebration," said Bartman.
Onwards and upwards
Since then, the player has continued to make an impact going forward for Chicago, whether it be in the starting lineup or off the bench.
For Bartman and the rest of the team, the aspirations have stayed the same throughout the season, both in the short term and in the long term.
"Our priority is always to win. Our goal is always to get the maximum amount of points. That's the first thing," said Bartman. "We want to keep growing. Our goal is to get the best results and play beautiful soccer."
That has occasionally been a challenge for the House. As an expansion side, it's taken some time for everything to come together on the field. There's been a whole lot of new, and there's been some growing pains as a result. That's especially true for Bartman, who had a delayed arrival to the team.
"It's a new team, some players played together but it's a new environment, everyone's getting a feel for each other. I came in late so I'm still learning how others play, and they are still learning how I play," said Bartman. "We are learning about each other, and we want to learn from every game to make sure we pick up where we left off and to make sure we don't make the same mistakes."
With all that in mind, the South African has still loved his time with Chicago. He's played for other teams in NISA, like Stumptown AC and Atlanta SC, but the House has managed to stand out despite only existing for a brief amount of time.
"Chicago House is by far one of the best. Not just from the teams I've played for, but the other teams I've seen," said Bartman. "It's how the club is run, from the players, to the staff, to those in the office, to the fans. It's a homey environment, you feel at home here when it comes to everything like the gameday preparations and marketing. Everyone is buying in."
That is especially true when it comes to the club's efforts off the field.
"We're not just a soccer team. Our purpose is much bigger than just soccer," said Bartman. "Our purpose is about the community and getting people together and working for social justice. We give back to the community, we do social justice work. That is really important to me."
There's a reason why this work has resonated with him on a personal level. "I have my own foundation that's running a tournament in South Africa in December. Seeing how they run things here gives me ideas for my foundation," said Bartman.
All in all, things are looking good for Bartman. He's fully fit and contributing for the House on the field while also doing what he loves off of it. Things have been just as peachy for the team, too, as they've now climbed up to 4th place in the NISA standings.
It may have taken longer than everyone would have wanted, but the wait has certainly been worth it.
"On and off the field it's a very amazing experience, and I've enjoyed every single moment I've been here."